Last Friday night, I had the pleasure of being one of the invited bloggers to attend Nuffnang Blog Awards over at the Pan Pacific Hotel Singapore, together with many other top bloggers over the whole region across South East Asia.

Countries that attended this award: Singapore, Malaysia, Philippines and Australia.


Here's the list of different categories for the awards
Blogs of subject interest:
Best Blog Shop
Best Food Blog
Best Fashion Blog
Best Parenting Blog
Best Travel Blog
Best Geek Blog
Best Celebrity Blog
Best Entertainment Blog
Overall blog Categories:
Best Original Blog Design
Most Influential Blog
Best Hidden Gem
Region's Best Blog
Credits to whoever that took this picture
-
Invited bloggers are allowed to bring a guest along with them and I brought along ...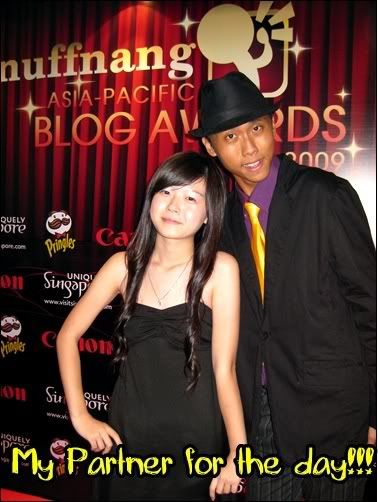 For that event, I didn't went to school that day because I knew that if I were to go to school, I won't have time to dress up for the event! :)
So I skipped school; with
VALID
reason I think?
No! No need to "think", I know it's
VALID for sure
! *Smiles Proudly*
Anyway, I knew many bloggers (who are currently studying/working) all skipped school/take off just for Nuffnang Award am I righttttttt?


Headed over to Joyce's house together with Joan & Limei in the afternoon to get ourselves dressed up properly for the dinner.
Gosh, Shit! I shouldn't have touched their makeup stuffs in front of Joyce's mum. Got myself into deepshit for touching it and her mum called me "
Mummy boy
" because she says that I must be always touching my mummy's makeup stuffs when she's doing makeup.
It's totally not true!
You think I so free to touch meh?!?! I won't even bother!
I touched Joyce's makeup set because I saw a set of purple brushes and I'm curious that's why I opened the casing and look whether if there's more of the purple brushes only leh!
Neither did I expect.... I got "
suan
" by her mum. Argh! D:
In contrary, I would like to Thanks Joyce's dad who cabbed us down all the way from her house to Pan Pacific Hotel!
Luckily her dad is around to fetch us, else I think it's not worth for us to cab down as that evening was peak period and there was a very bad Jam on the expressway.
Arrived around 7.30PM at Pan Pacific Hotel...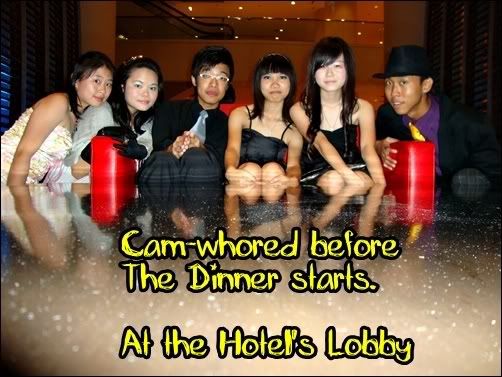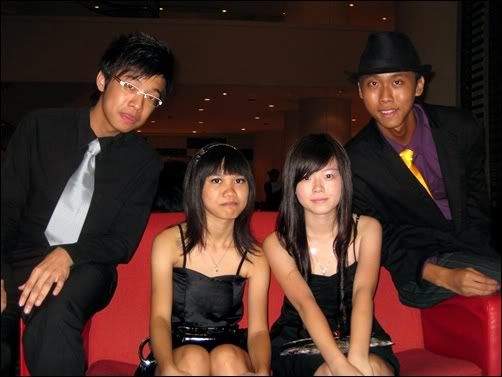 Weijie, Limei, Joan, Me
Saw many familiar faces when I reached the entrance of the ballroom.

First few familiar faces that I saw was our friendly and gorgeous Nuffies stationed at the registration booth!

YeeeHaaa! =)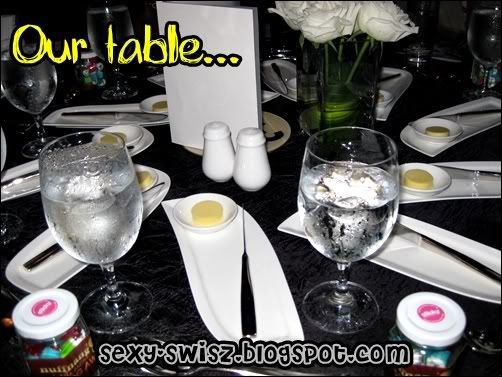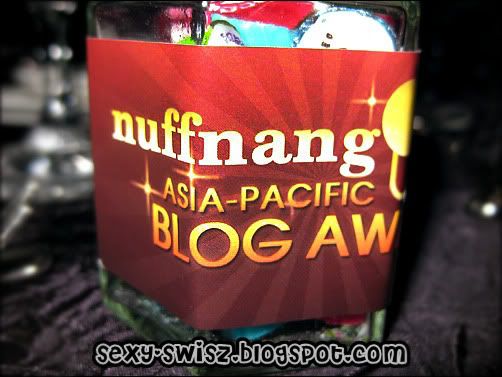 Sticky traditional hand-made sweet! Yummlicious! ♥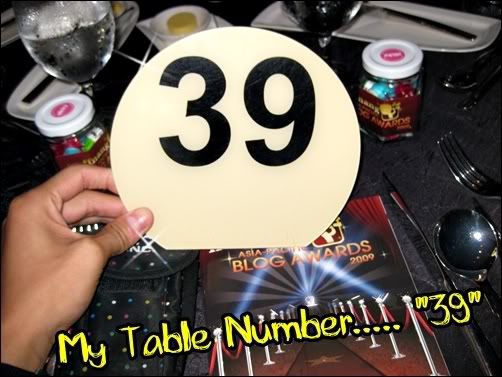 My table's 39, what's yours!?!!?
-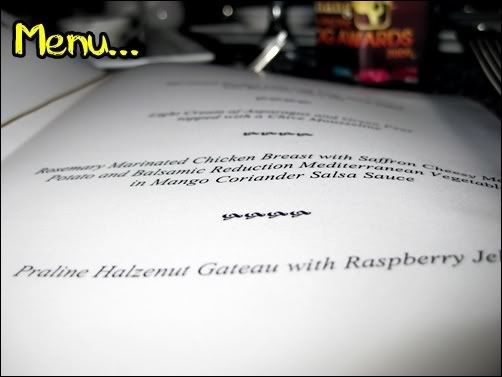 Too small for you to see is it?
Tell me... Tell me that you can't see what's written on it la, say....!!!

Don't bother squinting your eyes to see what's written on the picture above.

Everyone must be curious on what type of food did Nuffnang ordered and serve to us.
"I love keeping people in suspense*!! Ha, Kidding.
I shall be nice this time since I'm in a Hei-Pee Mood!
-
Since this dinner is a 4-course meal, I shall introduce by the food that they served to us accordingly from first to last.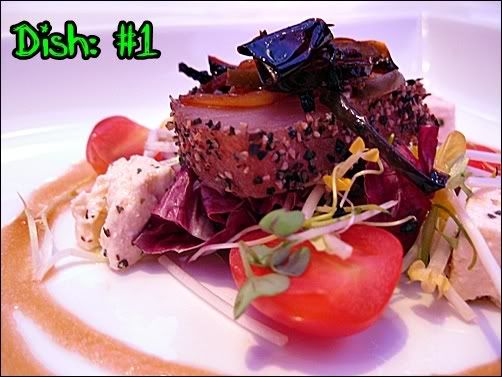 Marinated Smoke Tuna with Feta. Herb Salad and Balsamic Olive Oil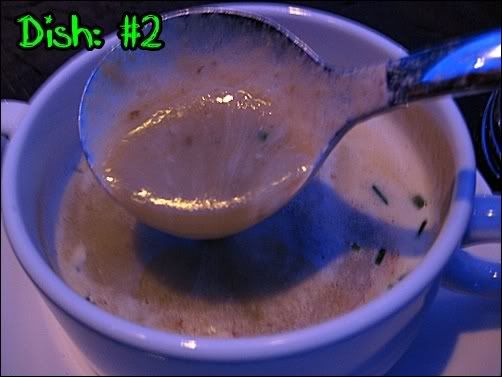 Light creams of Asparagus and Green Peas topped with a Chive Mousseline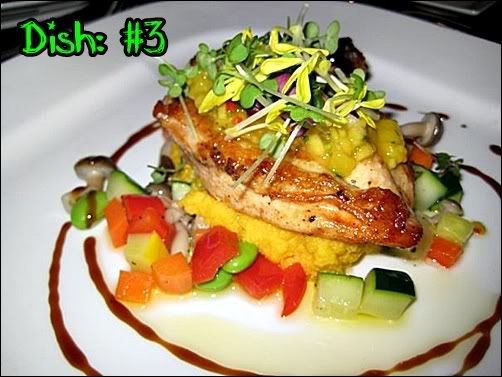 Rosemary marinated chicken breast with saffron cheesy mash potato and balsamic reduction Mediterranean vegetable in mango coriander salsa sauce
*
wow, what a long name
*
Praline Hazelnut Gateau with Raspberry jelly
-
After dinner was peek-chers time!!!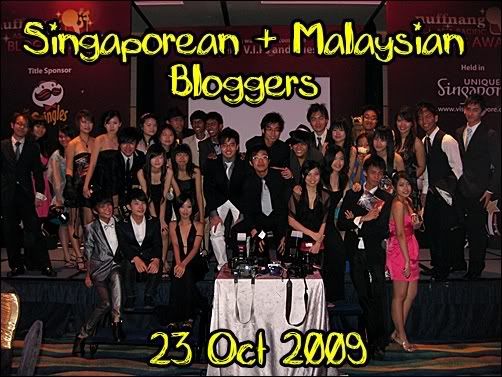 I've decided to try something new this time round.
Since most of them are bloggers, I've decide to ink down their online nicknames onto my pictures so you guys can have a quick view at their blogs if you are interested.
All you need to do is to type their online nicknames onto your url bar, adding behind: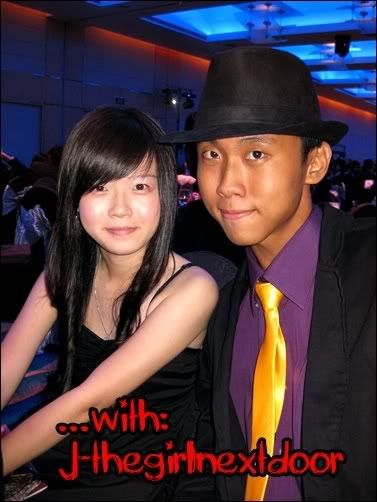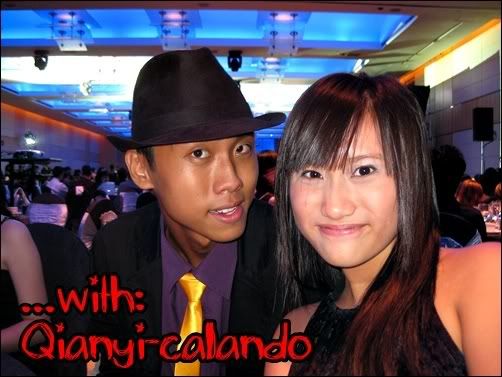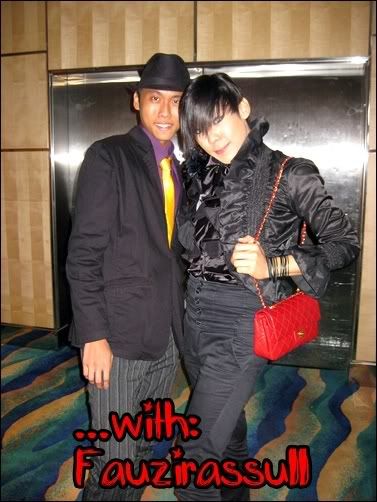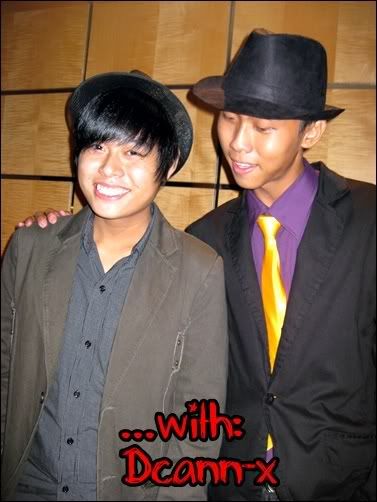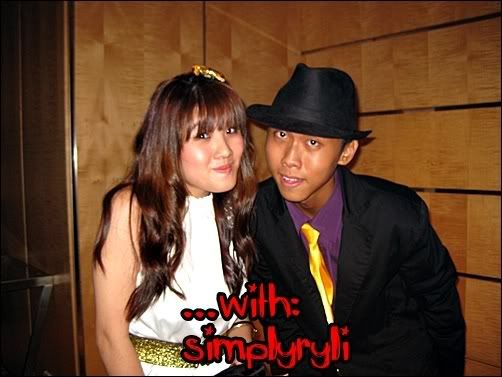 *
Note:
That's not their bloglink. I've got no space to ink down their links*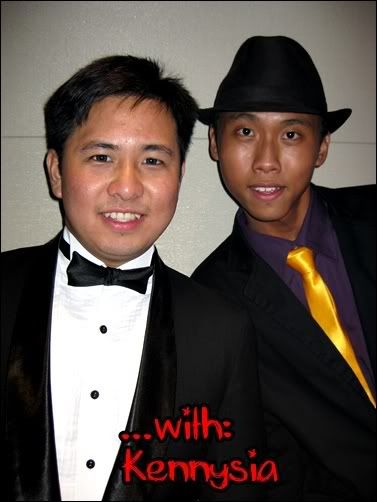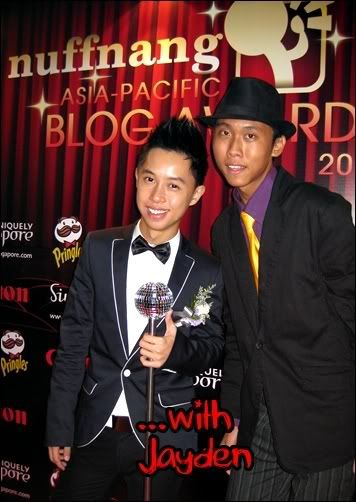 I don't even know why I'm posing in this manner.
Completely rubbish and anyhow! Lol...
Giving those "Mian Qiang" face =)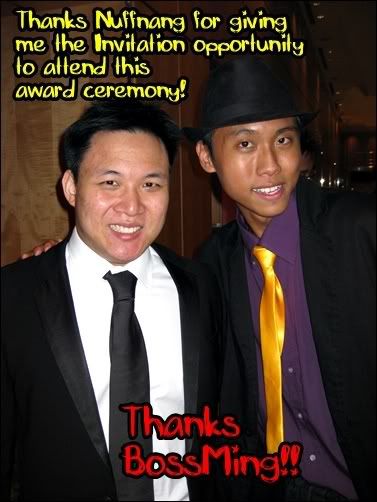 P/s:
I will update about the "Bloggers Tour" entry soon as long as I've got the time to do so.
P/s/s:
The pictures for the "Bloggers Tour" is heavenly amazing because in an hour, I took over 100+ shots of pictures. That's why I need some time to sort that massive loads of pictures out first before I'm able to blog. Time is needed! :)
If you don't mind, I will end here for my experience of attending the Nuffnang Award 2009!
Peace! :D