I came across these interesting pictures while surfing the net doing my project...

Siao anot!?!?!

Unbelievable right!

Had a debate with SJ and we both believed that those are fakeeeees!

Maybe those pictures have been photoshopped!

Who knows, because nowadays people like us are good at photoshopping pictures...

So why can't it be photoshopped? :D


Palm size baby
Wtf! You can even see the baby's gender!
P/s:
It's a girl I THINK... :)
This should be the average size of a normal baby...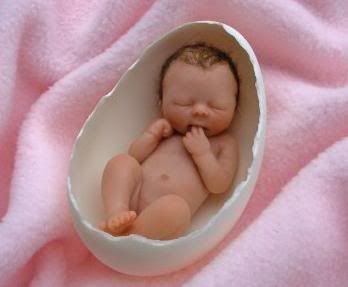 Baby in egg shell
Now then I know eggs
don't only
hatch little chicks... It
do
hatch human babies as well.. Lol!
Science confirm fail!
I gotta find my science teacher soon to debate with what I have just seen with my eyes!!!
BABY IN EGG!
P/s/s:
Don't be shocked that my blog has song because National Day is approaching and I have decided to put a nice song on my blog and
"小人物的心声"
caught my attention because it's superrrrr nice can!!!