" If you guessed it's my birthday celebration, then you are right!
"
Hello!
Errr? Like finally I'm blogging about my birthday which happened half a month ago?

I bet nobody would want to read about my birthday post anymore because I saw many blog entries about me already! Hit the headlines with videos and unglam pictures of me!!! Urrrgggh!

Hate you peopleeeeeeeeeee!

In short, I'm truly very happy with this 17th birthday of mine!

Read on to find out more!

Celebrations with Canadian relatives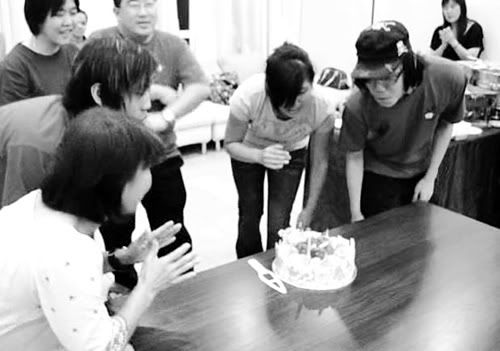 Mass birthday celebration!
P/s:
I can't find pictures of the mass birthday celebration with my family! ughhh Managed to find 2 blur pictures only!
-
Rasa Sentosa Resort
Celebrations with own Family
First time celebrating birthday at a local resort!
Thanks to mummy who booked a room at Rasa Sentosa Resort to celebrate my brother and my birthday! Muhahah
For your information:
My brother and I have the same birth date!
Damn Awesome!
:DDDDDDDD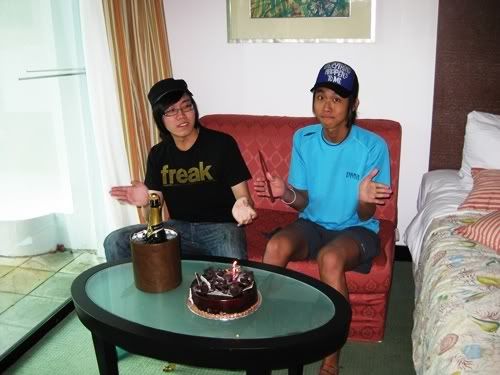 Happy Birthday to US!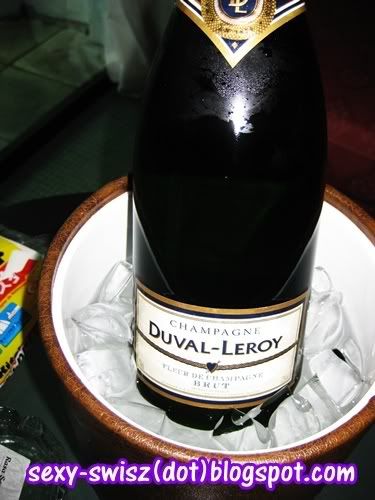 Champagne
Daddy brought along this bottle of Champagne for us to drink and party!

Bottle of Champagne plus Cake makes it more meaningful to celebrate...Don't you agreed? o.o

This bottle of Champagne is not cheapppppppppppppppp at all and I gulped it down so quickly!

Heh heh!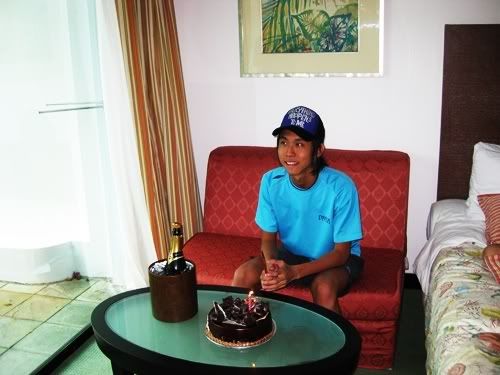 I love side view photos
Cake cutting and Champagne popping
Family photoooooooooo in year 2009!
Family photoooooo in year 1994!!
( I'm only 2 years old )
Big difference hor?!?!?!!
After cake cutting is over, we ordered pizza for dinner!
Yummy! I love the Chicken drumlets best because they are very tasty!
Hungry already right!!!!!!! I'm hungry after seeing this too! =P
-
Celebration with my buddies
This year's celebration with buddies was awesome! *Thumbs up*

I expected like 4 buddies to turn up, yet it turn out to be more than 4!!

I'm soooo Contented to have good buddies like them!

What are friends for? TO BASTARD!!!!!! hahahhahhhhahaa

Joke, ok?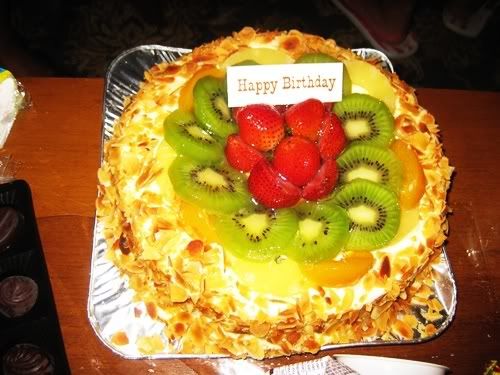 Fruit cakeeeeeeeee!
.
.
.
Steps to guide you on.
..........
.................

..
........

.
...........

..
.........
Step 1:
Hold the cake upright ( No cake fight please )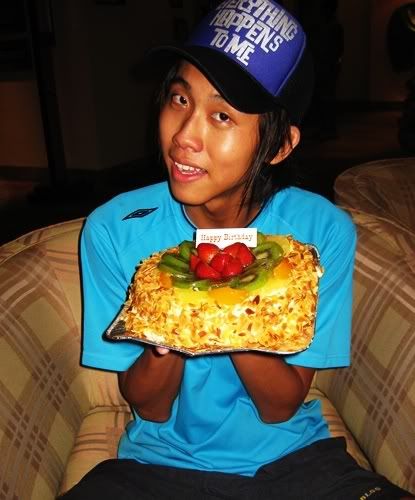 Step 2:
You will have to blow away the candles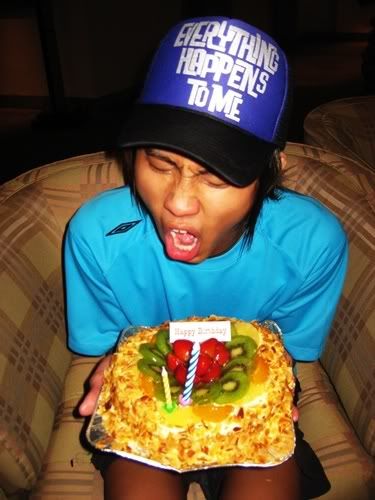 Step 3:
After eating the cake, you will be as strong as meeeee! :)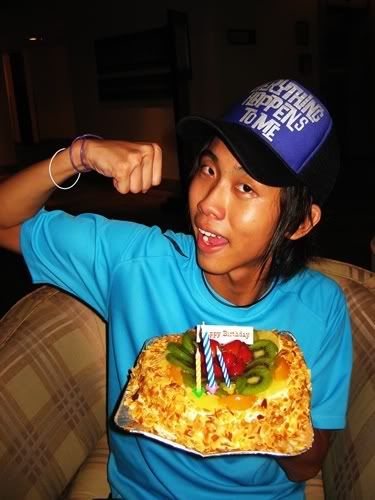 A little disappointed, lame and it has no link right?
Expecting for me to hurl cakes at people's face?
Nah, not now man! Just wanted to tell you all that " I'm strong ok? "
Hahahahahahaha
This is super random and I'm trying to crack a joke, but nobody is laughing ._." wtf
Mischievous look
Darn!

You know what I looked like??

"Looked like a small kid sneaking around stealing cakes to eat and eventually got caught red handed by the camera siaaaa! -.- "


My brother again!
My best present everrr!

Because of this present, those buddies who ton with me throughout the night has experienced many "memorable" things

This very special day of mine really leaves a great great memory on me!

Many things happened * It was damn funnnnnehh to see the unglam sight of us when most of us was DRUNK! :)

All thanks to this innocent looking liquor. Lolololol!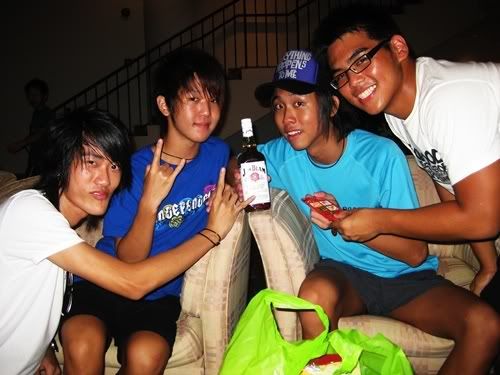 Brothers-in-Arms!
Featuring: Kevin, Mike, Meldric & Sebastian
* Glad to have them by my side; What are brothers for? TO BASTARD!!*
You know, I know :P
Soaking the bottle of liquor into ice to keep it chill and fresh
.
.
.
I don't know why every time there's a celebration, *fate always entertained us with something adorable when we are bored...
Remember my post about "
weekly-friday-gathering-with-friends
"?
SEE? Fate always allowed us to meet young and adorable girls!!!
LIKE HER BELOW!
Her name is Samantha and she's just 6 years old from England
Adorable, no?
The whole night most of us were playing with her, running around, chasing one another like we had known each other like more than a decade...

It's so rare for young girls to talk to us...Play with us... Treating us like people of her own age to play with...

It's very rare... So bloody rareeeee...

Maybe I could act like a teacher and write a testimonial for her.. Let's see..


"Samantha is a rowdy girl. She overcomes her shyness easily to get along well with teenagers aged between 17-18 years old. She needs to brush up her running skills in order to play catching with the teenagers and she needs to behave herself. She shouldn't play with strangers whom she had not met any of them before. Samantha knows that they love her and she loves them too!

♥

"


HAHAHAHA!! CRAPPY piece of testimonial.
I'm too heavy for Mike to carry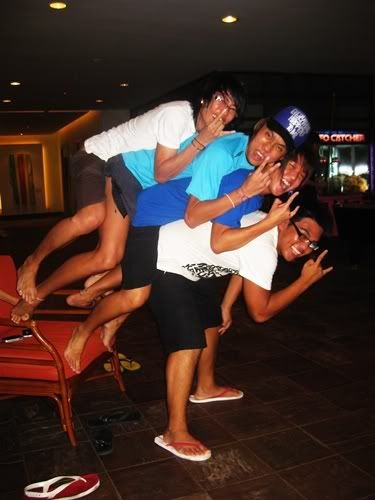 Raawwwrs!
No cake for sebas because he's strong
Dephanie!
They all went up to my resort room after playing pool and "nua" the bed! Everyone is mad tired like a zombie lor!

Mike reading my blog while everybody is resting in the resort
Sleep like a dead log like that!
Sebas's unglam face! wahahahaa

Like a... Like a... Like an ORANG UTAN? xP!

Kevin sleeps with his eyes open! wow pro!

After resting for awhile, everyone headed to Siloso Beach for some *fun*!
Siloso Beach party
Along the way, the kept sing happy birthday songs and some idiots like Simyee kept wishing me happy birthday like there's no tomorow lor!

Very happy because they kept singing non-stop and wish !

But never in any chance did I expect that I got such a wonderful " Surprise" THANKS SEBAS la hor! =.=

They caught me unprepared :(

Suddenly Sebas shouted "STACK" and everyone Pile onto me!

:(((((((((((((((((((((((((((((

Prove! Prove! Prove!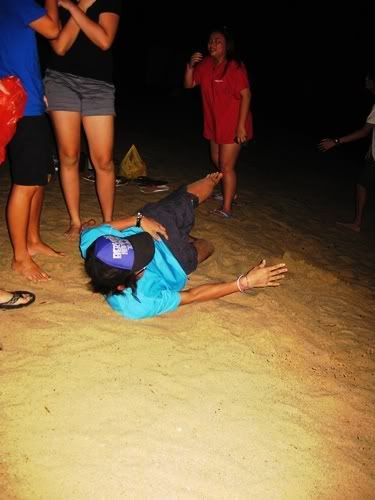 Causing breathing difficulties! urggh!
* Drinking starts, and many dramatic things happened* Shall cut off this part :)
The next morning, rise and shine and everyone was not willing to leave sentosa, but we have to!

Woke up quite late and we had lunch instead of breakfast!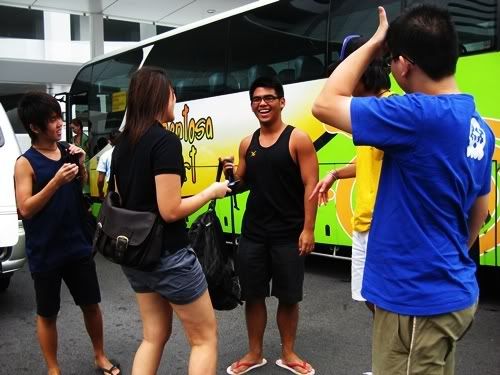 Took the free shuttle service to Vivo city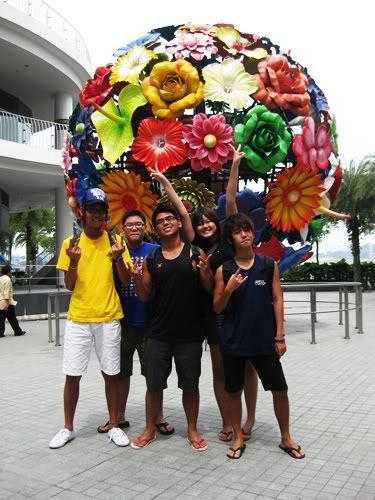 Feeling a little hungry still after the " lunch " , we headed to vivo city's "The chicken rice" store at basement!


Our handphones! Can you spot mine?
We ordered a family combo meal and the food there is not bad
Once all the dishes arrived........ ,
Everyone aimed for the chicken meat first! Then lastly the vegetables and soups. hahaah
Sebas and Mike
Then Home Sweet Home by Mrt :D
A group photo for those who came to Rasa Sentosa to celebrate with me
-
July Nuffnang blogger's Birthday party!
Happy birthday to Hong Peng, Jiaqi, Weijie and myself! :)
First thing first, I would like to comment on how nice Kaizhi's chicken wings were!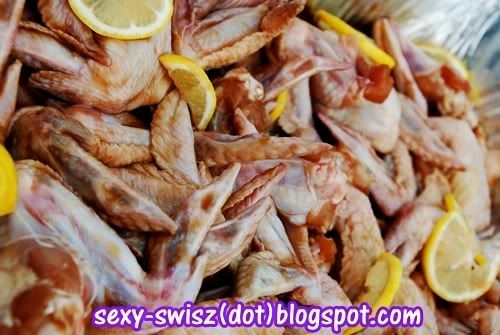 Yummy chicken wings...
Even Dogs love it too
Including the bones are yummy for them!
It's really really nice and yummy man! You got to try it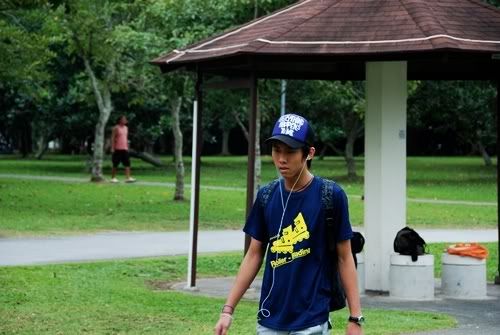 Here I comeeeeeeeeeeee!
Ya lah doing sai kang, setting up the tent
I looked like fishing with fishing rod
BBQ-ing
So now you know his card...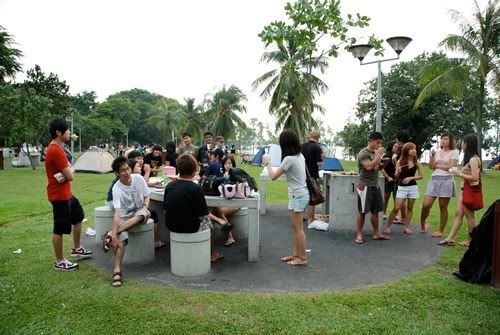 Time to chat and gossip; DON's Favourite
Can't you tell it's a group photo? hahaa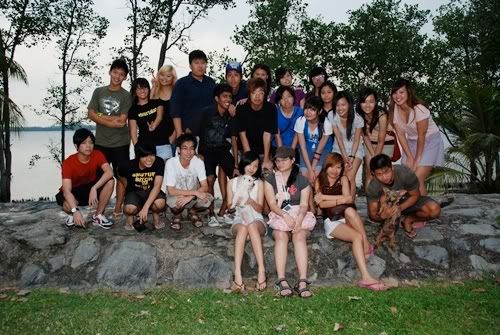 Group photo with bloggers + Nuffies!
Jump shot!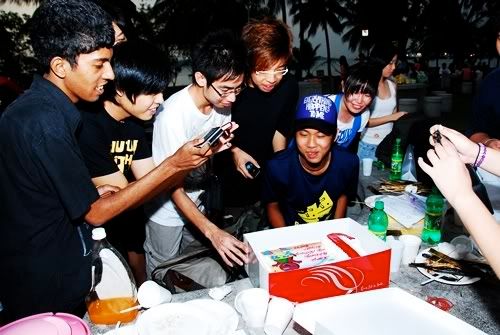 Cake cutting time!
Barney cake!
The purple dinosaur cake!
Yes I didn't see wrongly.
At first before I opened the cake box I saw the receipt and it wrote something like either " Barney or Barley " ( because the pen ink was smurged )
Then I asked some of them and they told me cannot be BARNEY la, no such thing.
They managed to convince me that the cake was Barley however I told myself, how is that possible to have barley cake? I NEVER SEEN before any Barley cake leh!
I'm so eager to open and I'm the first person who peep into the BOX!
And I saw........
It's purple cakeeeeeee! My favourite colour purpleeeee muahahah
So happy to see Barney cake and not the wierd flavour Barley cake!
Thanks Joyce Stella for the cake!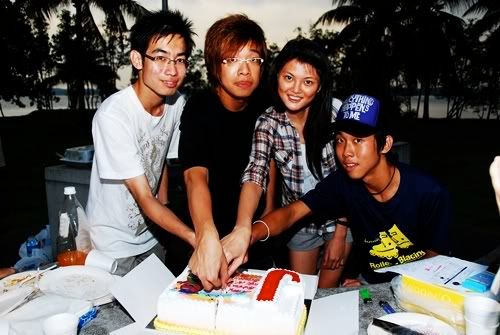 Birthday Boys and Girl
Jiaqi whipped out her Polaroid and suggested that we should take pictures using her Polaroid! :D

It's damn awesome! My first time seeing how Polaroid works...

The flashlight is seriously damn bright! coooooool..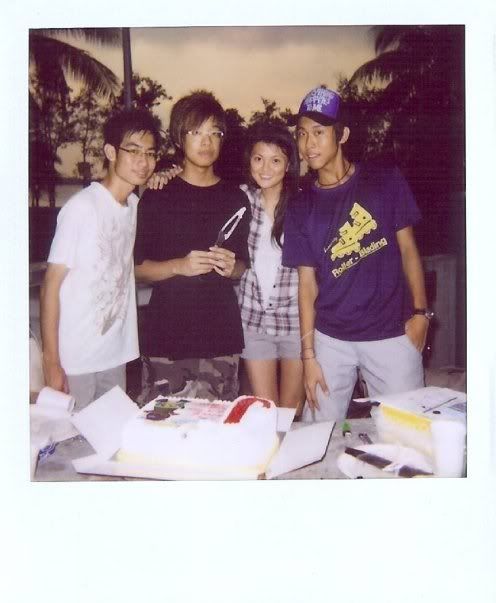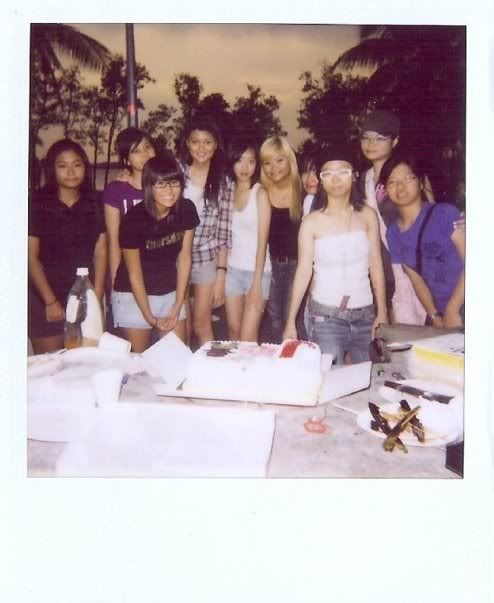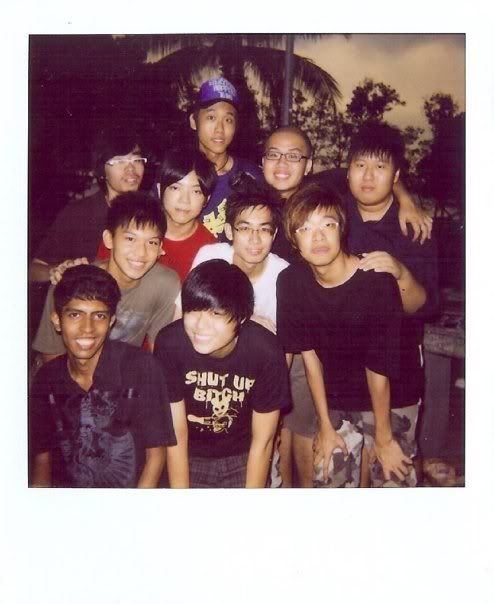 Ying zi's white dog poo poo beside me when I'm eating ! roars!
Bottoms up! *cheers*
4 of us again! =P
Me, Jiaqi, Weijie and Hong Peng
A big thanks to Stephen for presenting this wonderful birthday gift to me!

I sense that there are lots of handwork going on to make this collage huh!

It's not easy to make one!

Therefore I really appreciate it hence it's being placed onto my top shelving for display!!! Muahahaa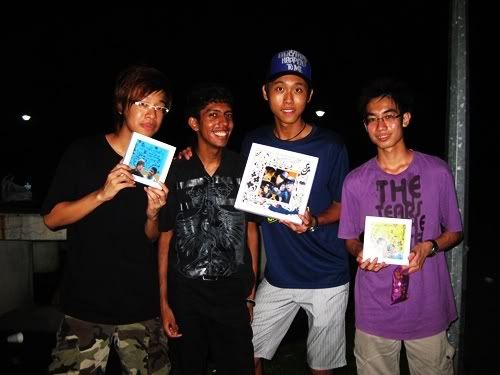 All of them has it too, but mine's the BIGGEST!
~Peace~