I've been rather busy these few days because I've got 17 relatives from Canada arrived in Singapore since last monday 6th July 2009!!
It's really fun hanging out with them although it's my first time meeting
MOST
of them. Well err, I only met 3 or 4 out of the 17 relatives few years ago! Time really flies..
All of them are really awesome dudes.
Spending most of my time with them after my class, from noon till midnight! Just imagine that.
Yes till midnight! oh, probably not? 11pm consider late enough right?
And I really got no time to come online for the entire week because my schedule is really pack.
I might have lost touch in the blogosphere! Ha, hopefully not.
Sorry to those who complained that what you commented me and I didn't reply you back. Yes! Precisely when you are busy from morning till night, you are not able to reply those comments back right?
Whatever. Anyway I have just replied my comments if you guys noticed it! :)
And yes! If you see me missing in action in future, be smart because I know all of you are intelligent hor!
Check my Twitter lah!
.
.
.
.
.
.
.
I'm bacccccccccck! RAWRH!

We visited quite a lot of places in singapore
Eh seriously man, these few days I felt that I'm a tourist because I followed my relatives to tour around singapore! Entering place of interest as a TOURIST! hehe
Oiii! I'm a SINGAPOREAN K!!! :D
Let's tour around Singapore as a TOURIST now.
Cow Farm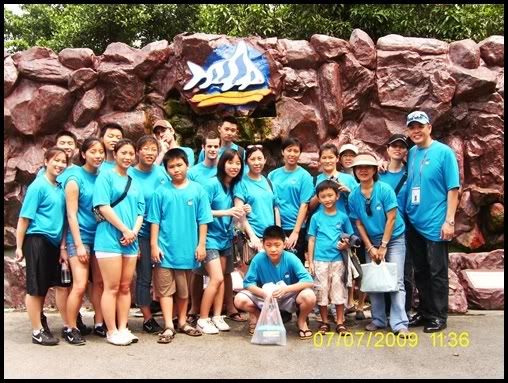 Our Canadian LimSimiTeh Family :)
Looking at how the workers squeezing the cow's milk...
-
Haw Par Villa
6 years old is the age that I last visited Haw Par Villa...
Thinking about age, it's around 11 years ago since I last visited Haw Par Villa!!!!!!
I feel damn old now! JESUS...
SO HOW LONG DID YOU GUYS LAST VISITED HAW PAR VILLA?
What I remembered about Haw Par Villa is " The big dragon cave " but when I visited that place few days back, i don't find it anymore.
It became a rotten cave! :(
Disappointed...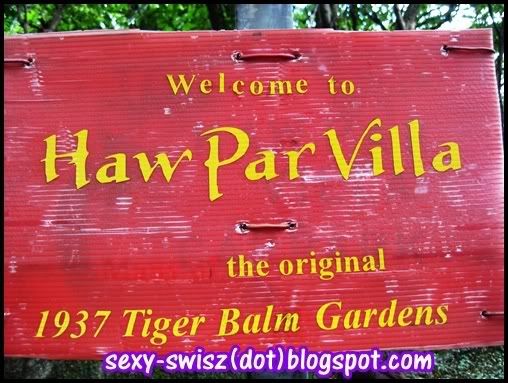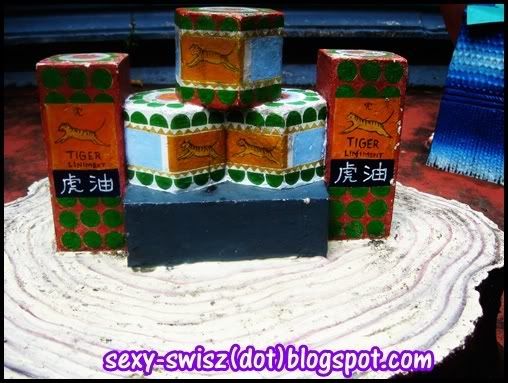 Tiger Balms!
Last time there was a dragon cave above this if I'm not wrong?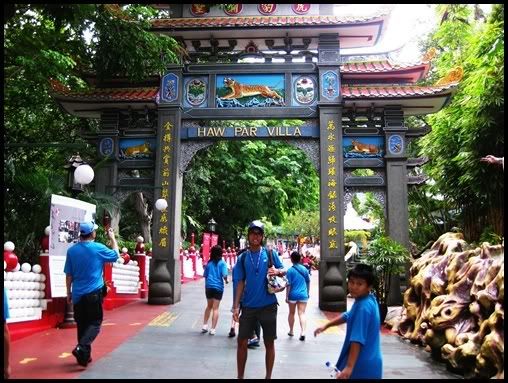 Haw Par Villa's main gate!
In New York!
Mini version of Liberty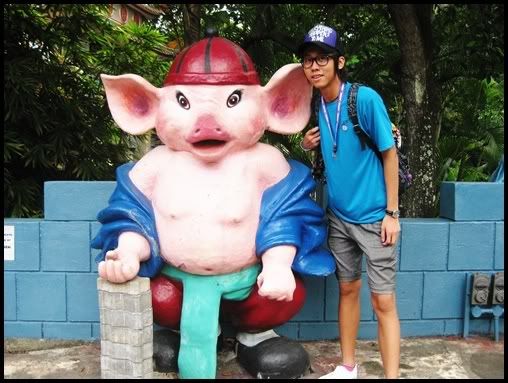 Whose friend is this!!! so FaaaaT!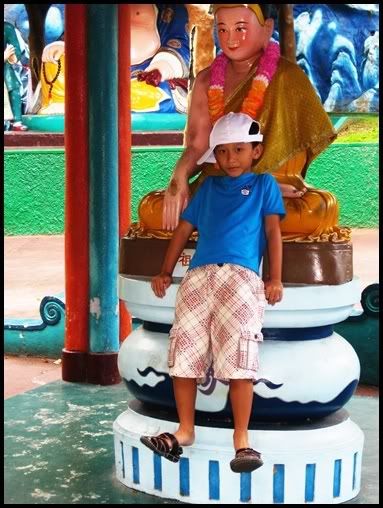 I forgot his name! UGH! But i know he posed for my camera :P
Another one !
Whose friend again!!! So FAAAAT!
Wahaha! I don't know him much and he don't know me much but he always love to pose for my camera! Ha!

Adorable kiddy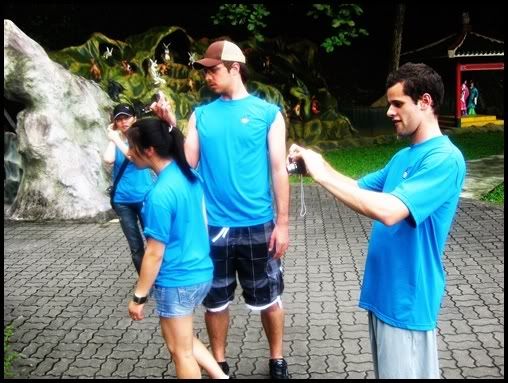 Funny dudes...
Previewing what's inside the "DRAGON, no? Rock Cave..."
The 18 level of hell is what the Chinese believes that after your death, you will be undergoing the 18 level of hell torture if you any committed crimes.
I find these believes quite bull shitting because you tell me who don't commit crime?
Since everybody committed crimes then tell me who goes to heaven?
=====_____====="


The Tortures...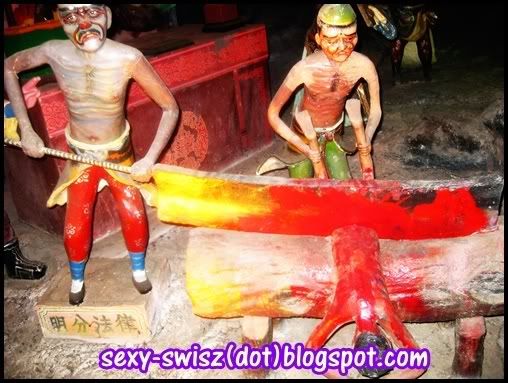 Chopping bodies into half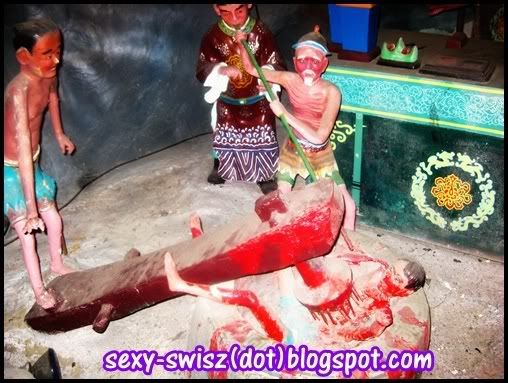 Spiking the lungs...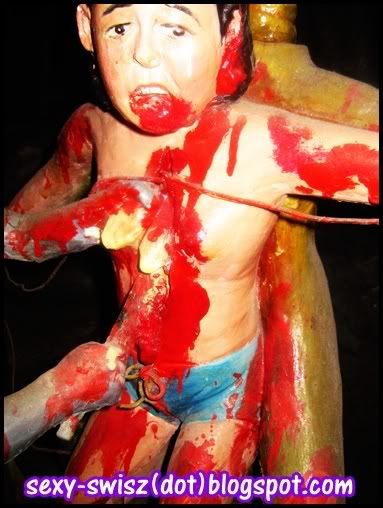 Digging the intestine! EEEEWK!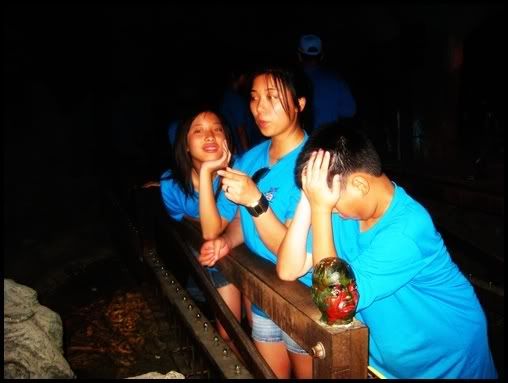 Quite blurry image!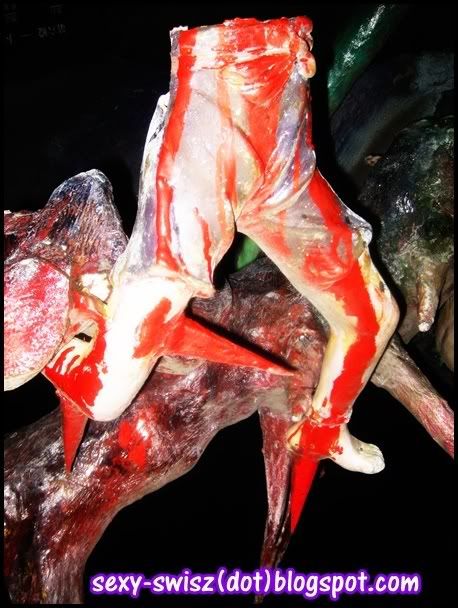 Half-a-body!
Heh! It's me..
Any smart peapo knows how to read these character?
Figuring out the " shen xiao"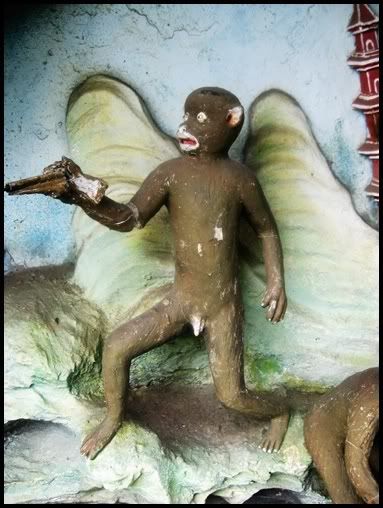 Like a short bean, market sells them at 10 cent per bean
The Tiger vehicle that was belonged to the Haw Par Villa founders many years ago.
Oh? why so many fat guys here!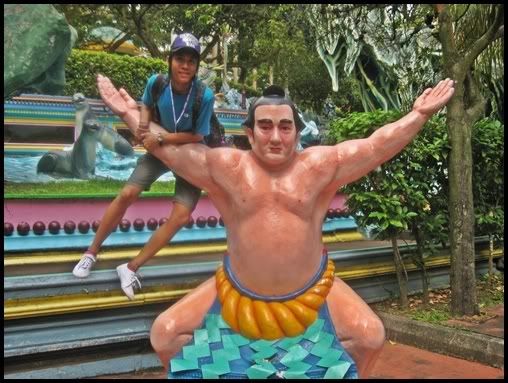 Whhhheeeeee!!!
Look at my family! It has grown from a sprout into a gigantic Tree!
-
Temple visits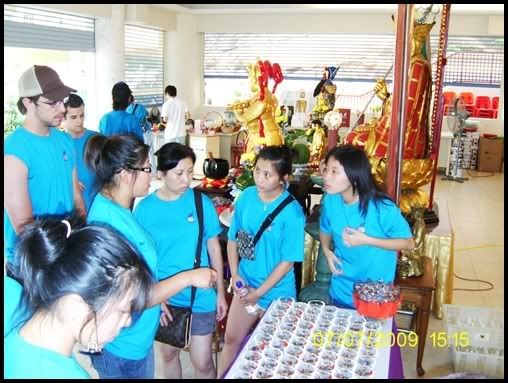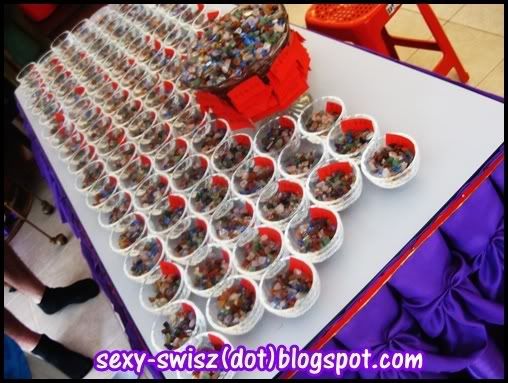 All I have to say about this temple is the Monk kept whining and whining till everyone seemed to be dozing off.

Not really interesting :(

Boring!

-
Sentosa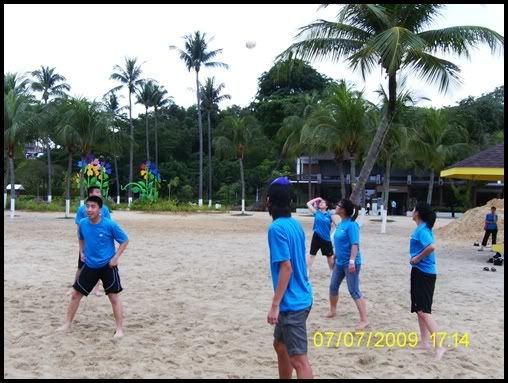 This is fun!

We score, we cheer, we laugh madly...

They really got good team work lor. I felt so paiseh because I'm quite noob in beach volley ball.

Very sastified with my spiking! muhahahaha

Getting into serious business
Ready... set go...
We enjoyed ourselves till sunset and we had our dinner at our local Sentosa's Koufu!
Nabei! The Koufu at sentosa is a total rip off man! Expensive to the max and if you bought the same chicken rice from a normal Koufu at shopping mall, you can order 2 plates with the same price compared to only 1 plate in Sentosa!
Wtf.
-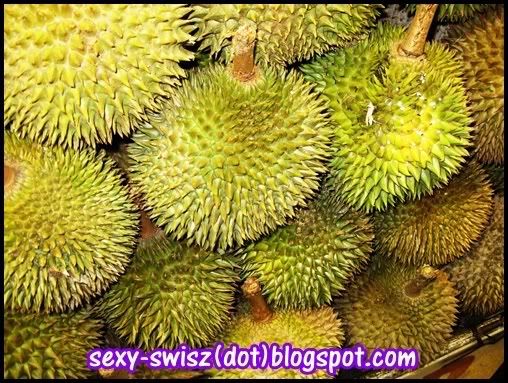 D-24 durians!! I'm simply in love with durians!
D-24 durians 3 for $20 cheap right!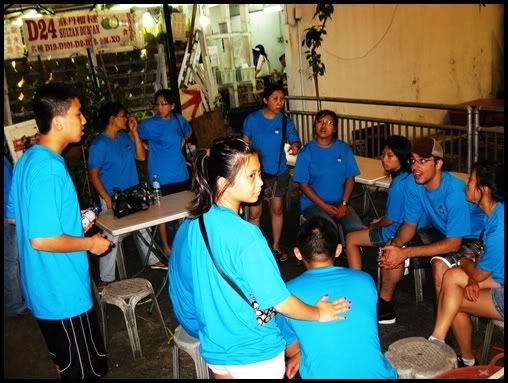 We brought them to geylang to taste some local D-24 durians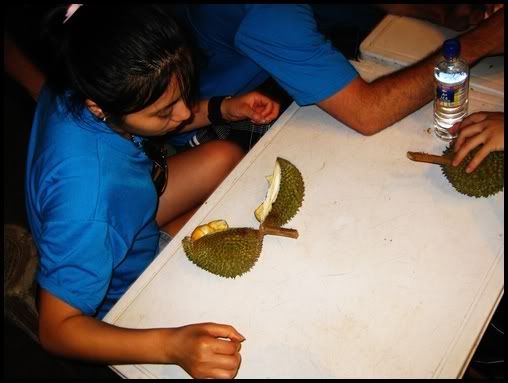 Fransis giving a big question mark about " How do I eat them "
Everyone get a taste of how durian taste like in Singapore! Pretty awesome!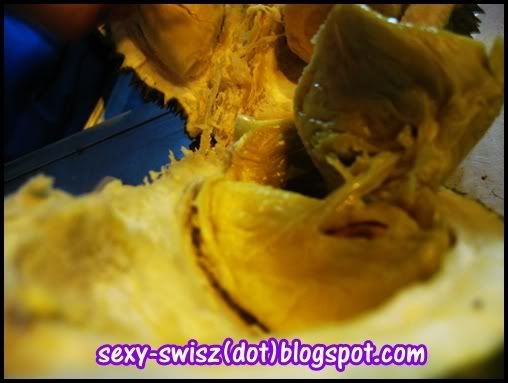 *Salivate*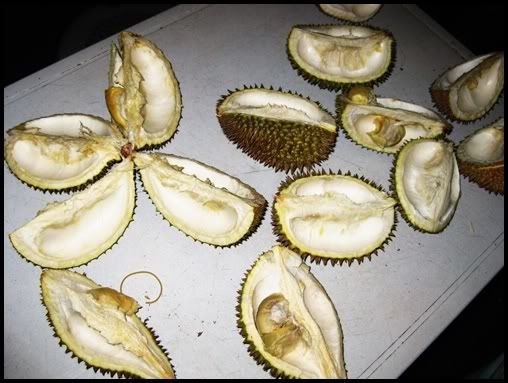 I displayed the durian shells after eating! " A STAR FRUIT pattern "
Call him "Handsome"!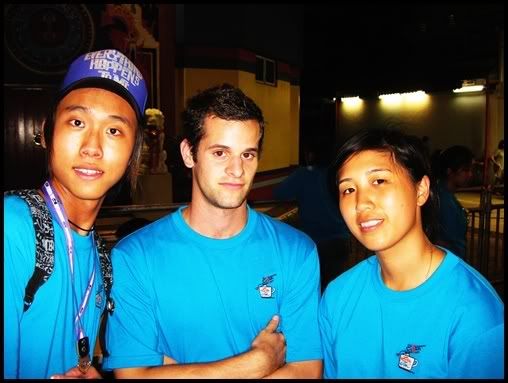 Jean-sebastian and Shan shan!
-
Clarke Quay
Turkish Ice Cream, this is quite popular in Singapore
The same old trick repeated over and over again! hahahaha

Whereby the ice cream seller keeps turning and turning the cones and first-timer would usually get tricked by the seller.

Diane is the first to be trick by the seller!

I've got the video! But I'm not going to upload it!

I assume all of you have seen it before what... so no point uploading it.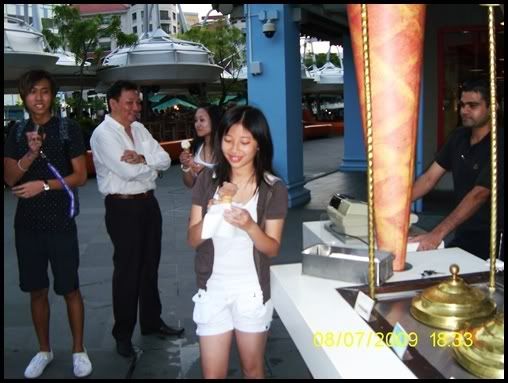 Finally she gets to eat the "ice cream after 2 mins of getting trick " hehe...
Lily wants to try them too! :/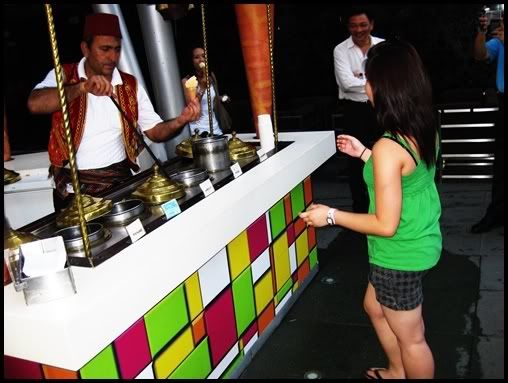 Again! Got tricked by the fellow. ha!
Ultimate Bungy!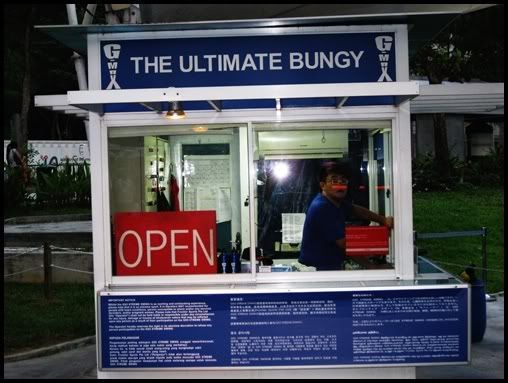 Any tried this before?
Very exciting lor! But I didn't try them.

Know why? Afraid of height is not the reason... Because I don't want to waste money! Per ride cost $30 for students! I think it's not very worth it for me to sit this ride.

Hahaha okay I'm bull shit huh!

"scared say lah " OK i'm afraid! hahahahahahhahahahaaha!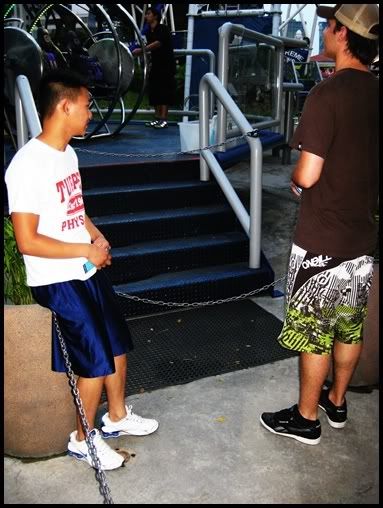 William and Jo the only 2 who spent $60 in total for this ride!
Everyone's attention is on them..
Warming up the machine!
That's them feeling very relaxed
Mini camera that was in front of them had captured all their facial expressions!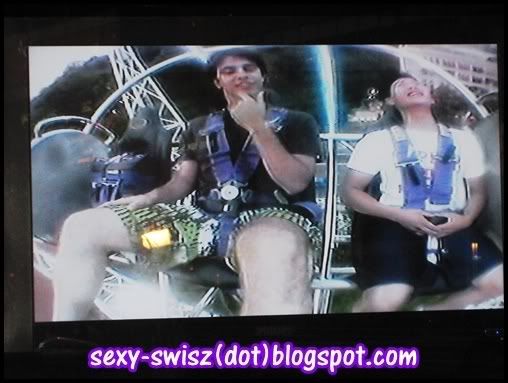 In the mid air and Jo looks damn relax!!!!!!! Amazing.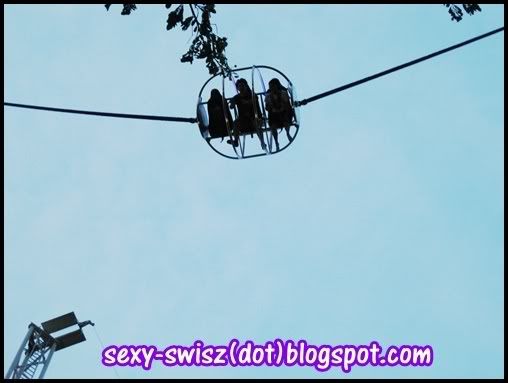 High up in the Mid Air...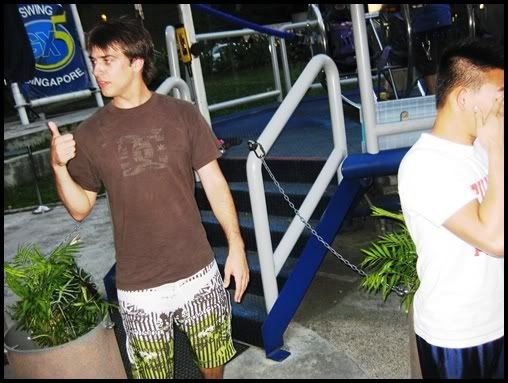 Yup! Jo says it's really awesome because he had tried them before..
So that's why he seemed so relax after this thrilling ride!
For William.... I think he's as "Cool" as ever. Lol!
-
Cousin's Basketball Match
After clarke quay's bungee, all of us headed to the basketball court right beside my ex-secondary school to watch and support my cousin's basketball match
FINAL!
It's
Final
! And my cousin's basketball team won the
1st
placing of that competition! :D
Applause to him!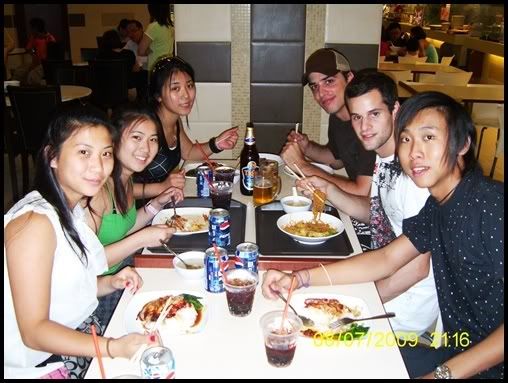 Dinner with them!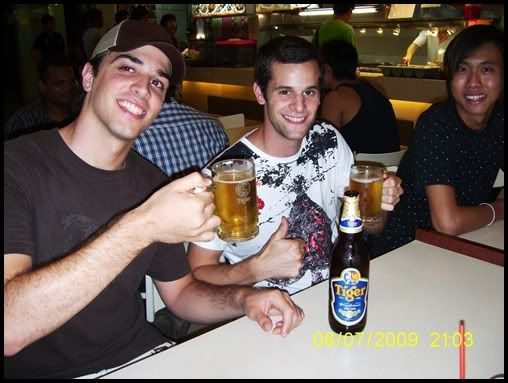 Both of them even tried our local beer "Tiger beer"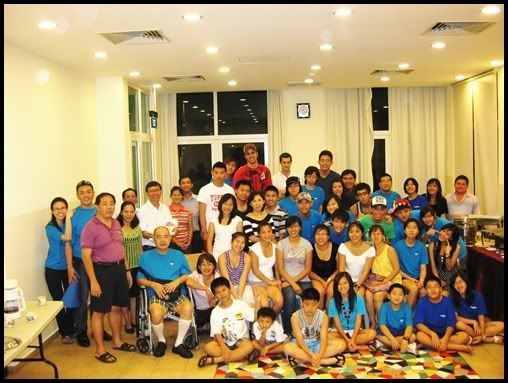 A group photo on the very first day when they arrived at my uncle's condominum.
Bah! I really miss the fun with them :(
Now they are all touring in
Malaysia and will be back in Singapore
this coming Monday Night!
Will be treasuring my time with them when they are back this coming Monday because they are flying off to China this coming
THURSDAY.
And I have no idea when I will be meeting them again when they are leaving Singapore ...
Maybe 2 years time? 3? 4? 5? 10?...
Or maybe not meeting forever...
Whatever! So sadly I might not be online so frequently for the whole of next week.
Looking forward to have fun with them next Tuesday, Wednesday and Thursday!!!
Stay Tune!
My

brother

and

my birthday

is

TOMORROW

! YAAAAY!!!!! Will be

relaxing for the entire day

tomorrow cause

I'm the KING

!

Muahhaha
!!!