Bahhhhh!
I guess by now most of you knows my story regarding today's incident right?
If you haven't heard of it, let me tell you something.
Due to my careless-ness today, I have misplaced my
one and only
laptop in Makan Place
( Ngee Ann Poly's most crowded Food court )
YOU KNOW WHAT?!
I took about 1 hour to realise that my laptop is
NOT
with me, to be sure again that I have misplaced it, I took the effort to run around the lecture theatres & foodcourt to search for it
It was raining quite heavily at that time, "anxious that I have lost the laptop" , I went berserk & ran through the HEAVY RAIN towards the Makan Place to find!!! How dumb can I be? Whole body was freaking wet and my shoes were soaked with dirty water.
Very hard for you guys to understand the feeling of me at that time, because I really don't know what should I do man, it happened so randomly without even realizing that I have lost something important, I was LOST and STUN .
It was all because of....
"A mysterious person"
who found my laptop and returned it to the lost & found center

Then I'm able to overcome this problem!!!
Really, I'm truly truly truly sincerely wanted to *Thank the mysterious person in real life because I owe him a really big favour!!!
"Heard from the clerk that it was a
GUY
who send my laptop to the lost and found center, and he didn't leave his particulars with them, so they were unsure of his identity"
How touching ain't?
I was so relieve when I saw the staff took out a red laptop bag from the office and asked me whether it is mine. WOW! First time I say "thanks a million times" to the clerk and had a chat with them, telling them how I lost it in the first place.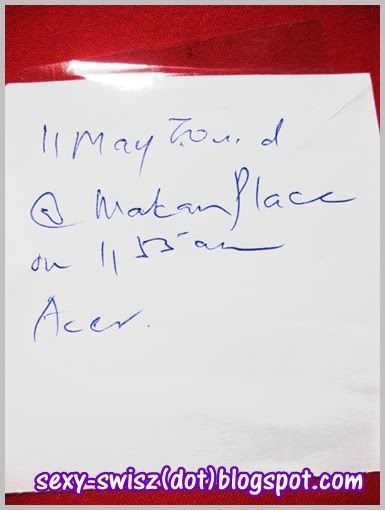 My expression turned really quick when I saw the bright red laptop bag, and I was thinking to myself:
HOW CAN SUCH A EYE CATCHING COLOUR LAPTOP BAG NOT CAUGHT MY ATTENTION HUH, how stupid ma I to be so careless???
If I really do not get back my laptop I will lose the following things below:
Or even more!
When I just lost it, what came in my mind first was to call daddy and tell him everything.
Then, I'm thinking of starving myself just to save money to get a new laptop!!!!
How realistic could I be!
Neh neh poo poo to myself!
My mind was full of " wah Sian lah, sure 100& guarantee + chop won't get it back one lah"

Because the canteen is so big, and there are lots of people during lunch time
Who see laptop, wont get tempted and keep it secretly?!?!
I asked many of my friends and they said they won't even return when they found it.
Isn't Singaporeans too realistic at some moments?
Heh (:
Including me too lah, I don't deny that I won't go for temptation too. BUT NOT NOW OKAY?
I have decided to change my mindset for good now.
I will be nice in future, when I see any items laying on the ground which is not mine, I will return because I have experience such a "SCARY feeling" now, So i fully understand how the person will feel if he/she lost their expensive items
Good heart will have good return.
( Hao xin you hao bao )
Just like months back my friends & I found a hand phone on the playground near our house and we decided to return the phone to the rightful owner!
Hence, I guess it's time that the "good" return falls onto me when I'm in this shit crisis now :PP
THERE!! My bright red laptop bag, isn't it very obvious to be visible to me???????????????
How can I be so careless. Yawns*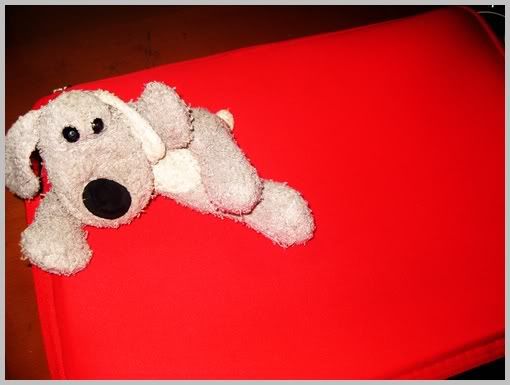 Even my dog also loves the colour, so why am I hesitating to love it?
If happen this mysterious guy came across this post, would you mind to leave your contacts in my comment box?


I want to thank you in person for your good deed!
I'm so eager to know who you are!
**************************************
After a long and tiring day of battling with the misplacement of lappy,
Mummy cooked this for me! :)
So fortunate! Love you :D