Yes! Temperature taking is so annoying!
I have to Q-up at the Atrium every morning/noon to have my temperature taken before I could proceed to my lectures or tutorials, so troublesome

( Depends on my mood usually )

Still need to produce the sticker to show lectures before we attend lesson! :(

All school are also practicing this trend right?
Mafan!
**********************************

Happy 17th Birthday ~ Jia Le
The cake!
Very nice "Ferraro Roche" cake? Muhaha Damn Tasty!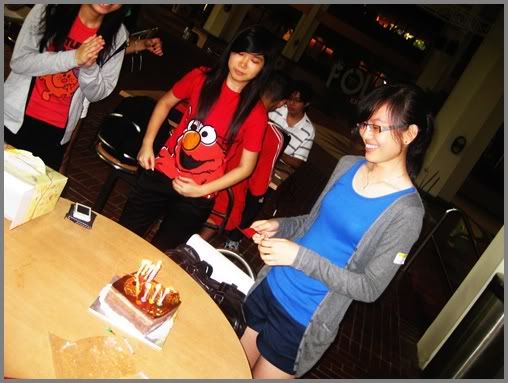 Chill guys!
I know the shirt is very attractive lor...


Don't get distracted by the ELMO's shirt in the background
Birthday girl is in BLUE :)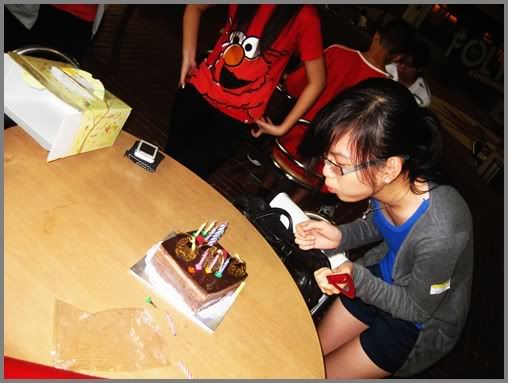 finally she blow the candle...
Half of my classmates! :)
1D02
Err, allow me to mention all of their names down here okay?
I just want to challenge myself to see if I remember their name
HAHAHAA!
And I don't think I have such a lousy memory :P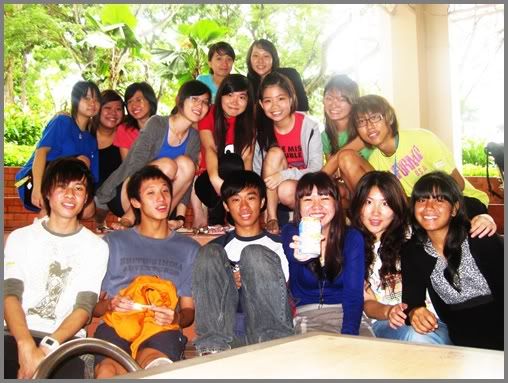 ( Pardon me if I spell your name wrongly )
I will go from TOP row first till Bottom row, left to right accordingly.
Top row: Phoebe, Yi Min
Middle row: Si Jue, Rachael. Hin Zeal, Jia Le, Shuning, Jacqueline, Jasyln, ME
Bottom row: Guo Sheng, Zi Yuan, Issac, Melanie, Gloria, Fatin

YAY!:) I think I got them all right!!

The birthday girl is over thereeeeeeeee...
1D02 rock your ASS!
**********************************
Happy 17th Birthday ~ Anna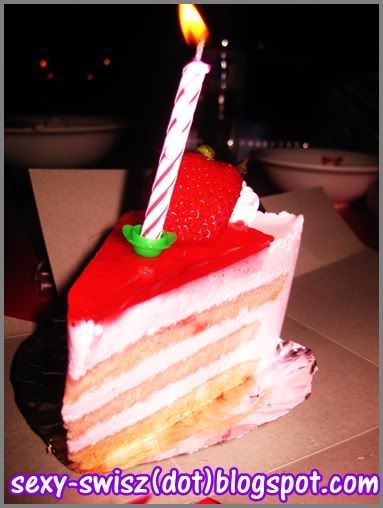 Just a simple decent looking slice of cake but it's the thoughts that count!
A big thanks to Sebastian who solo-ed planning this last minute birthday celebration for Anna as most of us are busying with our own Poly stuffs & we had totally forgotten about Anna's birthday

Nevertheless, most of us are able to make ourselves free on the night of 4th May
Headed to Ngee Ann Poly's Makan place @ 8PM

Since the majority of us are in NP, so dudes from Nanyang and Singapore Poly will have to make the effort to travel all the way to our school! hahahahha!

Our advantage :P

Birthday girl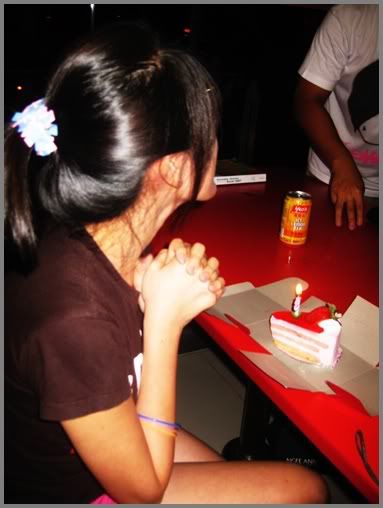 obviously wishing for ...
Piglets?
!?!
Ex-Boon Lay Secondary School mates!:)
Love them all lah!
**********************************
Random web cam pictures
Since Jaslyn & Wenqian are heading for toilet break and Jaslyn's lappy is on,
Jaq, Jiale & me got bored so we decided to take some funny snapshots with her webcam!
and
Treat it as nothing had happened :)
But we were discovered :(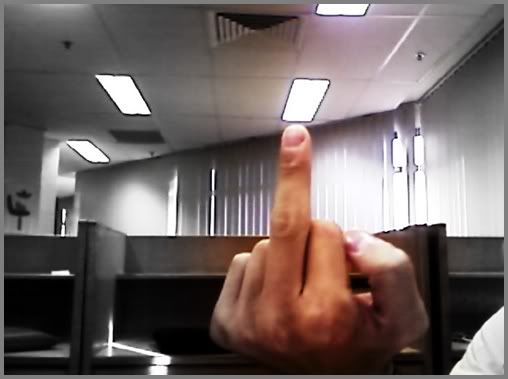 Who gives a damn? That's not my FINGER! hahaha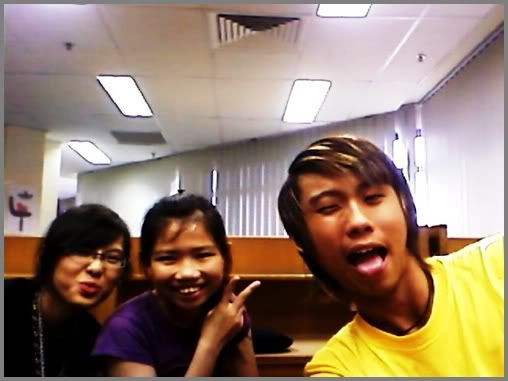 I looked so retarted
A group photo before we head off for our CCA :P




P/s:

I feel so left out because I can't find any male bloggers in school! There are lots of girls who blog but how come guys don't blog? :(

They say blogging is boring and is mainly for girls, is that so?
I beg to differ!

Catch my next few entries about why I'm so into blogging these days.

It's FUN! Guys should enjoy blogging.