Bah! So sorry for the late update!
I guess this update was overdue by 2 days already! :)

But I tried my best to edit all the pictures asap within 2 days to brighten/darken/sharpen the image to make it look clearer.
***

By the way if anyone wants to grab any of my photos, please grab it from my facebook.
Pictures in my facebook are original pictures w/o any edits. If you want a clearer picture, add my msn
giggs11_20@hotmail.com
; same email as facebook.
***
Freshman Orientation Camp ( FOC )
I really don't feel like going home after the camp because this camp is really damn fun!
"4D3N is way too short for me"

Aiyah! I don't deny that I did complain before something.
Before I go to the camp I said that 4D3N is super duper long & although I signed up, I am not looking forward to it.
But now! It's a complete turnover. I am saying that 4D3N is way too short for me. LOL! I know it's contradicting huh?
Our theme for the year is " Egypt"
I'm in AMUN group and in the sub group called " Amunified"
& I love them all ! hahaha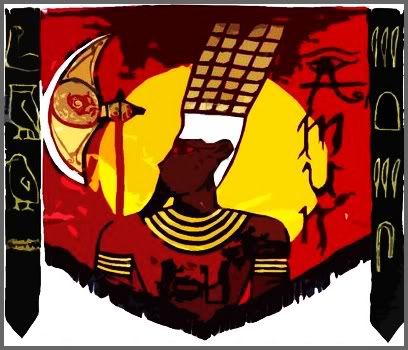 Amun's Flag
Our group leaders made an effort to come up with this colourful flag for our team " AMUN"
Damn Zai ookay?

ChunYang!
This is our DH (Division Head), in-charge of our Amun team! Look at his sexy body! hahah

Part of our Amun Team at the swimming complex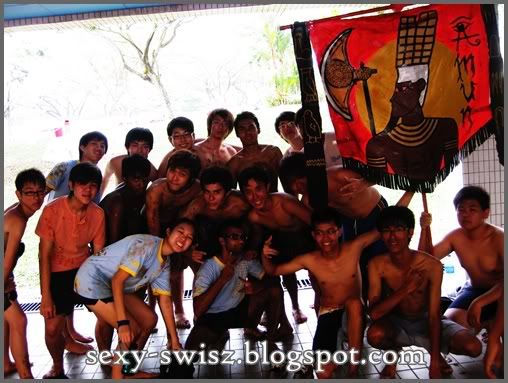 Team Amunified after the " Human Bowling game" (Mud Activity)
Team Amunified again!
Most of them went home hence that explain why there were so little of us left before break camp :D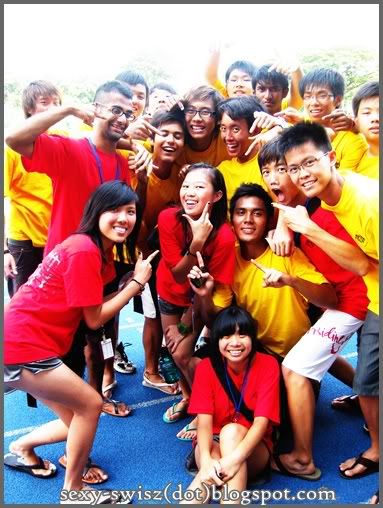 The guy's team!
The girl's team!
The cheeky Valli & Yi Jun! :D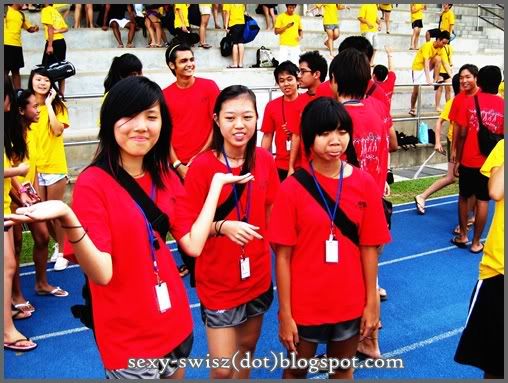 Weiman gives a jiaobin! "Extreme right"
( GRR she is the one that made a fool of me during the game cinderella)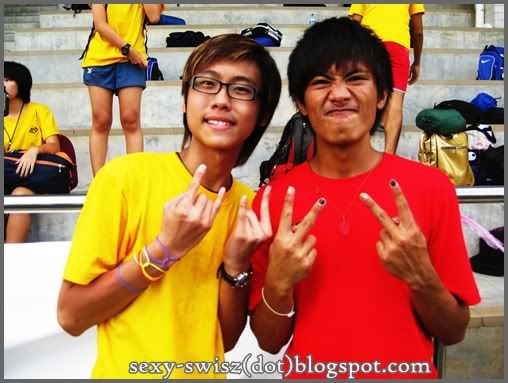 Peter! Obviously is the one that cant stop dancing his "Jai-Ho" song
Hahaha :P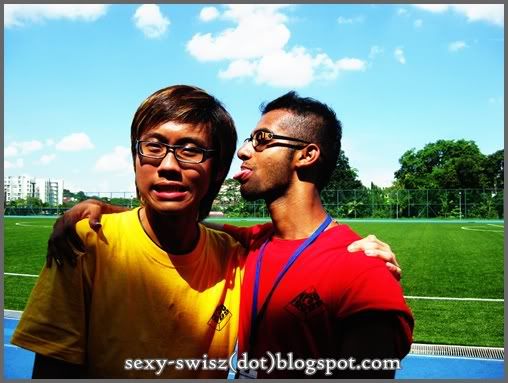 errr..?? Valli, isn't that a bit .... * ahem*
I gave that "EEEE" face! LOL
Amanda! Obviously the cutest GL in Amunified!! lol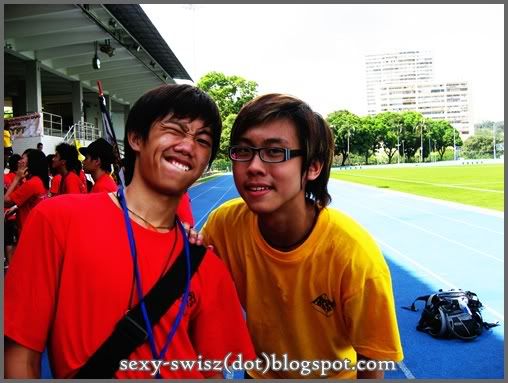 Yi Jun! Obviously another Cutest GL that don't really talk a lot.
But I always talk to him! Cause I'm bored!!! HAHA
Nicole wanted to have a photo with the GLs but Max came to disturb with the scary face
Matin's team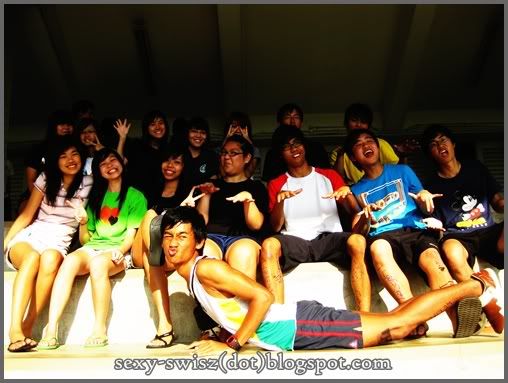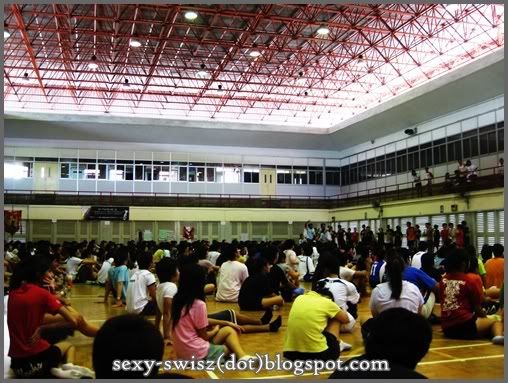 This moment is the most boring part " Mass Dance"
Dancing can really make me sleep easily I am not kidding okay?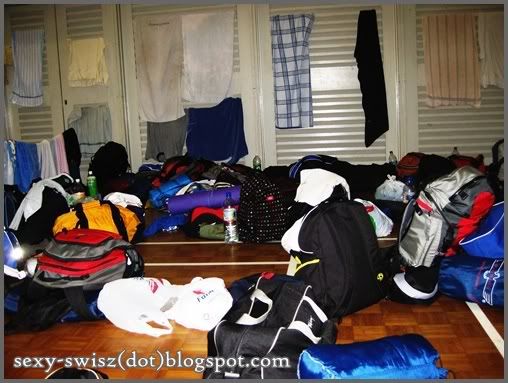 Our pig style
Proud to be
The 6 Boonlayians including Kevin(not in picture) surviving this camp all the way w/o booking out! * claps* and we really enjoy a lot of fun making new friends and fun activities!


EHHH! It has really been such a long time that I wore my Boon Lay sec PE T-shirt already and when I wore the full PE attire that day, it really makes me feel that I'm attending Sec sch's PE lesson leh!

Activities Time
Human Bowling! Let you see how we played the game

This game is damn gross because you will have to slide down the soppy hill and knock down the water bottles and eventually your whole body will be buried with stink & wet MUD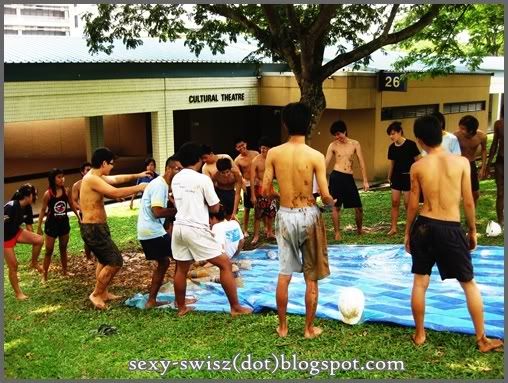 Hugging time! With mud covering all over you
Next activities will be playing with butter and flour
This is the new type of wax introduced in the camp.

Better than Gatsby lor!

The hair stylist!
Cat walk
After styling, we have a flashing parade whereby every couple will have to do some catwalk to show off our designs!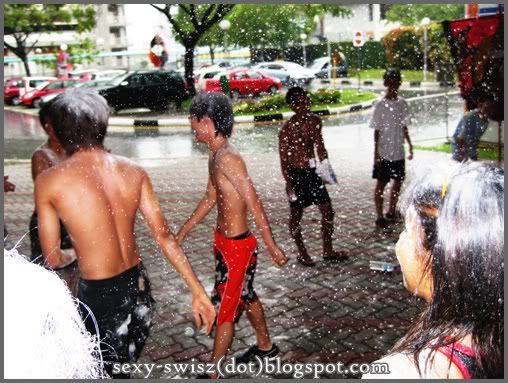 OOuh! Christmas came early this year with snow all over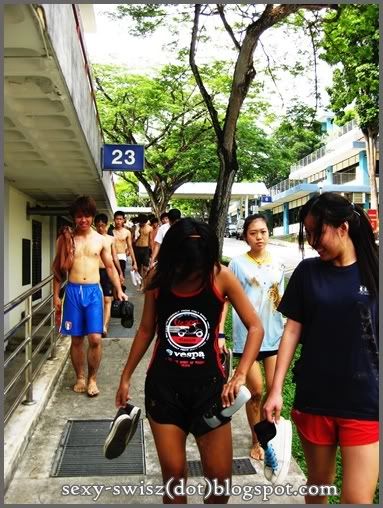 The only time that we can walked around Ngee Ann Poly half naked with valid reason :)
Campfire without Fire
As what the heading says, this camp is a camp without a fire.
But without a fire in the middle, the crew made a artifical pyramid to replace the fire!

SAD! I didn't manage to take a clear shot of that pyramid because I'm sitting damn far back behind.

Cam-whore time!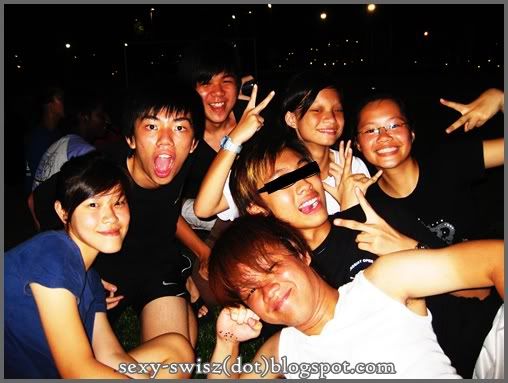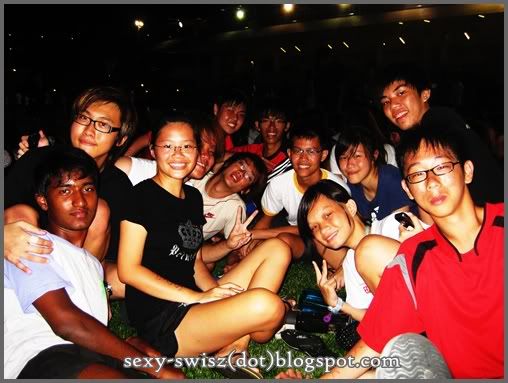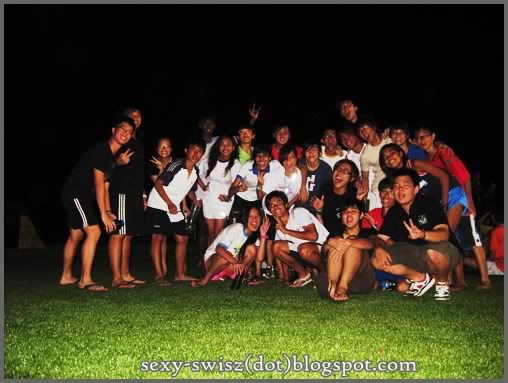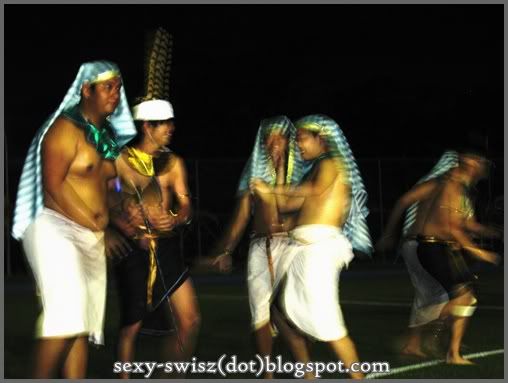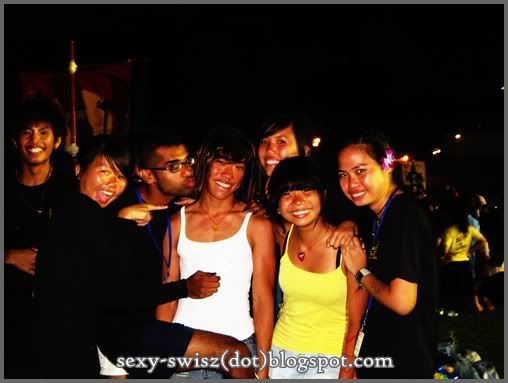 Josiah the mascot of Amun!
Chao Ah gua!:)
My hand is touching Joe's *opps* hahaha!
Clubbing in Ngee Ann Poly
No one will ever expect that this camp will have a " mini disco party" at the Flim & media Studies block right?
I didn't expect too until I enter the room............
This is the best part of the whole camp where everyone went super HIGH and dance like they never dance before lorrr!
Enjoy the Video & don't be jealous :P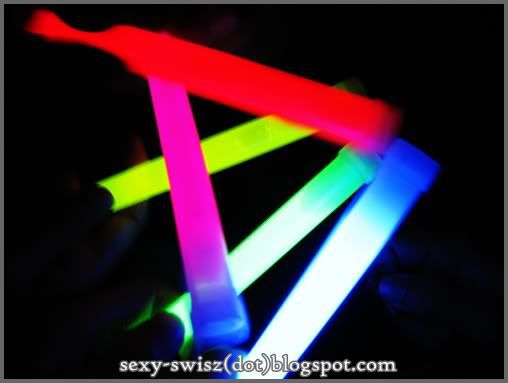 Light sticks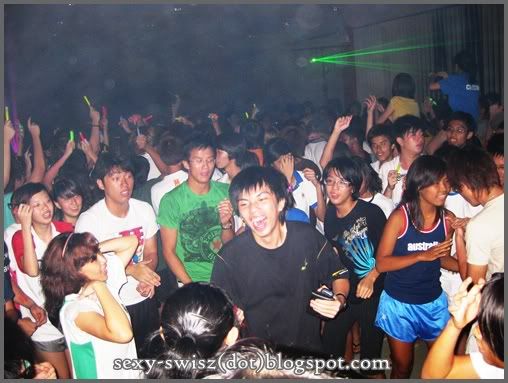 Lets partyyyyyyyyyyyyy........!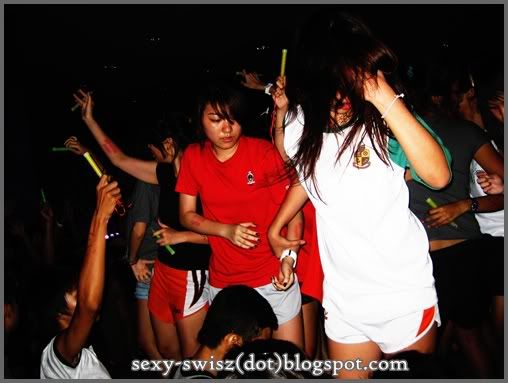 Dance baby dance ...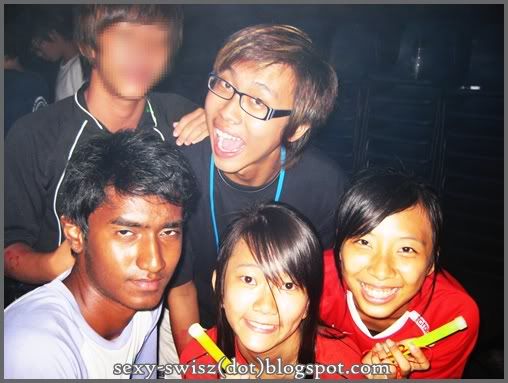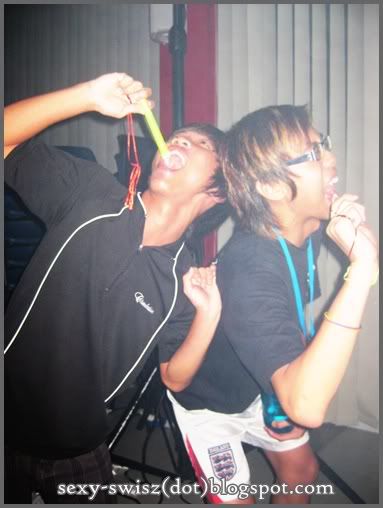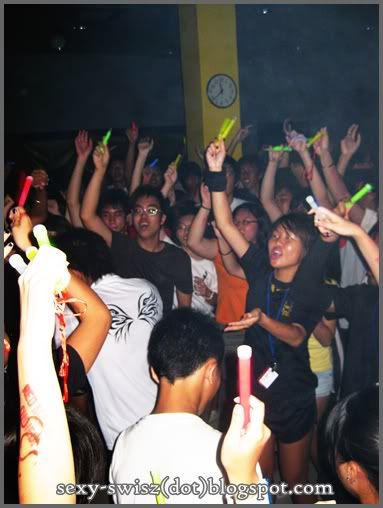 Everyone went really crazy and High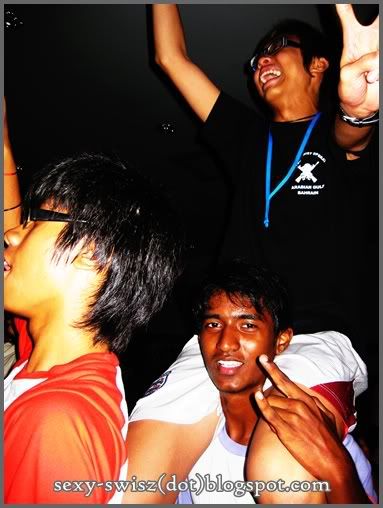 Yippieeee!
The best disco in school and most probably the one and only time when we can party in school.

The night that we will always remember
Most of us didn't sleep for the last night.

Instead of sleeping, we went to the running track & played true or dare...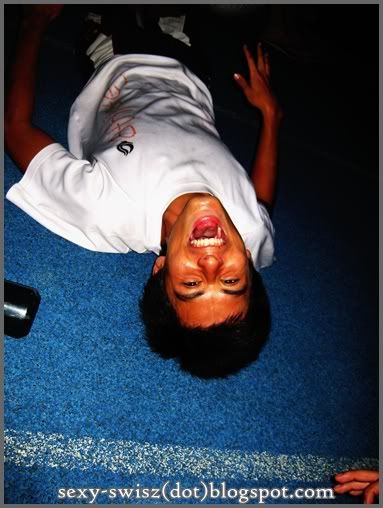 The mischievous Maxwell
OMG!
DOGGIE
HAHAHAHAA
Sounds so wrong.
The guy gonna lick Valli's Armpit
I'm really getting sick of the true or dare game already because I have been playing them for almost every week with my friends! The questions for true or dare game are always the same thing. How boring!

When I got bored, I went around with the crew and see how the crew disturb people when they are asleep!

DAMN interesting lor, but it's very disgusting. hahaaaaa

" Got tapped & toothpaste"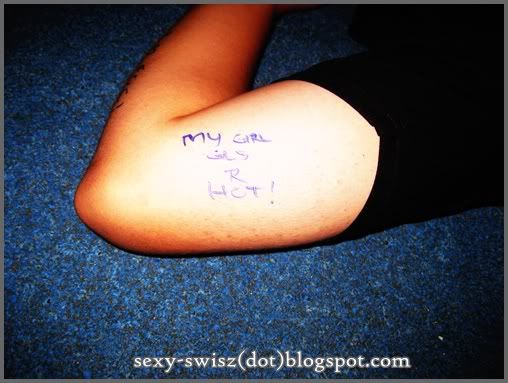 "My girls are hot"
"Horus FTW :D"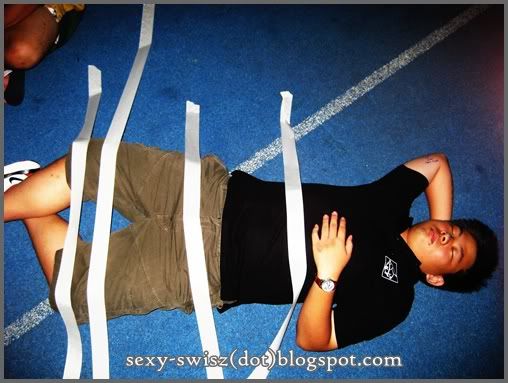 " Tapped and draw on the hand"
" Crew playing Tic-Tac-Toe on the leg"
" Nice figure"
This is funnyyyy!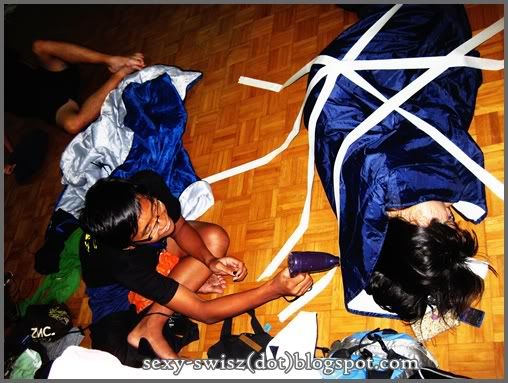 " Spiderwoman 4"
" using hair dryer to blow her hair but she's still asleeep! How funny can it be? "
" I am Gay"
Lastly, I will end off this post with this picture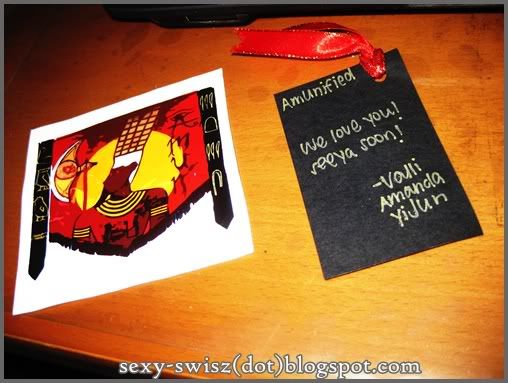 The Gifts from our Amun Leaders
I really miss the camp!
I'm still in camp mood even when I'm at home or I'm with my friends outside!
I love the power cheers of AMUN! Because we all rawkks as the whole AMUN team! :)
Love and miss you guys!
Add me up in msn and in facebook and don't ever forget me! hahahahaha
P/s:
Leave your names & group because there are too many people adding here and there, so it might be a little confuse :D
I want your comments about this camp!!!!! :D
Those who have blog, please leave your blog link on my comment box so I can tag you back :)