One after another leaving Singapore :(
Firstly it was Han Ling leaving Singapore to Malaysia for 4 years and now is Mr Lim ( Form Teacher for sec 3 & 4) leaving Singapore to Canada for 3 years.
I didn't manage to meet Han Ling for the last time because I'm in camp.
SAD + SUEY AHH!


Anyway, I did gave her a call even though I'm in camp & wish her good luck and blah blah blah :)
Let's hopeeee everything goes well & smooth for her!
Mr Lim's farewell gathering was different
More than half of my classmates turned up for this mini-farewell gathering at Boon Lay Sec!
The farewell gathering was real exciting because some of us didn't get to meet each other ever since Graduation Night, or in fact it was in January this year after taking O' level results
So let that moment be our last gathering!
A group photo to mark the presence of them!

My Classmates!
I think that there won't be any other chance for us to gather like the same way we used to be during the farewell gathering!
Hooray for being our "2 Years of form teacher"

Mr Lim has gain weight
Don't you guys agreed? I was supporting him from behind and I could feel the pressure of his weight pressing down my hands!
He is super super heavy ! Not saying that he was light previously, maybe he is too heavy for me to support from behind!
Mahen & sebas agreed with me too :D
Overall he is our best form teacher compared to lower sec and we all will miss his ENGLISH LESSON!
P/s:
I got C6 for English ( I'm so proud of it ) hahahaha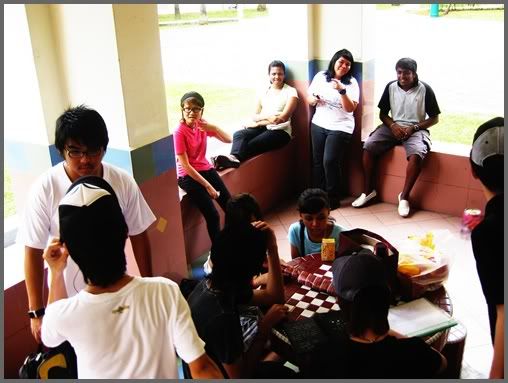 The preparation starts outside school
Writing down the cards & express our heartfelt gratitude towards Mr Lim :)
After cake cutting !
We made a little modified of the birthday song
So instead of we singing
"Happy birthday to you,
Happy birthday to you,
Happy birthday to Mr Lim,
Happy birthday to you"
We sang ...
"Happy farewell to you,
Happy farewell to you,
Happy farewell to Mr Lim,
Happy farewell to you"
Seriously it sounds damn wierd !!!!!
Can you imagine 30 of us singing this song loudly in the school canteen
( So many pairs of eyes were ON us)
They must be wondering " Wtf they singing sia?"
We are making a fool of ourselves! :P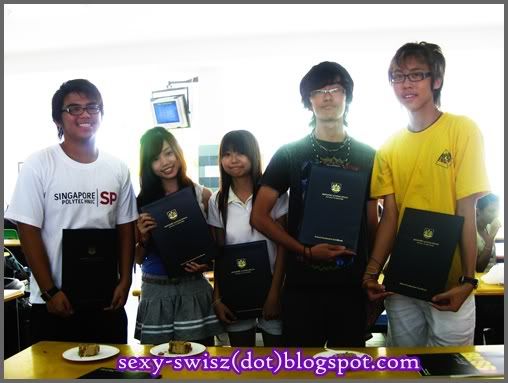 We have collected our O'lvl certificate! -Yearbook too!:)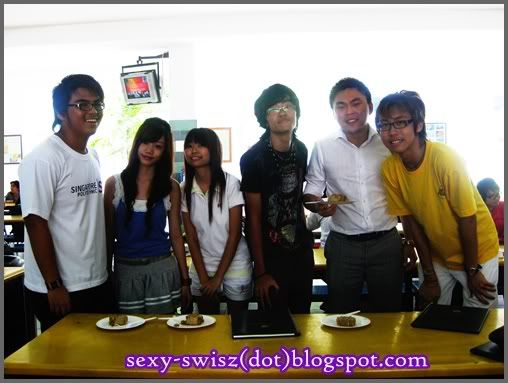 Vivian, Me, Mr Lim
I really do not like my testimonial on my cert!!!!!!!
If I had knew earlier that my testimonial was going accordingly word by word of what I had written them months before the exam, I would have written 3 full pages to praise myself!
UAGGH! Really regret of my "hackCAREness attitude" when I'm writting the testimonial. I'm not serious in simple phrase.
Because what I wrote about myself, really reflected on my testimonial!! LOL!!
I SHOULD HAVE just write some bullshits praise about me & maybe there is a chance of them appearing on the testimonial!
*BANGS HEAD*



***


Birthday Preparations!


Ever since after I came back from camp, I'm at home like less than 8 hours per day then I'm out again
Even now my dad complains and said that he never get to see me for like 3 days already because I'm always not at home.
Rubbish!!
Aiyah! Nevermind, I will be nice and I shall stay at home today just to let him see me :)
I'm out daily because I've got to plan for my friend's birthday mahh!!!
3 friend's birthday all very close to one another so that explain the "Rush-ness" of me planning despite I'm so damn tired after the freeaaking camp . Of course there are other planners like Sebastian, Kevin & Sim Yee.
Out of the 3 friend's birthday, I shall pick only 1 to blog about it because I'm quite lazy to blog actually :D
And it shall be
Mike's
Birthday that I'm blogging!
His birthday theme was "Gothic & Emo". Wildful ideas coming from me because I think that the theme really suits him a lot! hahaha
We headed to Hong Kong cafe at Marina Sq for dinner before getting the guitar @ Peni
Yummy!
The 4 of us !
Kevin & Sebas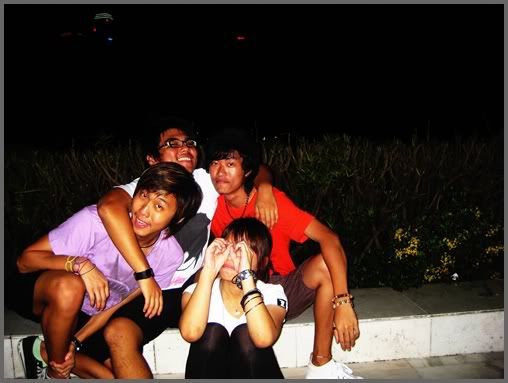 Zhao Geng!!!!
Doing some stuns here :P
Buddies!
Kiss our ASS!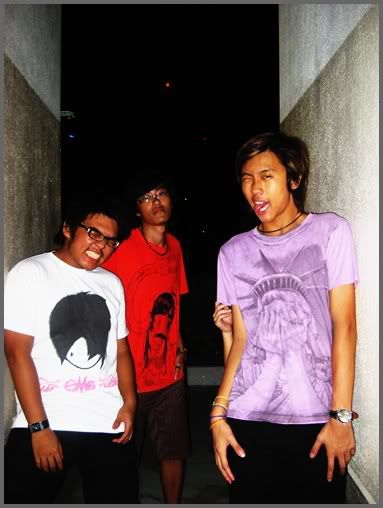 Sebas squeezing his "dabian" out! Look at his face!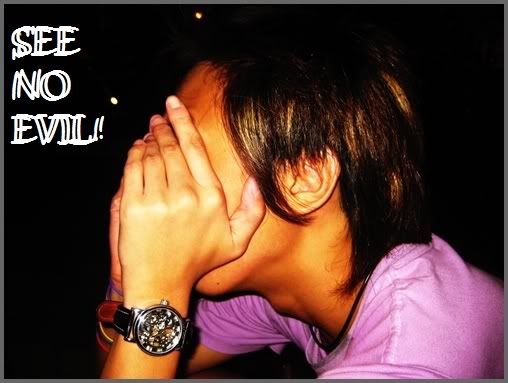 you can't see me.. hehehehee!
After we got the guitar, we headed to sebas's house to accomplish our plan!
Our plan is to put the designed guitar into a "self-made coffin" and give it to Mike
Kevin the designer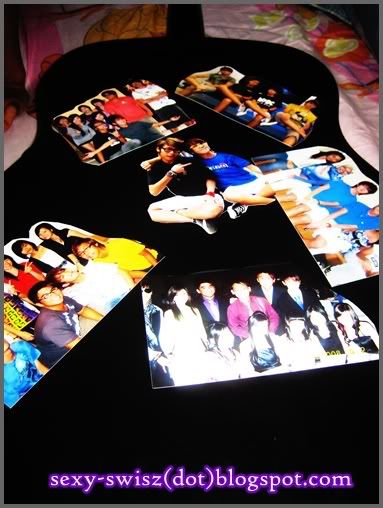 Our idea in the first place but somehow it changed later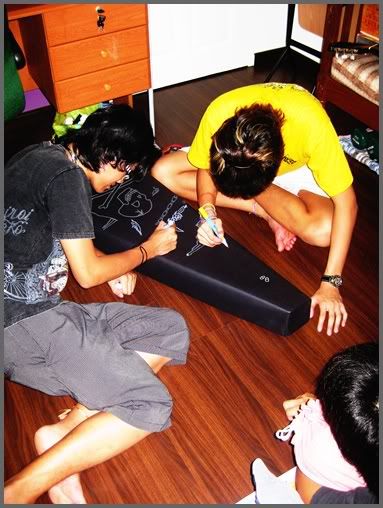 SEE that? we are working hard on the designing part!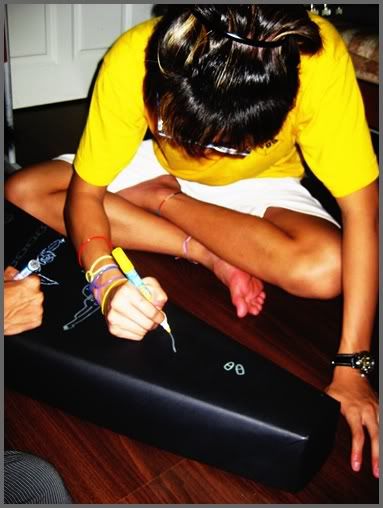 Very high challenging part drawing ookay?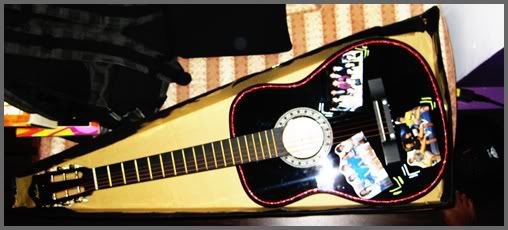 Our half complete guitar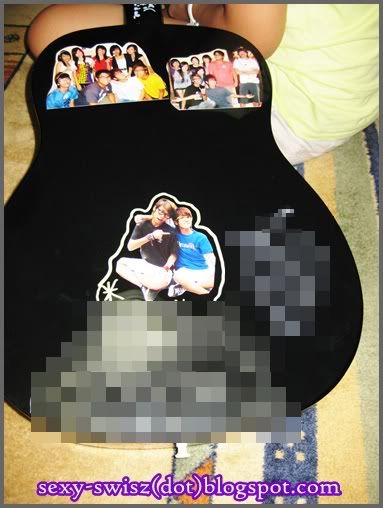 Completing sooooon!!!
Sorry I have to mosaic the message that I wrote to Mike because it's very personal :)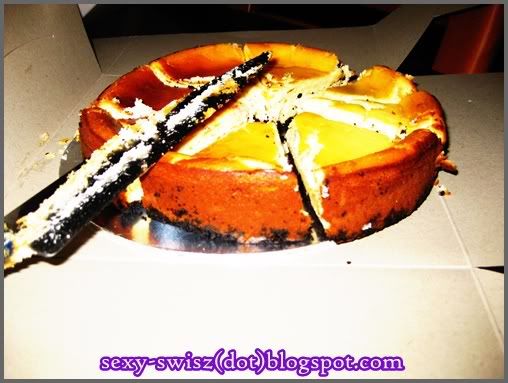 The cheese cake that I love most!
Hand made by Anna!!
SUPER duper yummy lor ;D
OREO cheese cake
Whenever I met her, I will sure pester her for the cheesecake because its damn NICE! You have to try it!

AND here the surprise came...
I manage to come up with a plan to divert Mike's attention away so that we could enter his house to give him a surprise... IT WORKS!!! :D
.

.


.

Mike's shocking face!!!
He was like ZOMG!!
This is the way we present the present to him! Very unique
He will have to form these words accordingly by it's meaning before we can give him the presents!
SO..... AFTER 5mins....
...
...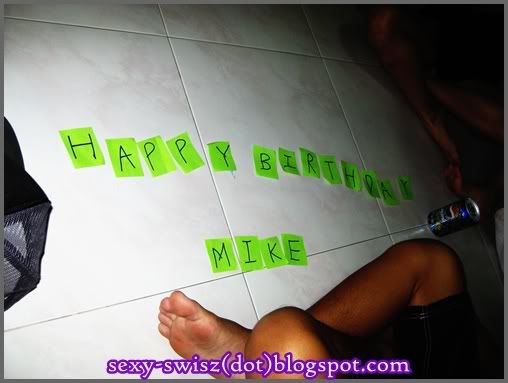 HE DID IT! . lol... so he get lor... simple. HAHAH!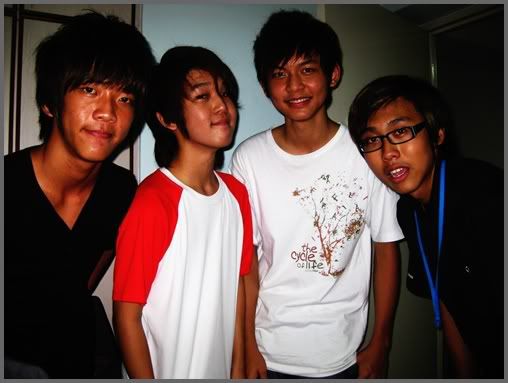 Frank, Mike, Julius, Me!
Me, Anna, Jia Le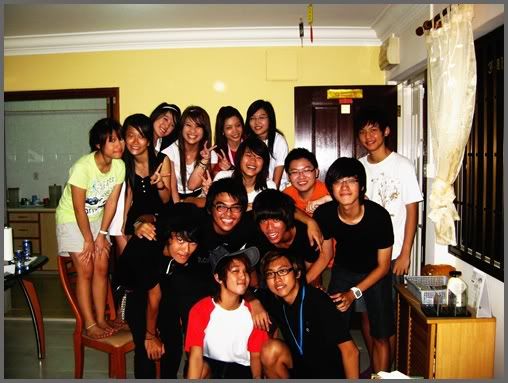 Happy birthday Mike in advance! :)