Invitation:



This invitation is only meant for invited guesses only!
Invited only hor!

This is my 4th Chalet ever since december! :O

Other viewers may ignore this section :)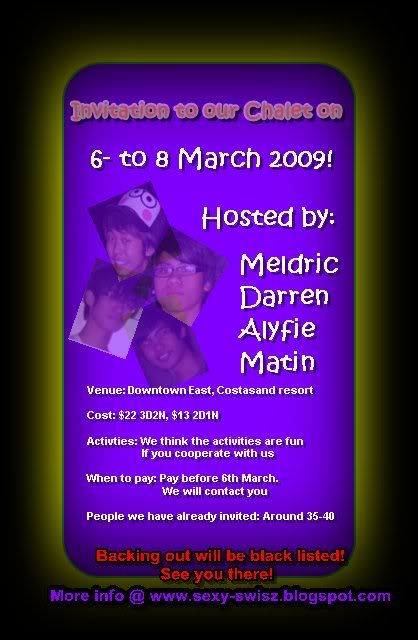 If you have been invited by any of us above, please contact any of us immediately and arrange with a group to make the payment PERSONALLY
I guess I do not need to put up all the names of the people who are going right?
Just gossip around your network & slowly you will find out who is going for this chalet! :)
To clarify something:
People who inform me before the
20 Feburary
that they will be coming for half day will be excusable and they are allowed to pay $13 for 2D 1N stay.
For people who inform me after the stated date, they will have to pay up the full amount
regardless of whether they come full or half day
!
" You have to inform me personally & not passing messages around asking others to pass messages to me because the messages might not be passed to me even if you have mentioned before 20 Feburary. "
Sorry, it will be considered as the full payment if that is the case
Because our budget is very tight now, so if anyone backout from the chalet, you will be causing trouble not only to the person who planned, but also the ENTIRE enthusiastic parties!
So dont only think about yourself that you want to give any bloody reason just to backout!
( I need to be a bit stern or people will not treat this chalet with much attention; Sorry about that)
Hope you guys understand all these & see you there!
P/s:
If anyone wants to join us, please leave a comment here. Just in case we have left you out or something :D
You can help advertising this chalet by pasting the poster in your blog!
Click
here
to download
***

Have you guys seen a rainbow up the sky?
Here is one that was sent across the entire Singapore!
Pictures are taken right above my block! so Enjoy the clear pictures of real
R
a
i
n
b
o
w
if you havent seen any before in your life!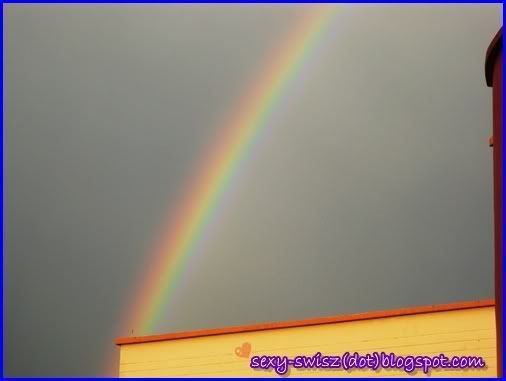 At first I thought that there was only 1 rainbow!
Neither did I expect to saw double rainbow up in the sky!!!!
Freaking amazing to have 2 rainbows occuring in the sky at one go! :)
I love it!
I bet you guys do!
Awwwwwww , did anyone saw the 2 rainbows?????
Pleaseee let me know! I am curious
:D