Ni Men Hao :D
I have got
some
MORE
overdue pictures lor
Initially it will be uploaded in my previous post ( like I mentioned earlier) , but I couldnt get the pictures from my friend still. Therefore I'm making this super late late & LATE post as I have already received now!
Thank God
I will kick off with my Chalet CUM ShiLei's birthday
So sorry, I just realised I didnt wished her happy birthday in my previous entry :O
Oh,! Heres a wishing from me, happy belated birthday to you :D
I will try to make it snappy
Everywhere we go,
We CamWhore
Everywhere we sit,
We take pictures
Everywhere we are,
We pose for a nice shot.
That makes up my wonderful friends together as ONE
.
.
Chalet was kindda ok lor
still the same old phrase as above.
" we take pictures everywhere we go"
So lets see..
I Dont know what the heck Mike & I was doing.
We were acting like a fool there..
Mines blacky's pose
While his...........
Something like screeeeeeaming for help?
Everyone's pose was kindda alright
But as you guys know, the pictures were sent by Simyee, so I didnt get to edit pictures except for borders & lightings.
Look at bottom right corner
Saw a black heart? Confirm not done by me.
LOLS
Not only this picture she Zhao Geng.
Sry to say this, but I cant resist laughing loudly :P
Hold on to your butts & check out our stuns!
Boasting our Kung FU ( Prefer to be called KongFU) Sounds so "King Kong type to me"
"AAAIIIIYYYAAAHHHHH"!
Scared le bahhs?
Our hidden potential were revealed
So dont mess with us (:
Playing Twister
Very very fun twisting all hor..?
*winks*
Playing while working?
"Later boss come, all kena fire laar"
See lah, see lah.
Keep play .. Look at the time now?( Below picture)
Its 5.15pm leh... almost knocking off then we started taking photos
See how smart we are..
Thats why "we the good workers", Boss wont fire us de lah.
HAHA! chill :)
Say Hi to this superwoman in the middle...
I dont know for what reason, she keep asking me to advertise her.
Maybe hoping that some guys would want to know her?
HAHA!
So maybe here it is...
Dont worry, be happy :P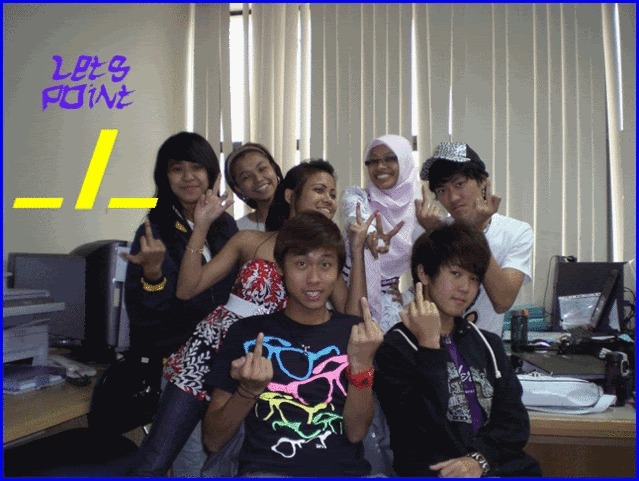 Middle finger pointer!
*Middle finger rises*
HeyHeyhey!
Middle finger is the way I greeted people.
I dont point to everyone except those who deserved to be point, I will.
HAHA!
WOW, I make it sounds so... " speechless for you guys?"
"Deserved"
word I mean..
Deserved as in, you poiint me, I point you back. Thats what I mean.
NOT the type, I point you, you complain to your mama..
omg.
Those people I fear most.
Alright, I shall not beat around the bush.
Straight to my point,I'm a good boy, I wont anyhow point can?
In fact, nothing I wont .
Okay lah okay lah... its just 1 frigging middle finger & I can elaborate till like that
I promised to keep this post snappy .
So I shall do that.
Bye folks!
Wei wei wei!
last few breathe to say.....
I HAVE FINALLY sent my application to the Polys!
(:
I didnt hardcore Ngee Ann Poly
I got choose Nanyang & Singapore poly oso leh!
AHAH!
But I think I hardcore business..
Hopefully I can enter the course I want .
Which is International Business or something related to business.
My Brother says that he have a feeling that I will enter N40- Leisure & Business facilities management (NP)
Well, I hope first choice will come true.
Or else, any of my 12 choice.
Wish me & urself luck ;)