Headache Lor!
Before taking O'level exam
, headache...
Now After taking results, EVEN more
Headache
!
so when can i shooo off these "
Headache
" symptoms?
I dont even know what course I am going even though I'm craving for BUSINESS in Ngee Ann Poly. All the 12 choices are to be submitted by this friday!!! & I'm lacking of time to think!
My dreams were shattered when I opened my result slip =.=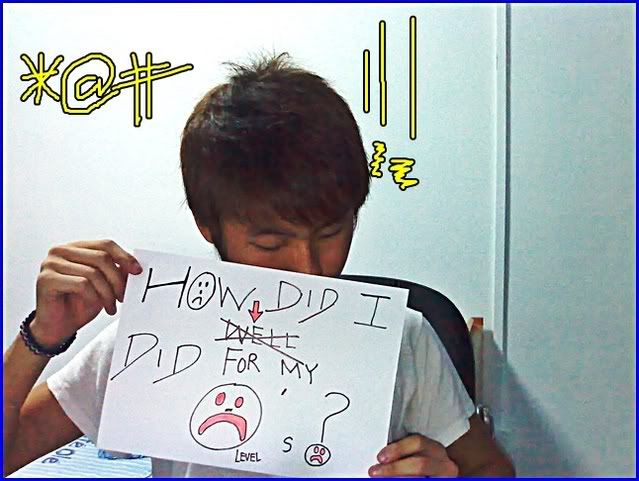 Ya, My english is suckie, so thats why I'm showing this " BEST" phrase of mine.
I scored C6 for both my languages.. ahhhhhhhh :(
SEE how bad I have done?
Although I have passed all subjects, but I'm still not sastified!
I think I have work harder than ever this time round, but i just cant get good grades :(
I missed all of my goals for my O's except English.
My greatest disappointment is my Principal of Accounts!
Since sec 3, I have been getting A1 straight... I got A1 for my Prelim too..
But actual O level ... guess what I got?
.
.
I got B3...
I'm super depressed larrh! >< >
I dont know what course to go with such a suckie result lehh..
I want
NGEE ANN POLY
:D
.
.
.
YAY! I have got my cheque for the good progress award & Eagles from school
(:
My mind is full of $$$ now. muahaha
&
This is the time when we took our results!
Picture is abit blur as I snapped it very quickly in a bit.
srry for the poor quality :D
Alright :D
Thats all for the reporting of my results!
I'm so not okkayyyy
:]
.
.
I have got some overdue chalet pictures
which was held last friday...
I have very limited pictures with me ughh!
Sim Yee haven sent me the pictures so I cant upload them so fast. But if I have the time, I will try to upload it.
Here are some pictures from
Hong An.
I guess I'm ending here.
Bye!
I still having headache on the course larhh!
HELP ME leh! ;x
pathetic me :((((



Tags reply:

Loong:

ya lor. aiya hope i can ;x

Kevin:

Thanks! u too ...

Adel:

hello (: teehee ;p

Vivian:

average only. i missed all my target ;x

Berliana:

haha. mama roach got?

Franky:

yarrh! No more worry :P

Crash:

erm... sort of? But not every kind.

Lyn:

Thanks thanks :D

HuiWen:

thanks.. :P wats ur results?

Queeness:

Thanks too!

Xiaobendan:

Lim . haha