HOhoHo
Heard the tune ringing in your ears?
That should be Swisz the Santa coming to Singapore ;D
(SG VERSION)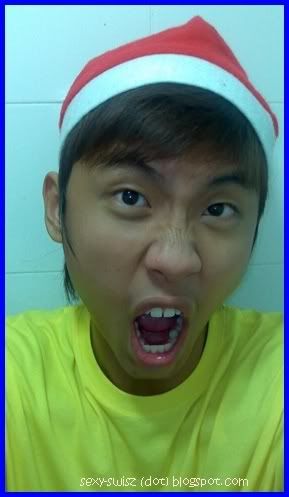 Here am I wishing you guys a belated
Hap
py
Me
rr
y
Ch
ri
st
mas
(:
As well as Happy BOXING DAY ( Today)
Let me kick off this post with few memorable parties
P/S:
If anyone wants the original copy of the pictures, please tell me either by MSN or Mail me..
I will mail you the pictures upon request
Read on - To find out MORE!
This post will be focusing on 24th december; all the happenings on Christmas eve
( At work & at my uncle's house)
&&&
&&&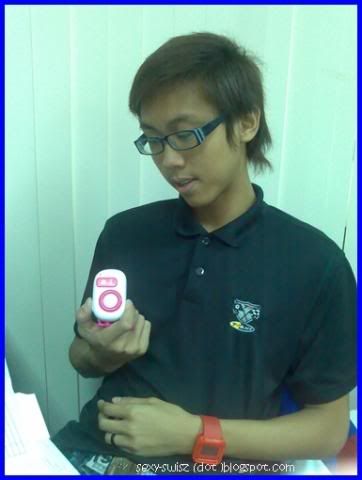 This is @ work.
This is @ Uncle's House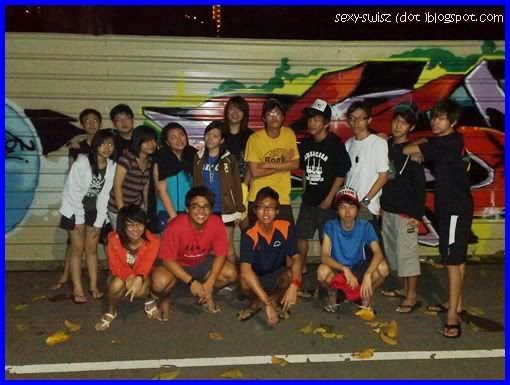 This is @ East Coast Park Chalet
Lets get started!

Episode 1 >> 24 December 2008; Working Half Day
3.30pm released! was very shagged after work..
But the day was fast!
We play, we fool, we joke, we laugh.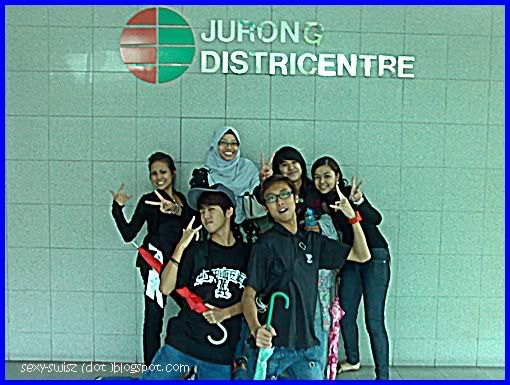 Ole OlE OLE OLEEE!..........
KenLab's Staff rocks my socks!
The way we are...
A heavy Downpour in my office!.
*Arks*!
Under my umbrella .... Ela... ela... .. Eh Aye........
Omg!
The rain is too strong for me to SIAM! T.T
But I guess i enjoy this christmas eve rain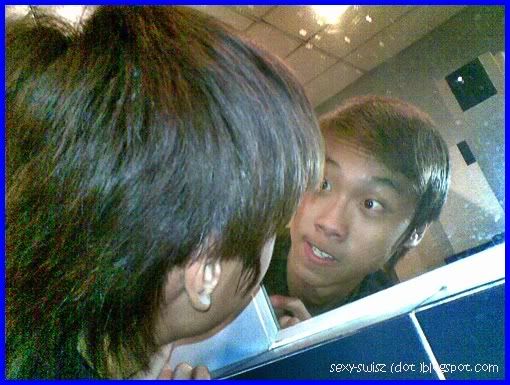 I think i looked like a dinosaur!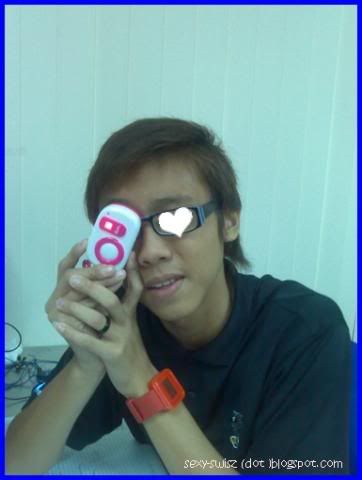 "Smile" is always the great word for cam whoring!
Toy camera... Thats obviously not MINE . heh (:
Shytt..!
look, what an assy snake in my office!
Lucky I'm able to catch it...
Or else... it might stink everyone's butt. LOL
It crawled onto my hands! X_o
It bit me!
Grab your head already dude. See how u attack me.
*squeezeeeeed* & he died..
Sounds so dramatic siaaa....
I'm a forklift drive.
Trying out my Stuns! so bear with me.
Episode 2 >> 24 Dec 2008; Christmas party @ Uncle's house
Happy merry christmas + Happy birthday to my cousin
Jazlyn
!
You are 13 now......
Hope everything comes good in your way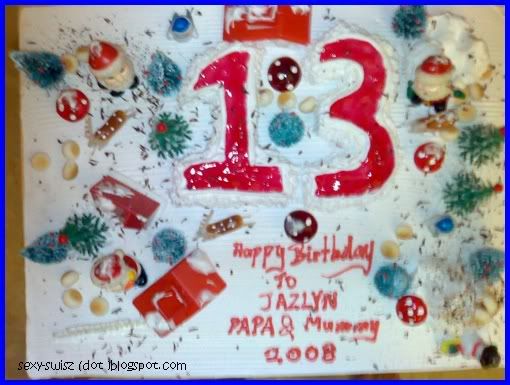 Birthday girl!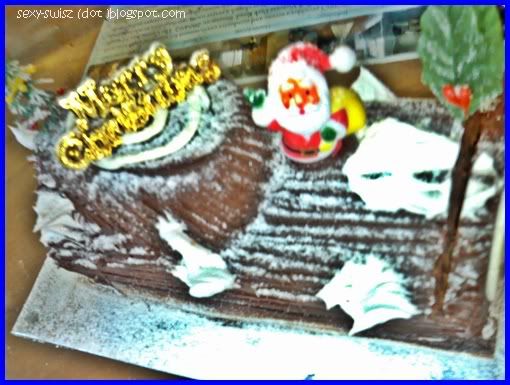 Christmas christmas...
what do we usually look out for?...
Logcakes are necessary....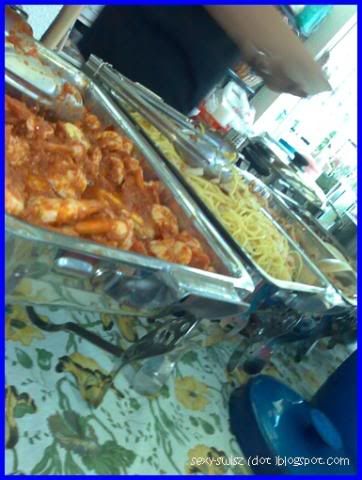 Buffet food are necessary too...
Then anymore?...
YA!
There are still Hams & Turkeys & champagne & Wines
(sad, i didnt take a shot of these food ;( I missed out all these... lols )
And , there are some games too!
Here are some examples: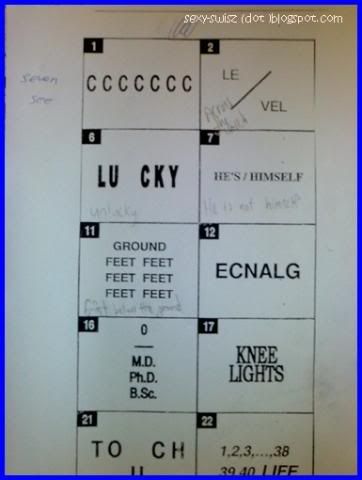 Guess the meaning of each word.
Everything makes a meaningful meaning behind these words..
Start cracking your head (:
& Do it when you are very free
Want answer?...
Get it from me...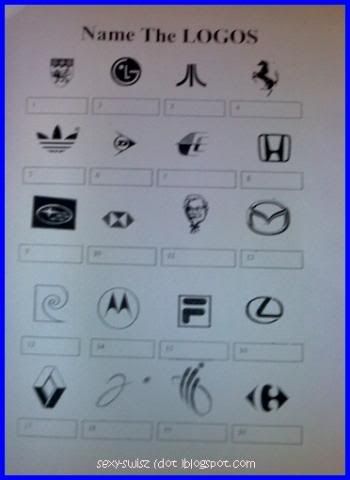 Another game!
Try it... If you are not sure, look for me again.
My answers are
not guaranteed correct.
Because I memorized the answers when the answers were being flashed out. So I somehow hope i can recall it
..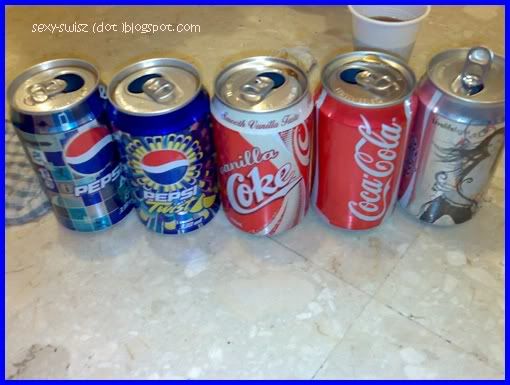 Up next!, Guess the COLA!
The games goes like...
5 cans were covered up by papers label from A to E..
Then we must guess which brand or flavour the cans contains.
P/S:
They all taste so similer because when testing these Colas, your tongue gets so numb & it became tasteless... so everything taste the same....
Try it! (:
This game is what I called " Bully"
Drinking water with straw!
Yet I'm challenging my cousin with drinking THIS!!
hahaa!
If I lose, i will be very ashame! ;)
laughhs
Dog with Shirt...
Baby shirt somemore!
cute LOR.
This girl is so irritating & keep pressing me for a photo to be taken..
I keep on drag & drag... And...
*ahhh* & I finally agreed when the clock stikes 12.30am when we are about to go off soon as I cant take it anymore.
LOL!
Just jokin
SANTA in town!!!!!!
LOOK!
i'm not kidding
! This is really santa.. Its the Singapore Version!
I dont lie. =D
See for yourself!
Episode 3 >> 24-26 December 2008; Chalet @ East Coast
I love my friends!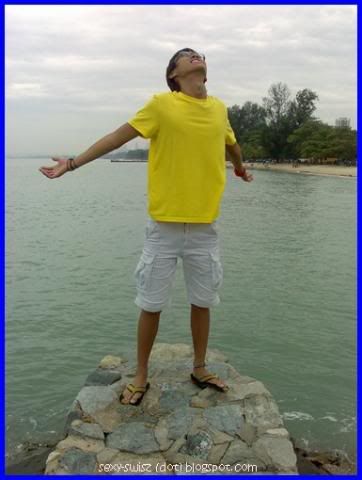 Just getting a cool air out @ East Coast beach!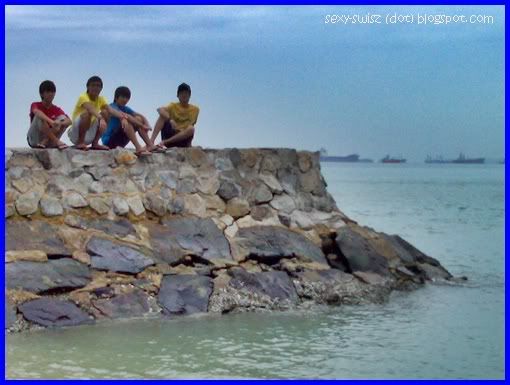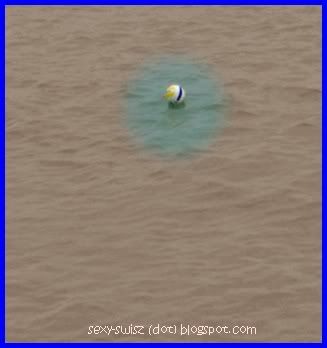 This Poor VolleyBall..
Presley accidently exert too much force & it went straight into the sea..
We didnt manage to retrieved the ball but we get to see the ball drifted away slowly..
Haha Sadd! :(
Mahjiong while waiting for a room transfer...
Yellow Tshirt is cool!
The Yellow's is somehow a nice colour contrast with the grasses...
WE are like BEES!
This is my gang!
wahaha * giggles
Centre
: 1 Black - YingWei the gang leader...
Midde :
4 yellow - Jiale, Yibing, T-Rex & Me are the Fighters
Sideways:
2 Red - Mike & Yihloong are the commandos!
& together, we form a gang. rofl...
Xiang Xiang & me!
He loves to stick with me so closely ..
I dunoe why.. keep hugging me & stuffs.
haha omg.. I'm in trouble..
wahh Mike acting cool with shades eh?.. LOL
Nightfalls comes early...
& we went cycling!
WOOTS!
I'm damn happy with 1 thing
Swisz says: " I have completed the cycling with determination & I travelled like 32km from East Coast park to Changi Beach, & Changi beach back to East Coast Park! & I'm really Happy"
This is such an awesome ride... but few things that made me dislike.
1: MY ASS HURTS ALOT! =.=
2: My Hands have blister
3: I can feel Insects climbing all over me! EWKS!
4: My muscles are very cramp
5: NO WATER supply & we had to drink Toilet Water!

The forest are veri eeriee...
We went with 16 people...
& 8 of the people gave up half way so they headed back to chalet @ about 3am.
& 8 of us carry on with the journey to CHANGI BEACH!!!
MY FIRST TIME!!!
Our journey started on the night of 25-26 december 12.30am to 5.45am!
Close to 5 hours of riding for the 8 people who continued the journey.
& 2 hours for the people who gave up half way.
My legs are like JELLY (worst then that) after the journey!
and my butt is so PAIN! Z.z!
16 of us setting off!
Kinda like doing stun here. ;D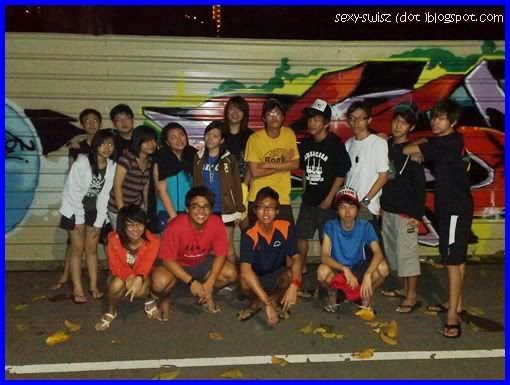 The 16 of us cam whoring along the journey as we came by this nice graffti wall..
As mentioned earlier, those 8 who decided to continue the journey were all in this picture!
Picture will include Sebastian as he is the camera man. (guy in red from the above picture)
Look, if people missing means they have returned to the chalet...
:D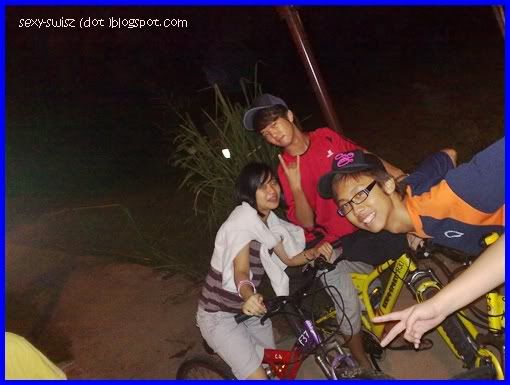 Extra me :O
Extra HAND! :OOO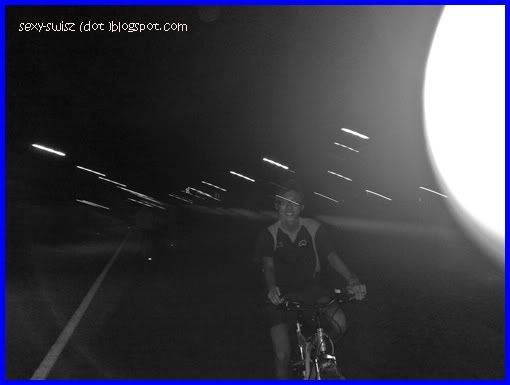 Some snaps while I'm riding the bike at high speed on the highway!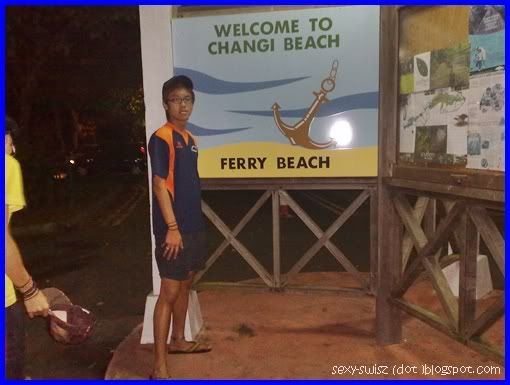 & we really reached changi beach! Proof :D
I would like to comment this direction board!
On ECP, we saw this sign & says 7900m to next drinking point on Changi.. so we went ahead hoping that there is water or something!
BUT When we reached, we saw this sign again!
It pointed in the direction back to ECP & it says next drinking point is at ECP...
Wth!!!!
We all was like.. omggggg... we came all the way here & we ended up so exhausted & thirsty & no reward ; water at all! ughhhs!
See how pathetic we are??
Resting on the dirty ground @ Changi beach...
Cos we are really damn tired & tired & nothing else...
And we ended up with little choice but to drink from the dirty toilet tap!
&@%$#
The water tap was like .. holy shyt!
Very very dirty.
But we have no choice & we really understand how important & precious water are at that point of time... lols...
P/s: I'm updating my blog since I got home at 4pm.. now its 8pm & I'm finally done with this.. See how poweerful am I! haha & I hardly get a wink of sleep.. just like 3D2N 5 or 6 hours.. thats all.. haha!
So I'm sleepy right now.
So seeya & enjoy this long post.
Do TAG & Vote for me.