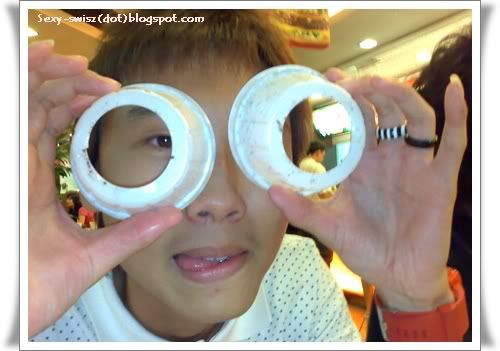 First thing First, here is my greeting "
HELLO
" with a huge TOAD eyes! =.="
Dont say I'm crazy. I'm just SIAO. (:
Back to my good news.
As most people are waiting, I'm sure some might have knew whats the good news.. so I wanna ask you guys... When u received such award letter, wats ur first reaction?...
Shock? surprise? expected? WTF? or something else?...
Its really my first time receiving such award. heh!
It's
EAGLES
award.
First
in my whole secondary school life...
Its only Eagles.. its also not proven that once u receive such award, you will fly arr...
Joking, but still... its an award.. they award me with
$150/-
Cheque!!
Its still $~! haha... Actually, such EAGLE award, Its
expected
.. [
Not boasting
]
but..
As during Colour's Award Presentation,
MS Doris HO
told me that I'm one of the nominees.. ( A BIG HINT) Thanks!
So I'm not surprise & I'm proud to have it &I'm happy about it. ;D
How about you guys? does anyone have it? I mean if you do, share it with me! cos in Jan 2009, we must collect the cheque from school..
Join me!
*
*
*
*
Up next!,
ANOTHER SHOCKING AWARD
received the following day.
Its the ...
CDC & CCC GOOD PROGRESS AWARD!
WOW!
I have never heard of any of these awards in my life.
I'm truely shocked! :O
My ass stunned for awhile & it went NUMB! cos I was sitting down & staring @ the letter for so long as I cant believe it!. hehe!
This award really led me extremely delightful to the EXTREME! haha..
Cause, My studies stinks.. YET, I got this award.. for a good progress... hmmm..
I think hard work really pays off?
P/S:
I study like DOG during PRELIMS & O' lvl -.- "dont accuse me of LUCK AS I dont believe in LUCK if you dont put in HARD work, perhaps I really tried MY BEST... Shall see in the Os "
If I'm not wrong, it should be my prelim's results that led me to this
RARE
chance of being one of the award-iees! :D
EAGLES + CCC&CDC AWARD, $150 + $150 = $300!
Its all in cheque...... cool... Looks like I'm getting my Camera in no time...
Plus I'm thinking of treating MS HO a MEAL.. What do you think she loves to eat? Any idea? ( DONT say everything , cos I know what u mean ;D )
Comment me!
I'm very proud of my studies & my achievement during my secondary school life! (:
This 2 awards + CCA awards & many more like LAOS volunteer etc..
YAHHOO!!*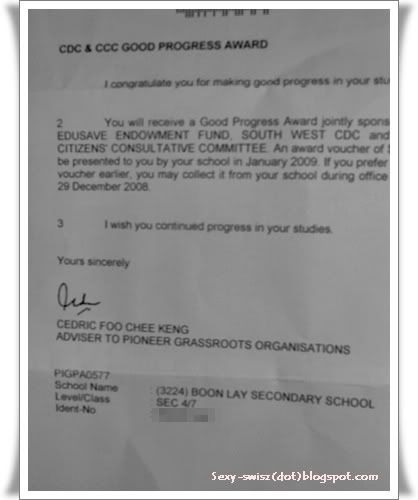 *
*
Working time ! *yawns*...
DESTROY!!!
Thats the cartons that are going to be destroyed once its scanned & checked!
*
*
*
Instead of working,.......
Lets take a look at this ..........
PERSON!
SLEEPING in the TOILET! -,-
Tell boss he kenna fire arrhh!
" OH NO! I'm accusing myself
LOR
! ... xP
At least I realised my mistake to sleep in toilet...
EVEN HOW TIRED I AM; NEVER SLEEP! haha
POSE 1!
*
*
*
*
LOL! Another pose...Theres even pose on how to sleep even in toilet!
VERY
POW-DER-FUL!
*
*
Added this picture just for fun! (:
heh, dont complain to any HR . I'm good WORKER .
COMMENT ME Please!
Have FUN viewing!
*I'm crazy* x_o