Hello all "Bee-Zee" people! (I'm one of you guys too!

)
I should be blogging this like 2 months ago but omfg-ly, I didn't have time to edit all pictures on time (that day back on 8th OCT 2010). So I decided to drag and drag till I finally found the right mood to blog!
HAHAHAHAHAAHA!! Xoxo...
Let's backtrack a little few months back, shall we? :)
Dated back on 8th Oct 2010, I was invited by Andy to his birthday party celebration over at Khatib's McDonald outlet.
Dress code for that day was "
Back to School Geek
"!
*(
YAH! I HATE DRESS CODE LEH! It's like so mafan still need to think what to dress and stuffs
)
P/s:
I'm just whining, ignore me because my own birthday party, I also want people to dress according to MY dress code theme! HAHAHAHA! Sorry about that. I'm contradicting against myself, I know! :P
McDonald Birthday party!
Hell yeah, it wasn't my first time partying over there and before I went, roughly I could guess that there are happy meal presents and balloons given out to us as "door gift presents"!
Birthday "Welcoming Screen" to the guest.
We were served Happy Meal for our dinner! McNUGGETS, Small coke and small fries!
According to the theme, we all have to dress somewhat related to "SCHOOL", therefore that explains why these 2 jokers on the left are wearing secondary school PE Tees!
Despite the fact that Weijie is in the army! Hahaha!!!
I'm that GEEKY right?! :P
Our table!
Spot the difference urself with the picture above this image! :)
We got some mini entertainments from the McDonald staff too! (I can't remember the games)
Birthday Boy!
...With the Happy Meal Door Gift present and Balloon!
Random Picture!!!
I find it very hilarious leh! HAHAHAHAHAH!!!
Got the chilli sauce at his mouth.... Got the whole chunk of tissue paper stuck right at his mouth area there. And everything just comes naturally!
Limei playing with Andy's Mini Toy Instant Printer! Hor Hor...
Instant Mini Printer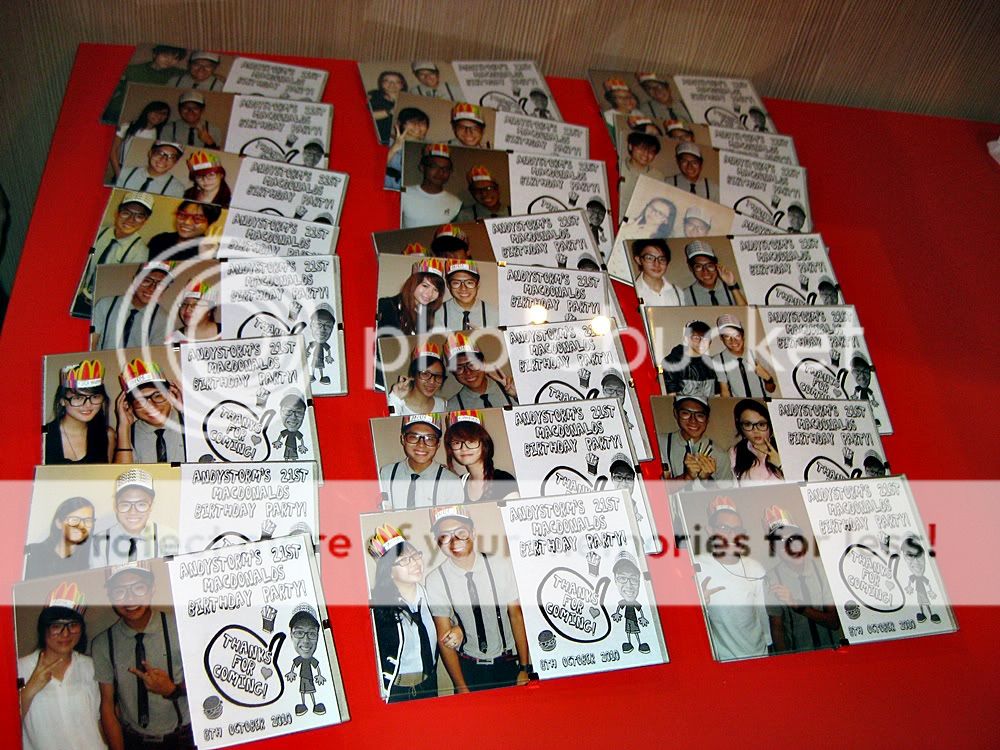 Andy's Self-Customized photo frame for his personal door gift! :D

*IDEA IDEA*...
Don's IRRITATING Face! Feel like SLAPPING HIM! :P
Opening up MY (his) presents timeeeeeeeeeeeeee! xoxo... Heh heh...
OMFG! I WANTTTTT! HAHAHAH!
EH! I mean .. The WaterMelon Stick Candy in the background lah! Aiyoyoyoyo...
Group Photo with everyone!!
I'm a happy boy, as always I hope! :D :D :D
Good Bye little children, Come again another day! (: