" *Time check* I'm lateeeeeeee, ****!!! "

-My phrase at all times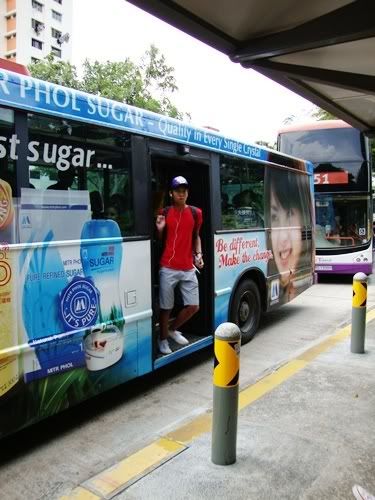 Headed to West Coast for K1 Go-kart racing few days back.
Once I alighted at the bus stop, some of them kept snapping and snapping photographs of me!
Ha! For once I felt so honored!
( Because I'm late and all of them are waiting for me )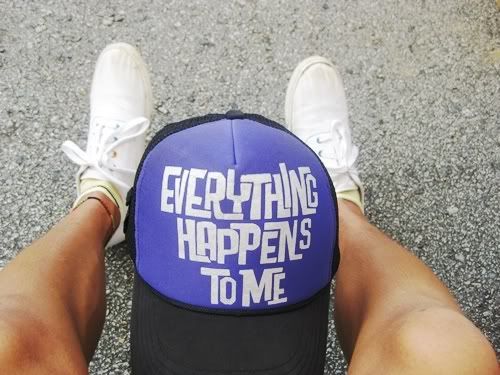 I love the meaning on my cap!

Because everything "
Good
and
Bad
" both happens to me!
"Really EVERYTHING
"
Later part of the post, you can see what "Bad things happened" to me..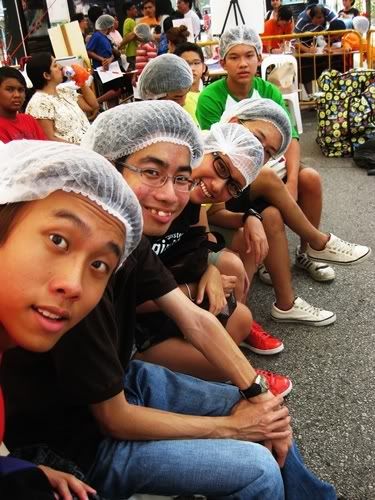 Shower caps!
I know all of us looked damn weird with shower caps on our head however that's a must to wear them before we wear the helmet, because of hygiene!!!

I want no dandruff on my hair too!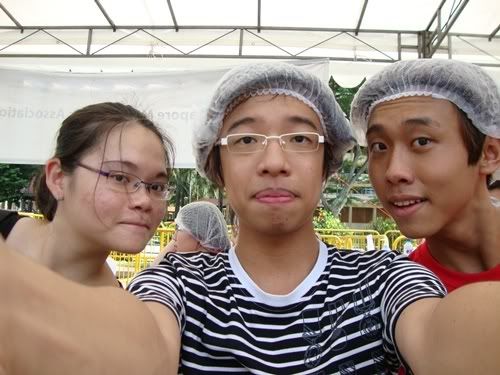 Shower timeeeeeee!
Last snap shot before we enter the race pit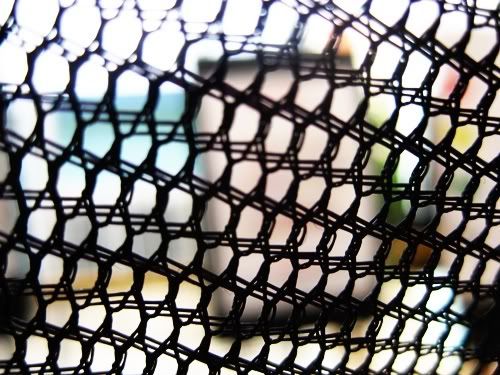 Focusing through my cap...
Got bored sitting down beside the pit, listening to the person explaining the rules over and over again!
So I decided to play around with my camera's
micro
function
Micro through the plastic fencing!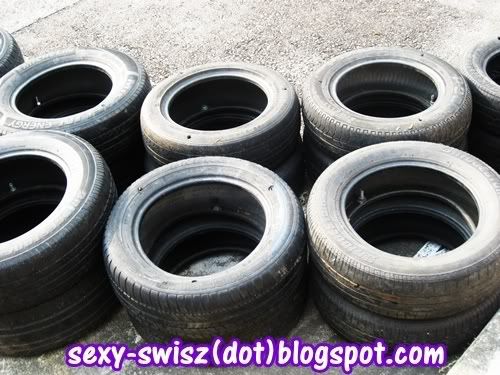 Tyre as their bumpers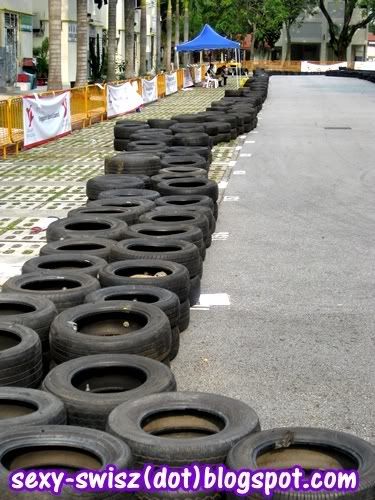 This is how they set up the path for the Go Kart!

There's no reverse gear for the Go Kart, so once you bumped into the tyres, your car will stop immediately! Aww!!

That happened to me when I first drove the Go Kart, my car drifted and bump into the tyre and I was trapped there helplessly!

Super paiseh lor!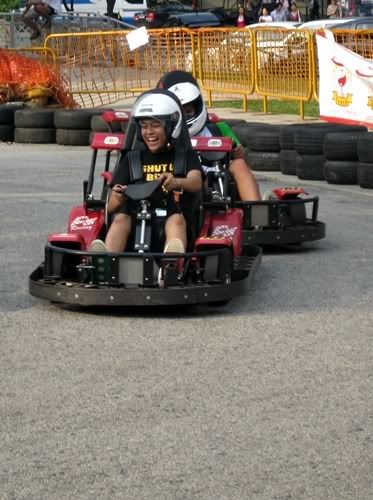 That's Don and Kaixiang Bumped onto Don's ass!
If it was real... I would be damn happy! *Jumps with joy*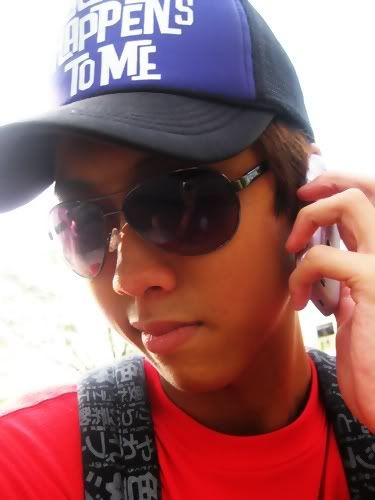 I'm damn free to take photos!!! SEE see sEE! (Explain later)
All of us! :)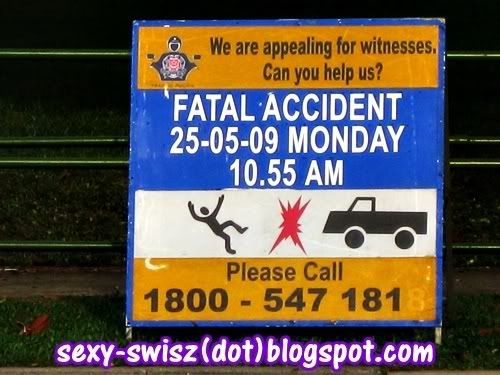 I saw this by accident
***
Here comes my rant

Like I mentioned earlier:
"
Later part of the post, you can see what "Bad things happened" to me..
"
Before I start, look at the picture below, it's about the safety guidelines to this K1 Go Kart.

Saw that?
It's big and clear lor! Unless you don't know how to read english!
I'm not referring to any of you, but this little boy.... the picture below!!!!!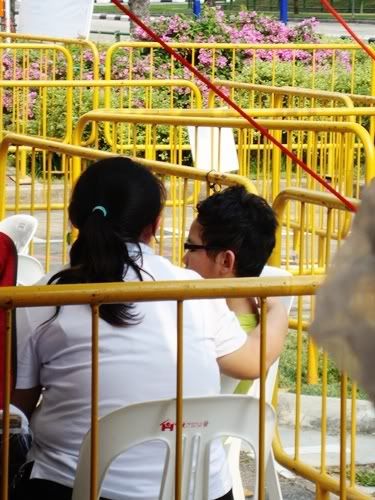 Lime green shirt!
I believe that this little boy has a history of neck problems and he didn't declare the sickness to stay away from playing Go Kart!
Must be never play before and wants to try Go Karting and I think he
neglected
his neck problem.
It's so unsafe for such a young boy to play Go Kart alone!!

What
makes me say these was because this little boy caused me to be ban from the Go Kart race! (Out of race due to reckless driving)
He
suddenly stopped his Go kart and skid in front of me and I had totally no time to react and I bumped into his car!
So
when he got out of his car, he complained that his neck is very pain and kept staring at me with his fucking irritating face lor! =.="
In
my heart felt so "wtf", you blame me for causing your neck injury when you suddenly break so hard in front of me causing me to have insufficient time to react.
That's normal right??!??!!
Before
we play these we should already have in mind that there is surely a risk playing so we shouldn't blame one another when we get hurt right???
Banning
me isn't the worst part and I'm totally fine because partially it's my fault anyway.
I'm
a teenager and I shouldn't be blaming that xiao didi lor please if not I will be considered as "BULLYING"
He scolded me and my friends "BITCH" + "Crushing a water bottle" when he walk pass us.
It's so obvious that he isn't really injured badly when he could still have the energy crushing water bottle and scold "bitch"
Wow! Vulgar right?
I'm so not happy because of he calling us "Bitch"
That's why I'm banned from the race and I'm so free to take pictures!
My present for him: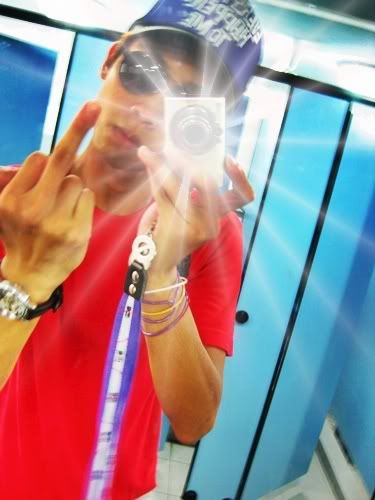 -.-"
-
Headed down to JP for dinner with everyone!

Weijie, Forest, YingZi and me got ourselves a new cap! wheee! :)



My old cap? It shall retire soon because "Everything happens to me" shouldn't be like that!

Should be "everything good happens to me"
If bad happens , why am I still wearing that cap? hahaha!!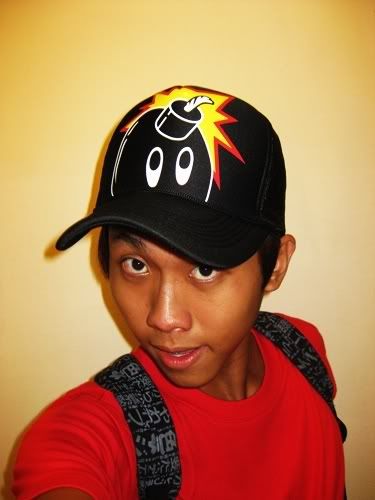 Bomb cap ( Zha Dan )

I will bomb anyone who tries to play with me! :)

Showing off our caps!
Yup Yup Yup! Another one!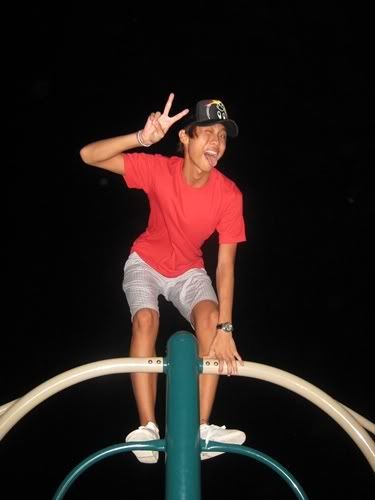 Bye!!!