Hi guys!
The moment I woke up yesterday, I received a message from the number " 74...." (5 digit)

I was wondering, what number was that! Is it a prank or something???

I hesitated a while before pressing and see the message and it's contents.

Actually it's....... My results for 1st semester!

Hahaha!!

I didn't really do very well but at least I passed all modules and I cleared the very 1st semester of my poly year 1 :)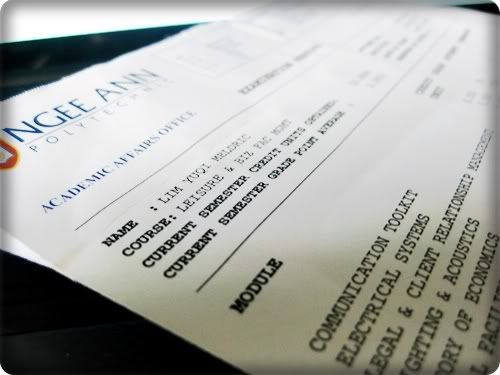 School even sent me a letter just in case I missed out receiving the sms from them!

How smart can they be lor!

My modules that I took for the 1st semester

I swear I will try to work hard for my next semester!!

hahaha! I simply just hate getting this shitty GPA for my 1st semester :(

If you are curious of my GPA, "let the curiosity be within you" :P

Peace alright? ^-^