Still alive...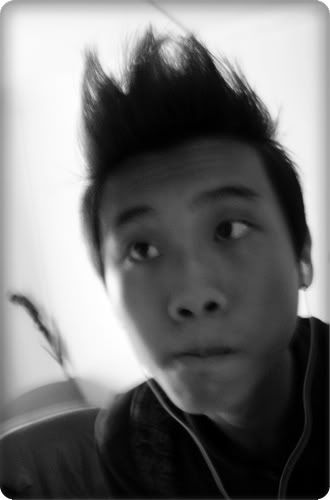 Yes yes yes! Tomorrow is my last paper!
My final exam will be ending so soooooooooooon, which is tomorrow lah!
Can't wait for it seriously man!
I want to playyy, like a madddddddd boy! wahahaha! xoxo...
I know I have not been online often but if you are keen in checking out what I have been creeping upon these days, can always check out my
Plurk
and
Twitter
alright? I know you people got eyes to see even my plurk and twitter are not very active these days... hahahaha! Exam period what, what to do...
No choice okay?
One last thing! I understand my blog post is making all of you dozing off right!! Nothing interesting happening at all, even the way I blog is so damn retarded lor ( Previous entry is load junk of craps because I'm so lazy to type ) !
I'm improving on it! D: Because it's exam period what... what to do?
HAHAHA!!
You see that? " Because it's exam period what.. what to do?"
Basically all I'm doing is to blame examination nothing else but examination period!!!
I hate it totally to the max because that god damn examination made me no lifeeeeee!:(
For the past few days I have been staying back in school with my friends to study from morning till as late as 9PM!
It's really no lifeeeeeee. For the whole day I have been looking through my lecture notes, revising, recapping blah blah blah...
FML.
CAN YOU DO IT?!?!?!?!
Bah! I guess not everyone is as good as me. heh!
Kidding, but I'm pretty sure I'm right.
Alright enough said, I still need to glue my ass down onto my chair to study for my last paper tomorrow! wheeeeee!
P/s:
For those who find this post boring, so be it. Because at least I made an effort to blog what I feel even though I'm in the midst of examination period
P/s/s:
I'm going to revamp my blog skin once more! Current skin is too purplish? Too girly? Ha! Time to dig out time to do these shitttttt soon!
Today I had economics paper and I think I'm going to fail that paper!
Whatever I studied never come out, you think it's fair not... it's always like that lorrrr. Forever like that...not me alone, many people also said that... stupid!
Study so hard then in the end you don't get what you want and your aims will go haywire like a piece of cowdunk! -.-
nonononononon!
Like the way we guys pee!
For fuck we aim so hard to pee into the uriner with all of our marksman badges, then in the end you pee onto the floor ( duh! Obviously half floor half uriner lah! ), you call that bull's eye ; gotten your target? NO bullshit!
You still missed some marks like how you miss some of your urine onto the floor like that.
That's what I mean...tsk!
Girls don't laugh! Because it happens to some of you too.....................
hahahahaa!!
I hopeeeee I can make it through my first examination of polytechnic!
God can't bless me anyway, so better depend on myself :D