Did you all went for Nuffnang's Flash Mob last saturday?
Well if you did attend this event, you might have seen these pictures before because these pictures were uploaded to:
http://www.flickr.com/photos/nuffnangsg
Take a glance at those wonderful pictures
There's even a video too!
How wonderful can it be
If you did not attend the FlashMob because prolly you are working, having BBQ, shopping, Chalet or any event that was holding you back from going, you mustn't feel that you are left out!
I'm sure many bloggers have already blogged about this event and to share with all earthlings how fun/not fun it was because "
we are all lov'in it
" ! :D
" Singapore first Blogger FlashMob organized by Nuffnang" leh! Obviously we must support right??
First time in Singapore Somemore..
We created history doing something
foolish
creative!
P/s:
Foolish as in wearing pajamas in Orchard Road, Creative as in choosing pajamas as the outfit out of so many dressing that we could have wore
Sounds a little contradicting? nvm! you know, I know :)
Pickk-thures!!
What's the most important thing for a blogger?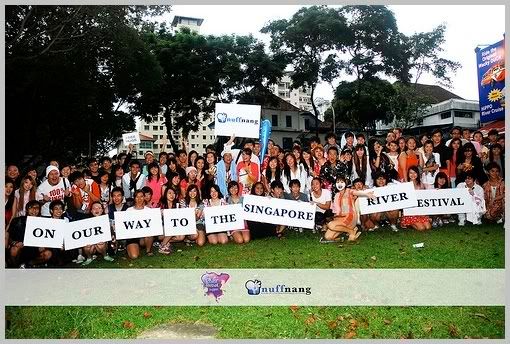 Group photo is a

MUST

!
Can you spot me? It's quite obvious actually

Sorry but you have to squint your eyes a little to spot me because the resolution I received is that small too!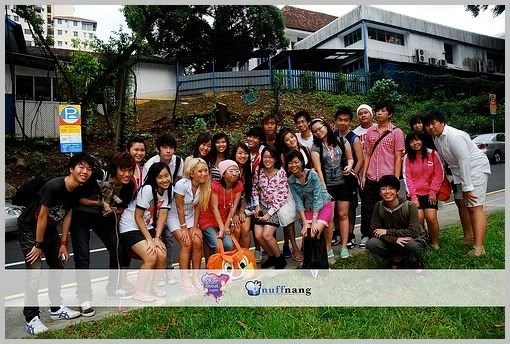 Group 1 members! Followers of Xiaxue
Bloggers together with all the nuffnang's staff including Boss Ming
This picture was taken after the pajamas dance ended

The bloggers were flashing our Nuffnang's badges whereas there's a joker flashing the board
"Free hugs"
How funny could he be?
Chatted with him for a while and he told me that "free hugs" were very popular in Malaysia because on random occassion people will just flashed the boards on the street giving random passerby a free hug ( btw he's a malaysian )
Very creative lorrr
I'm quite sure that Free Hugs were also equally as popular in Singapore because I was hugged few months back! Lol!!!!!
Tsk Tsk! I hug for the seek of making my viewers laugh!!!
SoooooOoooOOo.. Laugh please :-[)
Na, Just joking
P/s/s:
When I see his facial expression, I will automatically laugh . Wahaaa-AHAhahhA!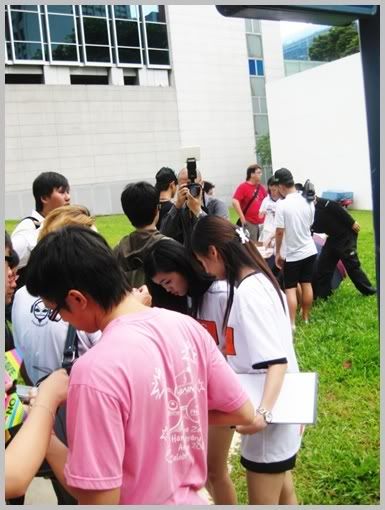 Registering...
This nuffie is so afraid of the 2 black dogs ! Lol
Take a look at pumpkin ! She's so Brave!!
Pumpkin is smaller than what I expected!!!!!
Apart from having the rare opportunity to engage with my favourite bloggers, I also get to meet pumpkin! She's so small and adorable

Always seeing pumpkin appearing in Xiaxue's blog, I used to have this misconception that pumpkin is the size of a normal puppy ( bigger in size by a little ) but I never thought that she was just a twinny winnie size!

She's damn brave you know?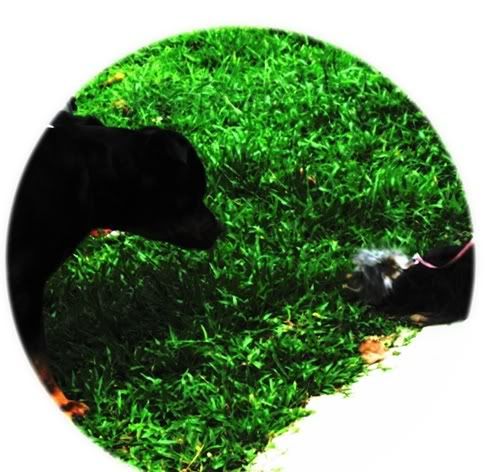 Despite Pumpkin's size is so small and the 2 big fierce looking black dog approached pumpkin, she is still very rowdy and playful jumping and running around the 2 big dogs so happily

Ehhhhhhhh

Black dog somemore :(
I hate any animals in black because they gives me goosebumps :x

If I'm pumpkin, I would just hide in a nutshell not wanting to come out until the huge dogs are away.

Hahahahahaa!!!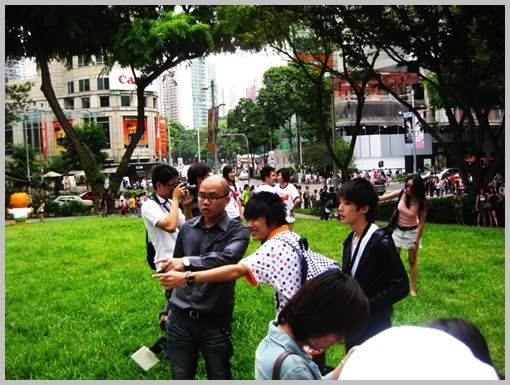 Kaizhi, Andy pointing at the same time to?? and Shawn looking blur ...

Forest , Xiaxue and Pumpkin!
Xiaxue asked me if I wanted to carry pumpkin and I immediately reject carrying her because she's so fury/small and she fidget a lot.

Dislike the ticklish feeling :)

Hahaha! but if there's a second opportunity I would want to try carrying pumpkin!


Ewehh Cheryl, xiaxue's looking at my cam not yours and pumpkin's looking at your shoe. Ha!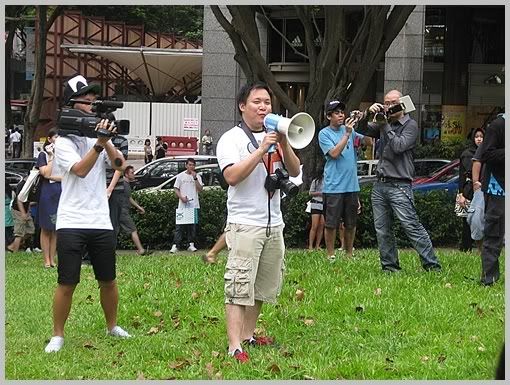 Ming trying hard to explain details to us using a loud hailer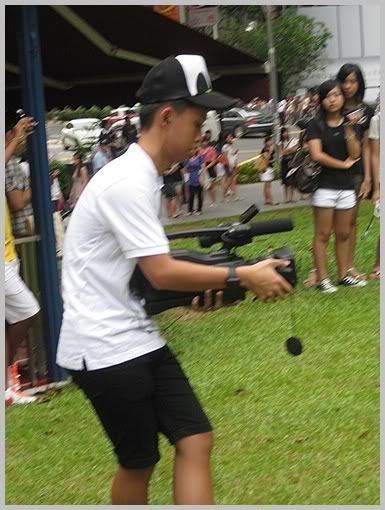 Jayden trying hard to video everything on what ming has mentioned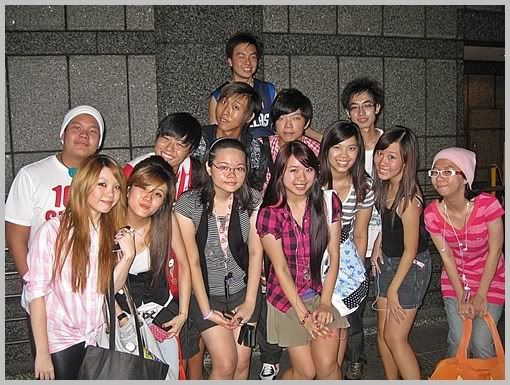 Group Oneeee!
It's
Sheylara
!
can't remember her name, Isabel?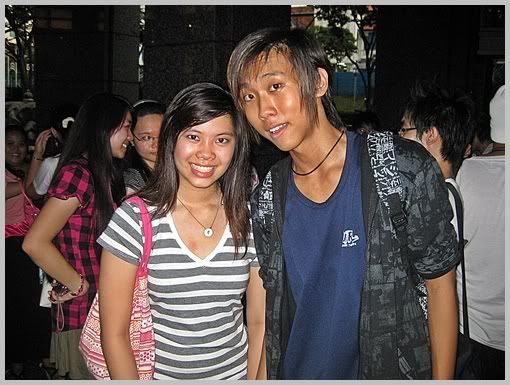 Totally forgot her name >.<
Pardon my bad memory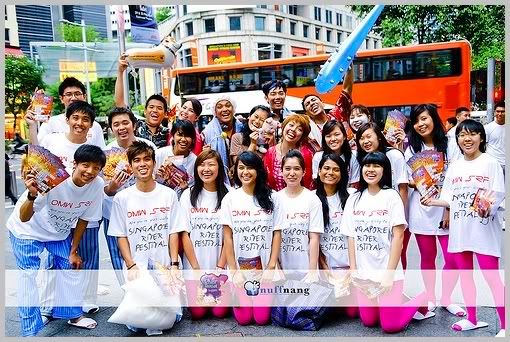 The pajamas dance was
really very silent
and there was no signal given to us when to strip, when to dance all these leh :(
Most of us was like taking out camera, snapping the performers and cam-whoring.
Only some enthusastic bloggers changed into pajamas and bogeyed their way into the centre to dance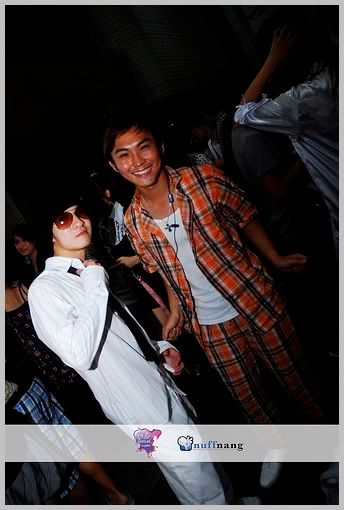 Like them!
and them!
I was pretty surprised and shocked that the performers had pillow fight!
They was freaking rough when comes to hitting the pillows at one another
Seriously when I was looking at them, my first impression from the girls was
"wah!, whack so hard... Aren't it suppose to be like performing or something?"
Haha-haha-Haha
Super ruggart and the dance ended within the speed of light
It was very fast and everyone was like " eh start already not" ; But the face was actually it has ended .....
D
O
T
S.
It's
Valarie
!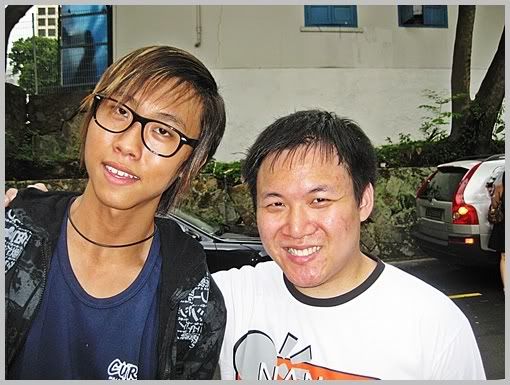 It's
Boss Ming
!
Thanks Nuffnang for this awesome experience of the first blogger FlashMob in Singapore :)
P/s/s/s:
Anyone going down to Singapore river festival this Friday? I will be going but I'm underage! Can't enter Arena.. Sad... Maybe duck tour would be fun for a kiddo like me ._.''
"On Our Way To The Singapore River Festival"