Tsk Tsk!!
I didn't know that my blood is super duper sweeeet lor!
These few days I have been battering with those stupid Mosquitoes/Baby Grasshoppers/ Flies in my house every night!!!!!!!!! Giving me headache and on top of it, it irritates me a lot.
I FEEL like squashing your bloody wings so that you can't fly and stuff alligator's blood into your mouth to chock you MOZZIES! WATCH OUT! * Evil laugh*
Bloody Mary!
Back from the Ubin trip just now!
And I just offered my sweet, Juicy and Tasty blood to the mozzies in the jungle!
They must be having a BLAST just now...
While me...
I got a whole body "Kisses" from those kindhearted mosquitoes as a reward of visiting Pulau Ubin! =)
Thanks a lot huh!
Ookay Heck lah! I'm not the one who got bite tho, my buddies got bitten too!
Let me get started very soon! I've been resting for a long time and I know I didn't update my blog frequently. Sorry sorry... Because I have been wasting my whole day doing nothing but sleep.
Can you imagine that I woke up 2-3pm daily??
Actually it's fair because I'm back home usually in the morning so that explain why I'm in my dreamland till noon.
The Ubin Boys Adventure!

Went with Darren, Sebas, Mike, Kevin, Alyfie to Ubin this morning!
Many things happened along the way when we were making our way to Ubin! :)
*Hidden Jokes should be laugh only among ourselves* :P
Ya, so the 6 of us went UBIN LAH! Lol
"Okay okay I'm laughing because I can see the trend................."

LOL!!! okok I shall be serious... Enough of my stupid lame distracting phrases
Reached Ubin at 10AM
On our way there, we decided to name ourselves " The Ubin Boys"
Which means to say each of us have a nickname
Sebastian as Ubin 1
Alyfie as Ubin 2
Mike as Ubin 3
Kevin as Ubin 4
Me as Ubin 5
Darren as Ubin 6
We sang cheer along the way making ourselves HIGH on camping adventure mood :)
Shiok-ness!
The sporty us!
Ready to face any challenges ahead !
* SOUNDS SO EASY at first but don't know the pain after that... Read on...*

The Jetty
Bump boat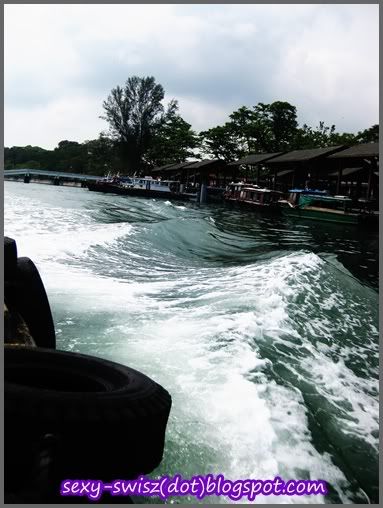 In the bumper boat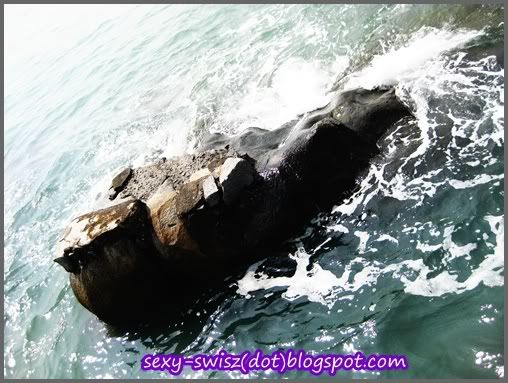 Granite rocks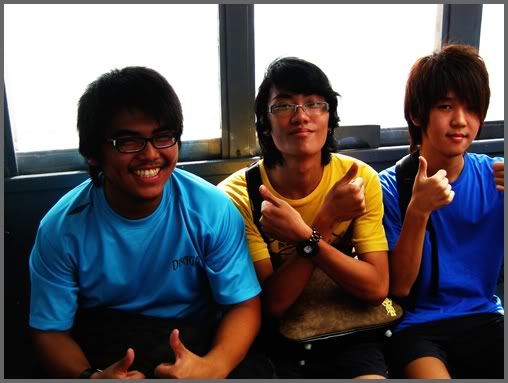 Are you ready Kids?
YES!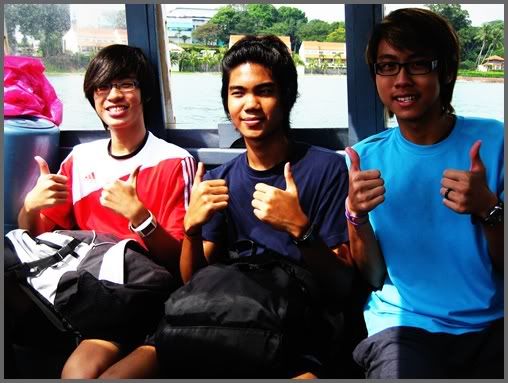 Are you ready Kids?
YES NO FEAR! Let's go!
Arrival :)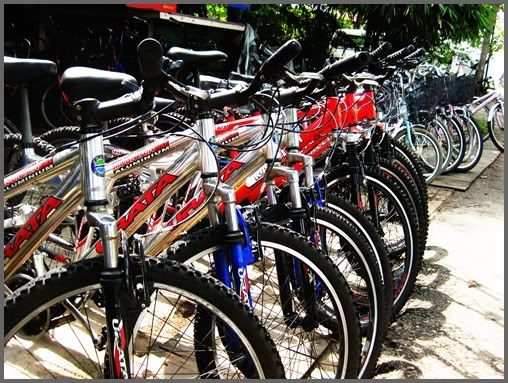 Bike Rental
As usual, our purpose of going there is to ride bike and travel around Pulau Ubin.
The rental of the bikes are super cheap! Timing from 10am till 6pm cost only 6 bucks!

Damn worth it! But but, only after we rented the bikes we saw other bike rental shop rents at a rate of $2 whole day!! WALAU EH!

Aiyah, but we don't really bother much because $6 is cheap already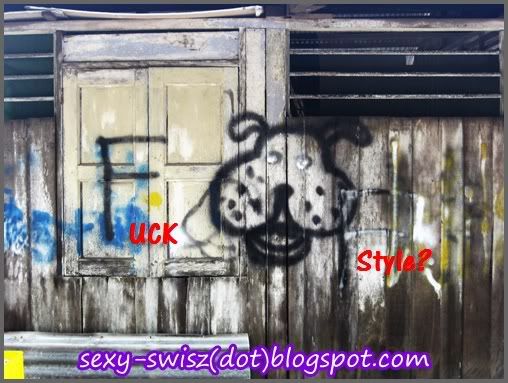 Damn style lah!
I think I've grown even more creative due to the extra words I added in to make the picture look more complete don't you think so? :D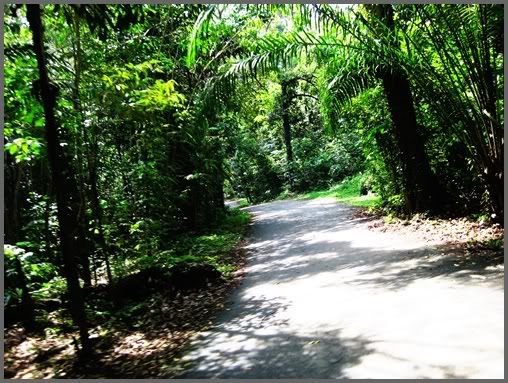 Long route awaiting ahead of us...
Let us share our adventurous cycling experience now!
We went to the cycling route with many obstacles ahead of us!
Damn the sun is super hot and we all felt like dehydrating there. LOL
Lesson learned: BRING MORE WATER + INSECT REPELLENT! MUST
At the very start, some how we like "Gei Kiang" so we didn't have any repellent on us and we brought many disaster to ourselves! OMG! LOL

TELL you that the Mozzies are freeaking scary.
My leg bled a little because of massive "Kisses" from the mozzies. Ughhh

I think I got the most Mozzi's KISSES among them! FUCK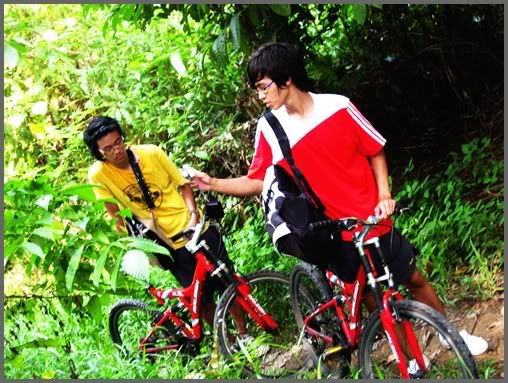 Darren making sure that everyone is alright when we are going up slope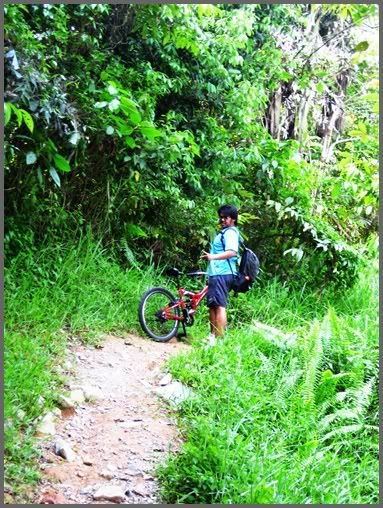 Gei kiang Sebas went to the top of the slope FIRST man...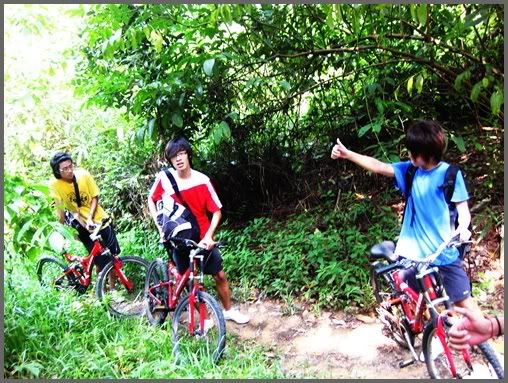 Everything's looking good!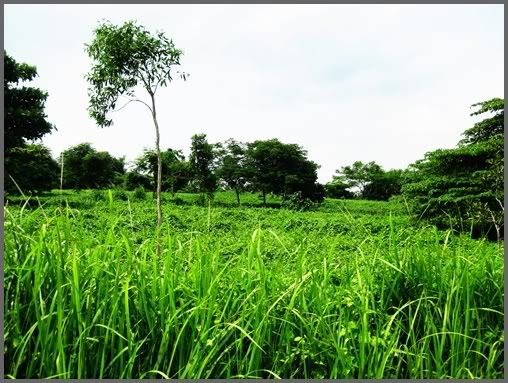 Nature!
Republic Poly's Campsite? Interesting...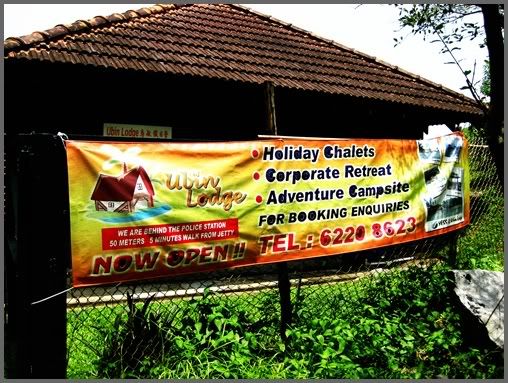 Who wants to go chalet at ubin sia??!?! -.-
End up also feed your tasty blood to the mozzies
Beautiful :) A closer up on the thorns.
SEXY lah! I love this picture :)
Thanks to my camera that is able to produce this kind of clear image!

Haha just joking...



After riding for awhile... My leg is fucking cramped!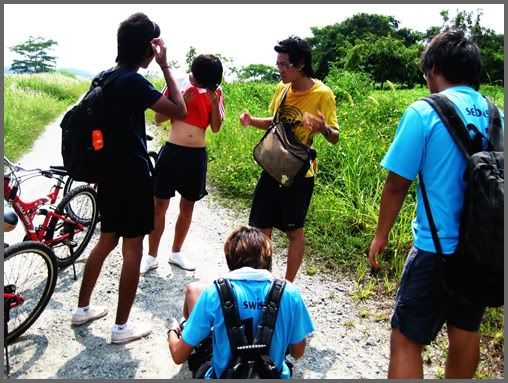 UGHHHHS!
The rocky stoney floor is so damn HOT LAH!
I think I gonna be a roast human after 5 mins of sitting leh.
Not joking , really is damn hot!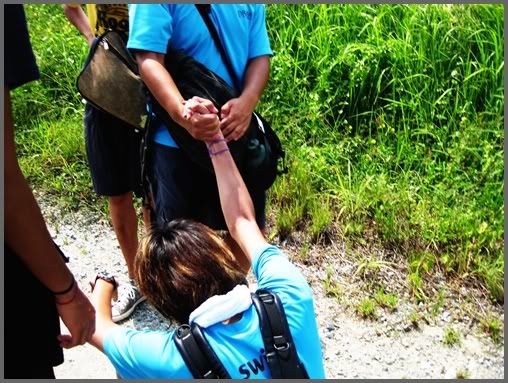 Thanks to them, I recovered after a short while.
Ha!

And I don't need to be a roast human o_o
*jumps*

Lunch!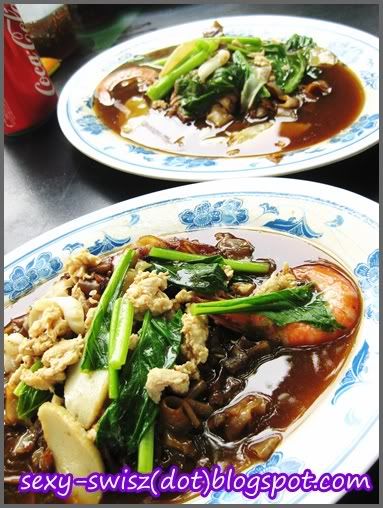 Horfun!

Yaaah! Its so damn typical to see me having horfun at hawker center can? hahahahaaa
Tasty! I still prefer chinese cooked food to Fast food :)

After resting awhile, we carried on with our journey with even MORE challenging obstacle instead.

We tried the spiral route in the middle of the jungle.
WE CAN HARDLY SEE THE PATH BECAUSE IT IS ALL COVERED WITH GRASSES!

So after 15-30mins of twist & turn, we finally reached the top of the mountain!!!!! :)

SASTIFACTORY!


Heyaa! I've reached the sumit of this Mini hill. Have you?...
Walauuueh! So damn hot can?
I can see my belly popping out :P
HOT hot hot HOT!!!!! Fuuucckkk..
See my astroboy hairstyle!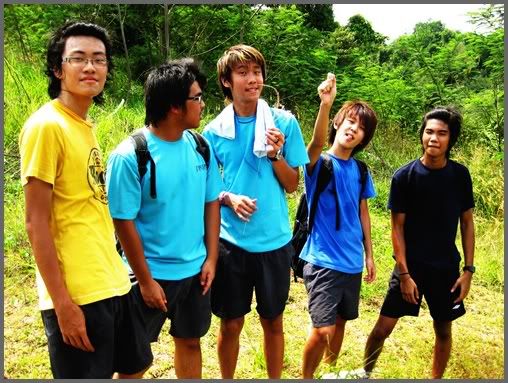 As usual we cam-whore on top of the mountain before continuing with our journey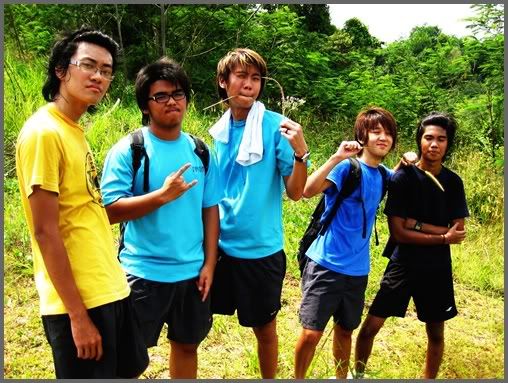 HmmmmhhhMMm-MMMhhh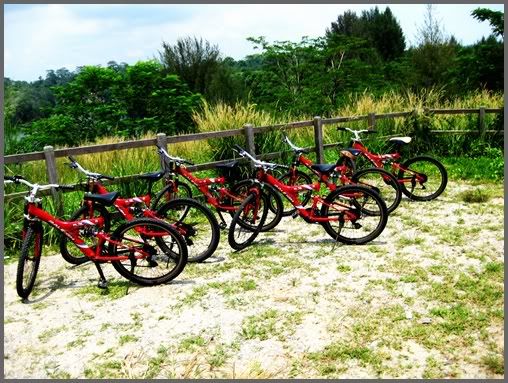 Our bikes!
We parked under the hot sun, in the end when we want to ride, it became like a living toaster to our ASS!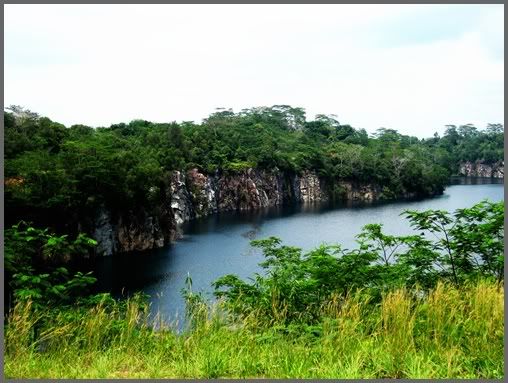 Nature! I love this scenic view :)
Someone must have been campfire-ing on top of this mountain previously
Muscle tumour of Alyfie!
*Hidden Joke once more*
POLICE! POLICE! POLICE!
Yahh as if you guys never seen any before like that!
Why that fuss...

Haha I don't know? LOL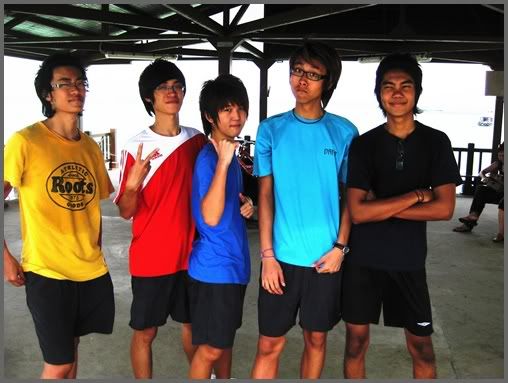 After getting so many mozzies kisses, you think I still can laugh meh?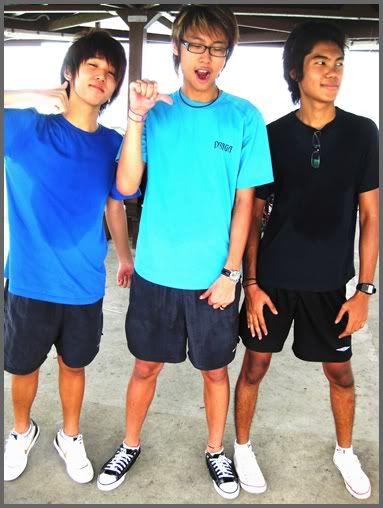 Aiyahh! Of course can lah, I'm the HERO MA! x)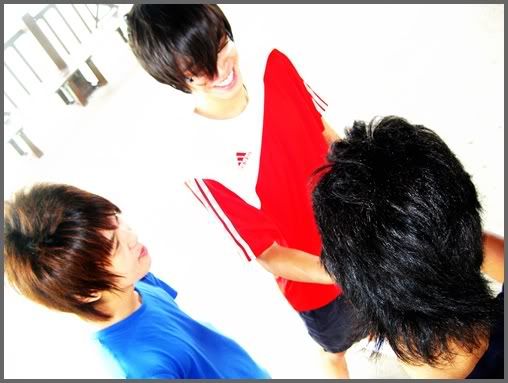 Black cobra somemore...
Black cobra somemore...
SEE what happens if you want to try out black cobra's trail somemore..

Sebastian Emoing after receiving DEEP cuts from the black cobra's trail deep in the forest..

Really this is no child play matter. His cut are real deep and I feel the Pain for him!

See, when he fell and slipped into the forest, I shouted his name & there was no respond.
So we all ran forward a little and saw him in the middle of the bush!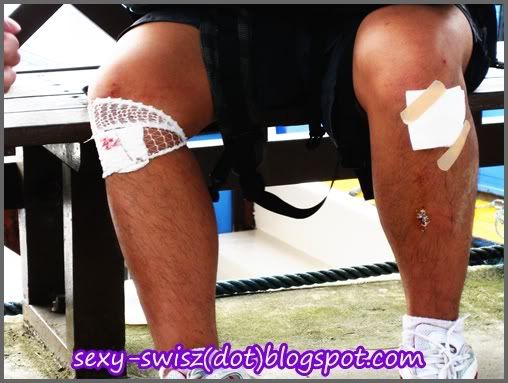 Fuck the place is filled with fucking hundreds of stupid mosquitoes LEH!
GRRR! But saving him is more important than getting mosquito bites.

And we all quickly pull him up onto the twiny winy slippery trail and wipe off his blood.
Damn gross because it was bleeding profusely...

Luckily NOTHING CONCERNS serious injury or anything SERIOUS.
Thank god!

EEWK!
Hope he is alright :)

Lesson learn to all of us: Do not be hero! Must stick with one another!




Lastly I will end of with a tired picture of me, yet trying to smile picture :D


Shagged!
Good night everyone!
I'm tired now
*Drops stiff on bed*
P/s: Thanks to some of you that commented me despite I said that you do not need to comment !
Don't worry your comments will be published on this entry as I will transfer ALL comments to this entry once I wake up tomorrow!
Byeeeee! :)