I know you guys are anticipating for me to post about my 4th Chalet ever since holiday started last December :) okayyy lah, I shall be nice...
*stuff a
HALLS green tea candy
into my mouth before I get started*
* hmmm, AHHHGGGHH! my sweet melted, ewk... sticky ; GROSS*
Okay, I'm fine. hahaa just stuffing sweets into my mouth & listening to songs via MP3 to keep me awake while blogging :)
P/s:
I took very limited pictures this time round, because I'm quite lazy to hold onto my camera around the chalet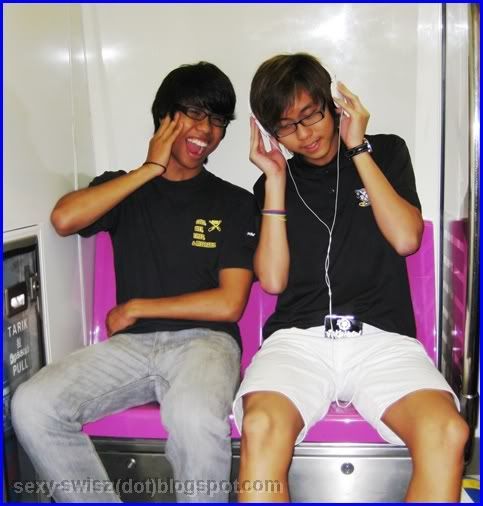 ***

This time round, the chalet I went is the largest group of people that I went with.
Approximate around 35-40 people from my last year batch of express classes
!
***

We are all from different class yet we still made an effort to gather for the final chalet before we enter a different institute this coming april.
A big thanks for those who made an effort to come to our chalet despite their busy schedule
Love you guys lah!
Ready,.. set.., go..
!!
P/s/s:
I decided to change my style of blogging about this chalet in this format:
Description below the pictures
I will not go like eg " day 1, 2, 3" because I think it sounded very similar to a grandmother story like once upon a time, day 1 happen this blah blah.. then 2 .. etc.
I will try to add on more content when I thought of any
Will not go into super full detail because I want to save time to blog
Hahaha! Lets try out!:)
This is the "guess the drink" game organized by the 4 of us.
The preparation was done on the 1st day of arrival which aims as a very difficult guessing game!

Idea was originated by my uncle during last year's christmas party.
Seems easy hor, but the taste are quite alike!

Dont believe?? Prepare 4 cans of different Pepsi, wrapped it up with black tape and try to taste and named out the pepsi name... They are very similar in taste horrrr???....

Can you see my face? lol
Cheryl's said that she read a stranger's blog about a shade reflextion picture and it's very beautiful so asked me if I knew how to take those shot.

My reply was " I dont know , but I want to tryyyy"
So I ended up snapping this semi-retarted shots of myself with the len's reflextion!

What a joke lor.. hahahahaa... This lens is no different from the mirror image reflextion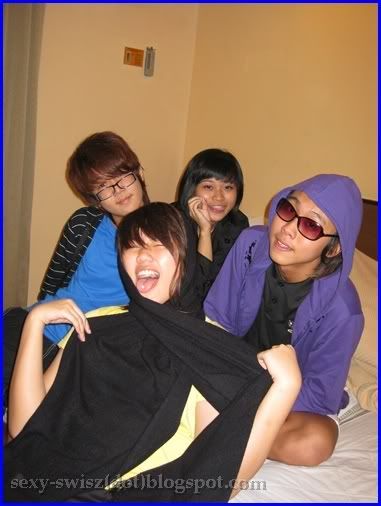 We went bored during the 1st day night so the few of us decided to cam-whore
FYI, YB wants to show off her tongue stud, so take a look closer at her stud.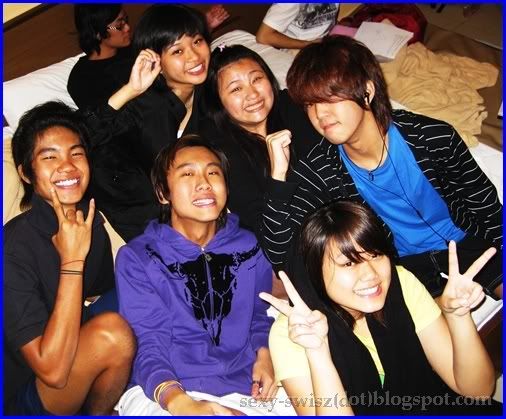 Some of our eyes are too small to be seen including me!
I know look wierd with my hairband on as well! [:-)



Cheryl & me!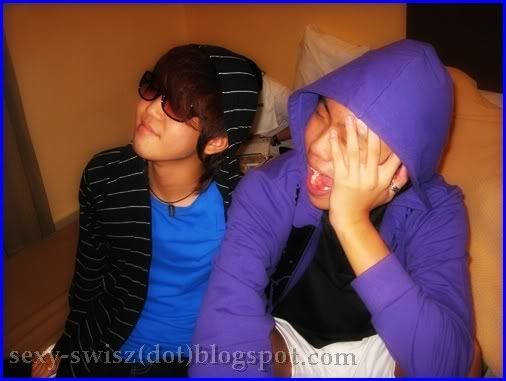 Beng & me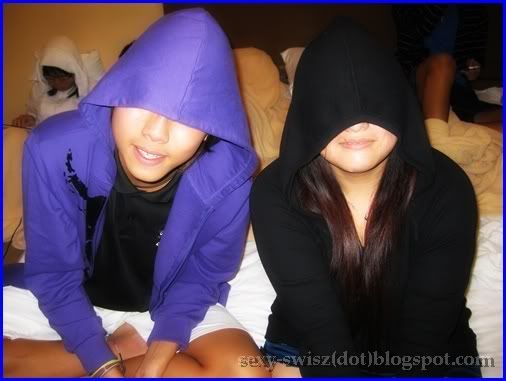 Dephanie & me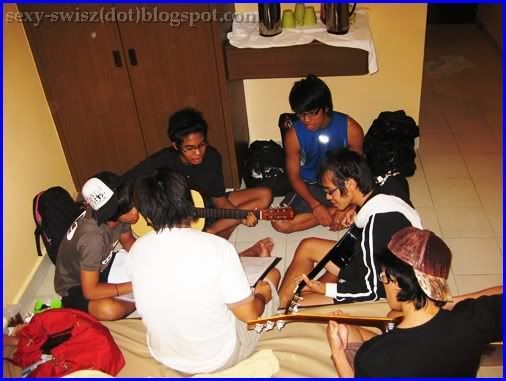 While we are cam-whoring, some of the "future guitarist" were practicing their guitar and singing some english POP songs...

Well told ya'll, I'm a " 3 min hot temperature" towards learning a guitar :P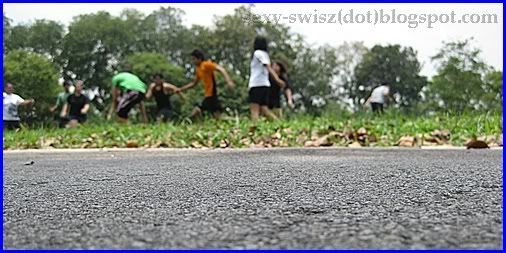 We went to the beach the 2nd day afternoon.
Having fun at a nearby empty patch of grass playing captain's ball.

Uhh! The hot sun is making us perspiring like mad lah!.
But soon the worst has yet to be shown...

RAIN appeared again! :(((((((((((((((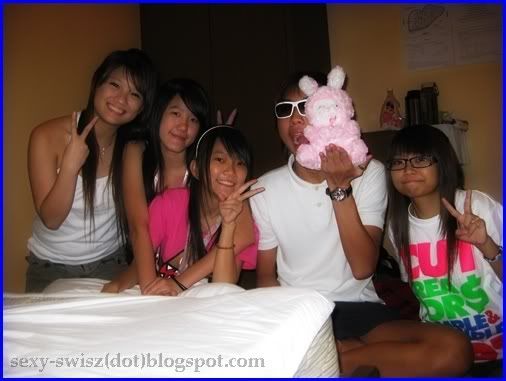 Afterwhich, went back to chalet to rest and the few of us decided to cam-whore since the weather is abit unfriendly. . .

I've got 4 promoters + me = 5 of us to promote this cute little bear that I'm holding on.

Her name is called "muah Muah" ( if i'm not wrong)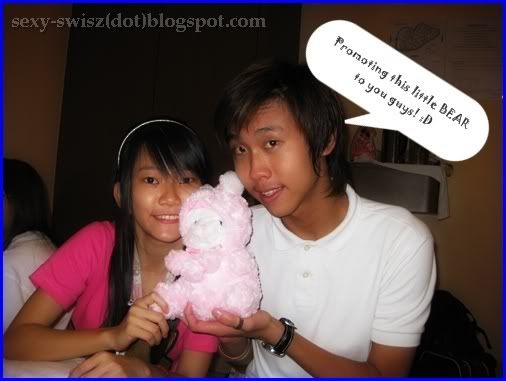 Here am I with the owner Brenda to sell away this bear!
Laughs, hmmm I'm joking lah. Not sell.. but to show you people that the bear is wearing a rabbit hoody!

This is not a rabbit ookay?
This is a bear with a rabbit hoody so that explains that she have long ears on her head



Heng ar heng ar...
Luckily the rain stopped early or else we wont get to enjoy our BBQ!:D



The setup of the BBQ. . .
AHhh! sorry, no picture avaliable for the BBQ! :P
Camera's not with me so I didnt snap any BBQ shots!
***
This will be our Mini Disco performed by the guys during the night!
It is a short 1 min clip
Take note"
the sound is a bit wierd dont you think so
?"
Try taking note from 9 secs to 15 secs... you can hear devil roaring so loudly!
GOSHH! I edited the clip by slowing the speed & I can hear a devil roaring so loudly. . .
So wierd voice ! :X
***
Next performance will be on "
Hot & cold
by Katy Perry
"
Our actions will be based on the chorus part...
Dance with us... muahhahaa
***
Some of us didnt really sleep for the 2nd night
so we went for a late night BBQ and we played
True
or
Dare
!
The most classic games among us :)
Actually I'm not suppose to blog out about whatever actions we did because we have already said it from the start. But I have only 4 pictures to post and these pictures are not the most extremely funny ones. haha!
" I have got even funny pictures avaliable! But I'm not suppose to post. So ughhh forget it "
[:-)
I have asked their permissions already & they wont mind lah! :D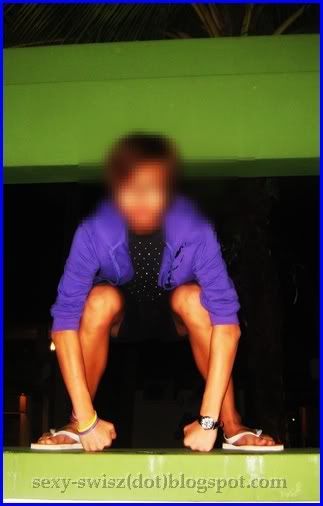 My DARE turn

I'm posing as a living human monkey! This is kind of embarrassing but anyway it wont affect me much man! I need to climb on top of a brick wall and pose this action.

We have a mysterious guest visiting us during the midnight
!
We have another mysterious cat-walker visiting us
!
We have another mysterious wall jumper
!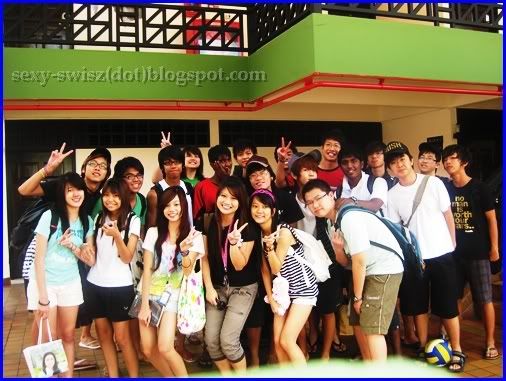 More of the chalet photos up for grab at
My Temp Photo Blog
!
Sorry if the photos does not have your face because like i mentioned, I didnt took much pictures
I'm going off now. Munching my
Big PACK of DORITOS
now! MUUUUAHHH!