Nuffnang is paying me so slowly...... The amout of $$ is stucked there for like 2 days le. come on.
Let me treat them GROW milk & maybe the amount will grow.. hahahaaa
* I apologise for my vulgarities for this part* sorry.
I would like to comment about this faggot who tag on my tagbox today.
I'm truely agitated when I saw this *wonderful* tag .
Lets see what he had tag on my tagbox earlier on today...
*
*

*
*
How daring he is huh...? Mistaken or what.
I bet he had an eye sight problem!
GAY? what the
fucking hell
is this?
Let me clarify something; I hate people calling me GAY on purpose.
If you are my friend, we busted one another by playing some jokes like " gay club, gay boy blah blah....I DONT MIND. but i dont think this is a joke.
DAMN!. get off from my blog & I think you have come to the wrong place to find "GAYS" -.-
Gays play asshole. & I BET you are one.
*
*
If my dressing looks gay, I really think most people are dressed the way I am nowdays.
So pester them please. & leave me alone. I have my own life & u have ur own fucking life.
Get it? Z.z!
( DO NOT TAG ME OR ELSE YOUR TAG WILL BE IGNORED & DELETED)
*
*
I love this T-shirt!
I'm considering whether to order it or not.. (:
It cost $24.90 & it comes with many designs..
Really unique LOR.
Normally on street we see is " I love NY, or I love my girlfriend/boyfriend"
But this design is " I love my BLOG"
&& Theres blog link + my name on it too!
Very cool.
*
*
But but, I'm like shy to wear it out even if i bought it.
Cos people will be looking @ me with their eyes glueing on my bloglink..
But if I get this unique Ts with other interested bloggers, I bet that wont make me shy wearing it out on street! right? ;D
Tell me if interested so we can get our orders done asap. HAHA!
*
*
*
I have finally removed my "fringe"
woooohooooooooooooooooooooooooo.....
Lets take a look.....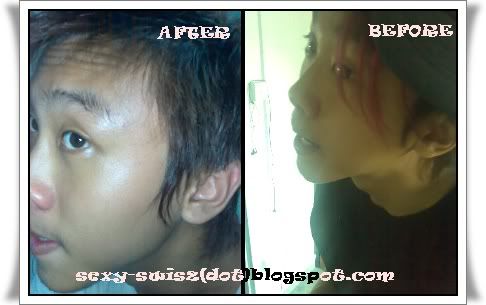 I think i look wierd without fringe..
*faints when I see myself in the mirror*
Dont you people faint when you look at me in real person somewhere...
(:
I have warn le HOR.. My own hair dropped while removing the extention & the front part of my hair look extremely ugly!
Dont believe?... Lets take a look again...
..........
.....
.
*
*
My hair + extention came off after a long time ...
My real hair is scattered all over my floor & I managed to grab hold of some remaining ones.
*
*
*
*
On the left is my real hair, on the right is fake..
See how much hair I have lost???
4 strants of the same type..
Thats alot of HAIR!
*
*
I'm about to blog about my work for the 3rd time again!
haha! I didnt went out so nothing exciting happening except work.. so bare with it guys..
*
*
*
TTSHSCANRM!! It means Tan Tock Seng scan room.
P/s: I;m not working @ Tan tock seng hospital .. I repeat again ;P
*
*
*
*
Have anyone of you came across any long long long single english word before???
This is my first time encounter such a LONG word while looking through the documents!!!
*jaws drop*
"Oesophagogastroduodenoscopy"
What a LONG word! so troublesome LOR.. I dont even know how to pronounce..
HAHA!
Share with me if anyone has even longer word than this . xD
*
*
*
*
*
*
Lastly, I would love to share how hardworking I am while working
heh (:
Not bluffing bluffing ohkiee??
Other den doing my own stuffs, I also open my hands wide & help the office staffs to change
*
*
*
*
*
*
MUHAHA!
*hugs my BABY*
Oh .! Its a babygirl (;
cos the tank is "round" & "flat"
*laughhhs!
*
*
*
*
Update:
This year's countdown is at
siloso beach
!
So might be chilling out with interested parties for counting down to year 2009!!
See you there ( if I'm going )
xP