Don't you guys find it rather .....

Wierd?

Interesting?

Curious also?

" You PROPOSE to marry meeeeeee? "

Shouldn't it be the other way round?????

It should be ME proposing to a girl right?


Like this!

*tardarrr*
After watching this trailer, I'm amazed when I saw Sandra Bullock proposing to Ryan Reynolds!

No idea where she got the courage...

*Roll eyes*

Modern world has changed totally...

Even the way of marriage proposing has changed as time goes by...

*Wonder what's the next trend...
( Guy wear skirts and Girl wear pants? )

Totally ridiculous! :)

Ryan Reynolds with the shock face and Sandra Bullock with the cunning face!
The reason why I'm so interested in watching this movie because!!!!!!
I'm curious to find the reason that led Sandra Bullock to have the courage to propose to Ryan Reynolds
This is the first time I'm hearing that female proposed to male and I'm curious about...
What will their outcome be?
Will they be happy after marriage?
It seemed to me that Ryan was a bit shock when she proposed to him, however after they are together, their love developed slowly... ( How did that happen )

I know everyone is as curious as me to find out what's not shown in the trailer!
The unrevealed truth, background and hidden thoughts are
NOT YET SHOWN!
Some might be mistaken and they might...
FOLLOW them!
Like me! :D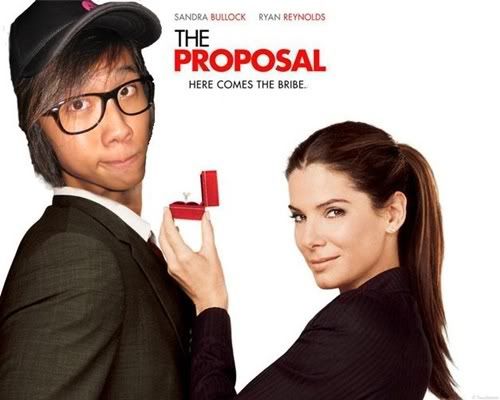 Wahahah!
I seriously can't imagine that I'm following them right now.
If you are not really laughing, I have 1 more picture to brighten up your day and to let your imaginations run WILD!

COMPLETELY WILD OK?
.
.
.
.
.
.
.
.
Have a good laugh! :D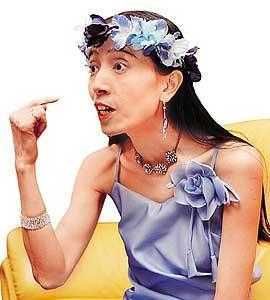 Just Imagine she's the one who propose to you...
PEACE :D :D :D!!!
"The Proposal opens in cinemas 20 August 2009
"